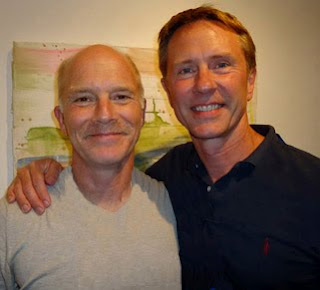 Dan Butler and husband Richard Waterhouse
I talked with actor, writer, director and producer Dan Butler, who is probably best known as "Bulldog" from the television series Frasier. We talked about his new short film, Pearl, which was adapted for the screen and directed by Butler. It's about a Midwestern poet (Dan Butler) who brings news of his mother's death to an elderly relative (Frances Sternhagen, Sex in the City, The Closer), and the visit takes an unsettling turn. The film is based on the poem of the same name by former U.S. poet laureate and Pulitzer Prize winner Ted Kooser and is currently playing in film festivals. Dan has been very active with LGBT Teen suicide prevention and in 1995 was the National Coming Out Day spokesperson for the Human Rights Campaign. I talked to Dan about his reaction to recent celebrities coming out in Hollywood and more.
When asked what his personal commitment is to LGBT civil rights, Butler stated, "I think sometimes it's the way you live your life. I've been politically active in the past with the Human Rights Campaign and Act Up. Right when the Trevor Crisis Line formed I worked the lines for Trevor and The Suicide Prevention Center in Los Angeles for about six years. So now I think it's by example. I believe in that Gandhi quote, "Live your life as if the changes you hope happen, have already occurred."
During the run of Frasier was when Butler came out publicly as a gay man. He did so dramatically starring in a one-man play that he wrote, The Only Thing Worse You Could Have Told Me..., that earned rave reviews when it opened in Los Angeles in 1994. Butler took it to New York the following year, where it received critical acclaim, including Outer Critics Circle and Drama Desk nominations. In 2006, Dan produced, co-wrote, co-directed and starred in the faux documentary Karl Rove, I Love You, which a Huffington Post blogger called "hilarious and unsettling... a political Blair Witch Project." Acting credits include major roles On and Off-Broadway and at repertory companies across the U.S. as well as numerous television shows including House, Monk, From the Earth to the Moon, and Prayers for Bobby. Film credits include Crazy, Stupid, Love, Enemy of the State, Fixing Frank, Chronic Town, and Silence of the Lambs.

Dan Butler lives in Vermont with his husband Richard Waterhouse, who produced Pearl and with whom he's formed 2nd Act Productions.
Listen to interview
:
Listen to more interviews with LGBTQ leaders, allies, and celebrities at OUTTAKE VOICES™.
Popular in the Community