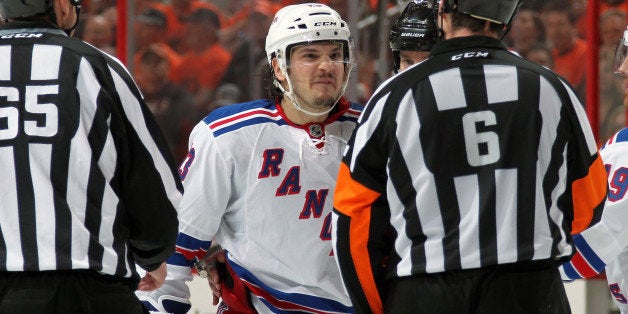 Hockey is an emotional game, especially in the playoffs. Nevertheless, there is a right way and a wrong way to handle the emotions. One thing a player can NEVER do, however, is use physical force against an official to try to get away from him during an altercation on the ice.
At the time New York Rangers forward Dan Carcillo repeatedly jostled and then elbowed linesman Scott Driscoll during an altercation between teammate Derek Dorsett and Montreal Canadiens forward Brandon Prust during Game Four of the Eastern Conference Finals, it was a formality that Carcillo would be suspended for abuse of an official.
The only question was in which category the offense would be classified under Rule 40 of the NHL Rulebook. There are three different categories of this offense, all of which carry automatic suspensions of varying lengths.
My gut instinct from the outset was the Carcillo incident should fall under Category 3, which carries an automatic minimum three-game suspension. A Category 3 offense is defined as follows:
Any player who, by his actions, physically demeans an official or physically threatens an official by (but not limited to) throwing a stick or any other piece of equipment or object at or in the general direction of an official, shooting the puck at or in the general direction of an official, spitting at or in the general direction of an official, or who deliberately applies physical force to an official solely for the purpose of getting free of such an official during or immediately following an altercation shall be suspended for not less than three (3) games.
When the incident was reported to the NHL by the officials, it was classified under the more serious Category 2, which carries an automatic minimum 10-game suspension.
Any time a Physical Abuse of an Official penalty is imposed, the officials must make both a verbal and written report to the League, including the category of the offense that they think is merited. The NHL then conducts a hearing with the player and makes a ruling. Only a Category 3 suspension can be reduced in length.
As is the player's right, Carcillo appealed his suspension directly to NHL commissioner Gary Bettman. Working around the parameters of the rule -- which Bettman himself amended to have ultimate authority on such matters -- the NHL reclassified Carcillo's suspension as a Category 3 offense.
From a strictly technical standpoint that should not be confused with the reality of the situation, Carcillo's suspension was not reduced. On a procedural basis, Bettman reclassified it from Category 2 to Category 3 and then doubled the minimum three-game suspension to six. Of course, from a practical standpoint, it serves as a four-game reduction in the player's suspension that allows him to return in the Stanley Cup Finals instead of being suspended for the rest of the playoffs.
Viewed strictly on its own merits, I have no problem with Bettman's decision. I never thought Category 2 should have been applied in the first place, and the 10-game suspension was too harsh in light of the actual events. Applying Category 3 and setting the total suspension at six games is a reasonable compromise.
On the other hand, I am not thrilled with the way a new precedent has been set here. Bettman rewrote the rule and did the interpretation in a way that creates some deliberate ambiguity; The NHL Rule Book is neither guided by common sense nor does it honor the reason why the rule was created.
There is a good reason why the abuse of an official rule was written for there to be absolute clarity in the ensuing automatic suspensions that are handed out.
In a 1983 game between the Chicago Blackhawks and Hartford Whalers, Chicago forward Tom Lysiak deliberately tripped linesman Ron Foyt in retaliation for being tossed out of the faceoff circle several times during the game, including moments before the incident.
Lysiak got a 20-game suspension at the recommendation of referee Dave Newell, which the NHL Players' Association tried to have the rule overturned in court for lack of due process (they succeeded in getting a 10-day restraining order before the suspension was implemented).
With Chicago owner Bill Wirtz sitting on the NHL's Board of Directors, the NHL Officials convinced the League that automatic suspensions for abuse of an official should not be subject to tinkering from the powers-that-be. Years later, Bettman created a loophole, and just used it.
If I were sitting down with Gary for lunch today, I would tell him that I thought six games for Carcillo was reasonable in and of itself. However, I would also tell him that the long-range effect may be yet another rule that is ambiguous and needs to be rewritten from scratch rather than just being amended in a reactionary way.
Now, let's compare to the original 10-game Carcillo suspension to some historical precedents. It is not hard to conclude that this one was a bit harsh.
In 1973, Philadelphia Flyers defenseman Barry Ashbee got an eight-game suspension without pay and $150 worth of fines for punching referee Bryan Lewis in a game in Boston.
In a 1981-82 season game, Philadelphia forward Paul Holmgren struck referee Andy van Hellemond with a glancing punch in the chest. He was suspended for five games and given $500 worth of additional fines (back then, fines and getting suspended without pay for a few games were much bigger deterrents to players than they are today).
A few months later, during the 1982 playoffs, Boston's Terry O'Reilly slapped van Hellemond. He got suspended for 10 days and a $500 fine. After the season, the NHL tried to codify the punishment for these situations, creating a rule -- which was Rule 67 at the time -- that allowed the presiding referee to cite the rule in his report of the incident to the League. Category I -- the most serious and obviously deliberate offenses -- carried an automatic 20-game suspension to any player who physically abused an official during the game.
In 1983, Lysiak got a Category 1 one suspension of 20 games for deliberately tripping Foyt.
There was an early 1990s game in Calgary where fights broke out between the Flames and Kings. Calgary center Joel Otto ended up grappling with linesman Ron Finn and, with Finn pinned to the ice under Otto, threw a glancing punch/forearm. The NHL deemed it a Category 3 offense -- a three-game suspension -- on the basis that Otto was trying to pull free from Finn to go after a King.
Otto claimed he had been distracted by all the commotion around him and it was accidental. Well, you be the judge:
Getting back to the Carcillo incident, the Rangers were angry about Brandon Prust's late and high hit on Derek Stepan in the first period of Game Four of the Eastern Conference Finals. I don't blame them. It was a bad hit -- similar in a few respects to a play that got Philadelphia's Zac Rinaldo suspended four games late in the regular season -- and merited a response by Stepan's teammates.
Carcillo lingerered close to an ensuing fight between Prust and Derek Dorsett. The fight directly came on the heels of Carcillo getting a charging penalty for taking a run at Prust from behind near the end boards.
Linesman Driscoll was doing his job, trying to escort Carcillo away from the altercation and to the penalty box before going back to the altercation. Carcillo resisted going to the box, and got physical with Driscoll. The linesman may have used a bit of excessive force but the onus was on Carcillo to comply with the official's instructions and there is NEVER an excuse for getting physical with an official.
Ah, so now my dear readers, you may be wondering: "All of these incidents were pretty memorable, Stewy, but don't you have any personal stories about an incident like that when you were officiating on the ice?"
Yes, as a matter of fact, I do. Thanks for asking.
There was one time in the 1990s where I was working a game in Tampa Bay. The Italian Stallion, Enrico Ciccone, got ticked at a ruling by Ron Finn and shot the puck at my linesman's head. I immediately gave him a game misconduct.
Ciccone, to be honest, was a bit of a meathead on the ice. He was genuinely puzzled as to why certain things he did were penalties. It was almost endearing at times -- almost being the operative word.
I worked a game in Philly once between Tampa and the Flyers. I nabbed Ciccone three times on roughing penalties along the boards. Each and every time, he said, "I was just finishing my [bleeping] check, Stewy! It was a clean hit!" Each and every time, I told him that the hit itself was clean but "finishing it" by popping the guy in the face with his glove afterward was a roughing penalty.
Anyway, after the incident with Ciccone shooting the puck at Finn, Tampa Bay general Phil Esposito (with whom I go way back) came downstairs after the game to talk it over with me. He was already waiting for me in the runway of that awful ballpark rink of theirs.
I was clutching a puck in my hand at the time. When I saw Espo, I chucked the puck in his direction like a baseball knockdown pitch -- with a lot of velocity but deliberately high and a little wide so it wouldn't bean him. Being no fool, Esposito hit the deck.
"Well, how do YOU like it?" I asked. "Still want to know why I tossed Ciccone?"
Espo got the point. He didn't rat me out to the League office afterward. Nowadays, we laugh about that story.
Oh, and yes, there were several incidents where I was the victim of the abuse. That does not even count a time in the AHL where I met Andre Savard under the stands to settle our differences and Savard landed a good one. It also doesn't count being punched by fans in Winnipeg in the NHL and Moncton in the AHL.
On March 26, 1985, my 32nd birthday, I was working a Moncton Golden Flames game. Defenseman Dale "Digger" DeGray deliberately shot a puck at me. I call it my Moncton Birthday Cake (hahaha).
There was also a time in Edmonton where I got punched during a game, and there's a story about a later amicably settled feud I had with Craig MacTavish. I'll tell those stories some other time.
Finally, there was an incident in a 1998-99 season Tampa Bay Lightning game where Tampa forward Chris Gratton -- one of my least favorite players to deal with during my career -- spit at me. He got a three-game abuse suspension, and I was fine with that.
Paul Stewart holds the distinction of being the first U.S.-born citizen to make it to the NHL as both a player and referee. On March 15, 2003, he became the first American-born referee to officiate in 1,000 NHL games.
Today, Stewart is an officiating and league discipline consultant for the Kontinental Hockey League (KHL) and serves as director of hockey officiating for the Eastern College Athletic Conference (ECAC).
The longtime referee heads Officiating by Stewart, a consulting, training and evaluation service for officials. Stewart also maintains a busy schedule as a public speaker, fund raiser and master-of-ceremonies for a host of private, corporate and public events. As a non-hockey venture, he is the owner of Lest We Forget.
Stewart's writings can also be found on HockeyBuzz.com every Monday, Tuesday, Thursday and Friday. He is currently working with a co-author in writing an autobiography.