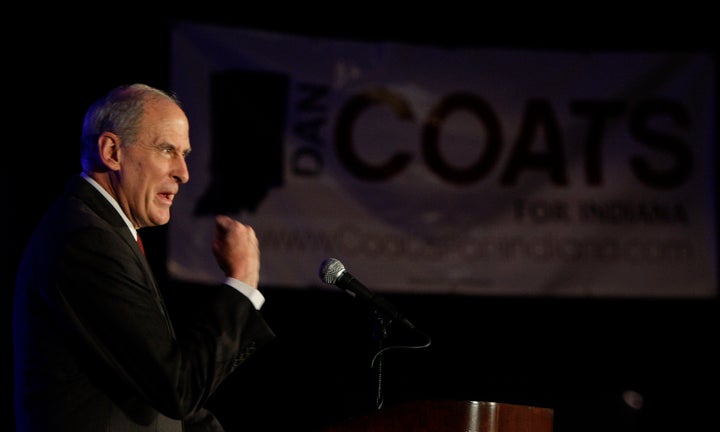 Senator Dan Coats isn't satisfied with NBC's apology for omitting "under God" from the Pledge of Allegiance during the U.S. Open.
Despite the network's recent mea culpa, the Republican from Indiana wrote to NBC Universal President Stephen Burke to express his "serious concern" over the modified Pledge of Allegiance broadcasted before the U.S Open Golf Tournament, in which the word "God" was omitted.
In an effort to "prevent such inappropriate edits from occurring in the future," Coats demanded that NBC present him with "...a full written account of its decision-making process in this matter, including an explanation of why these specific words were omitted, and what actions NBC intends to take."
"I understand that NBC acknowledged its error at a later point in Sunday's broadcast, and has since stated that this action was a "bad decision" made by a small group of individuals," Coats said. "Nonetheless, I remain concerned that such a decision to selectively edit the Pledge could be made in the first place."
Without the mention of God, the pledge "is more than incomplete," claims Coats, but "also empty."
The letter in full below:
June 21, 2011

Mr. Stephen B. BurkePresident and Chief Executive OfficerNBCUniversal, LLC30 Rockefeller PlazaNew York, NY 10112

Dear Mr. Burke,

I am writing to express my serious concern, and the concerns of the Hoosiers I represent, regarding NBC's decision to air an edited version of the national Pledge of Allegiance not once but twice during the June 19, 2011 broadcast of the U.S. Open golf tournament. In the opening of this broadcast, NBC aired video showing schoolchildren reciting the Pledge, but omitted the words "under God, indivisible" during the segment. Moments later, NBC again aired an edited version of the Pledge, this time omitting the words "one nation, under God, indivisible."

Since its adoption by Congress in 1942, the Pledge of Allegiance has served as a statement of our heritage. As the Ninth Circuit Court of Appeals has stated, the Pledge of Allegiance:

serves to unite our vast nation through the proud recitation of some of the ideals upon which our Republic was founded and for which we continue to strive: one Nation under God -- the Founding Fathers' belief that the people of this nation are endowed by their Creator with certain inalienable rights" and "indivisible--although we have individual states, they are united in one Republic."

Omitting the section of the Pledge that affirms these beliefs strips the message of its meaning. More than any political connotation, this is why the Pledge of Allegiance is more than incomplete without the words "under God" and "indivisible." It is also empty.

I am disturbed with NBC's decision to modify the Pledge for this broadcast. I understand that NBC acknowledged its error at a later point in Sunday's broadcast, and has since stated that this action was a "bad decision" made by a small group of individuals. Nonetheless, I remain concerned that such a decision to selectively edit the Pledge could be made in the first place. As a result, I would like to request that NBC provide me with a full written account of its decision-making process in this matter, including an explanation of why these specific words were omitted, and what actions NBC intends to take to prevent such inappropriate edits from occurring in the future.

I look forward to receiving your response.

Sincerely,

Dan CoatsUnited States Senator
Related
Popular in the Community