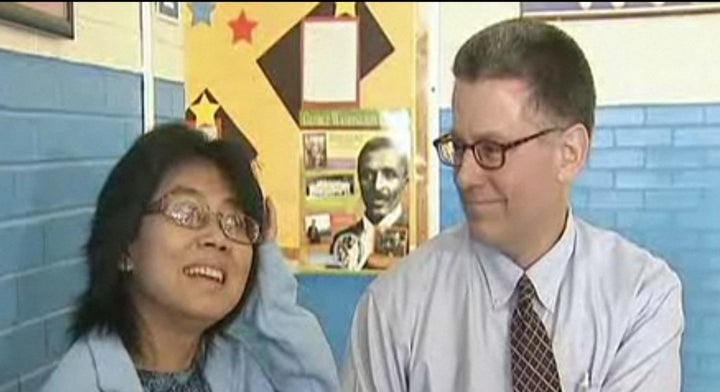 Dan Coyne asked his favorite Jewel-Osco cashier, Myra de la Vega, if everything was all right. She didn't look well.
When he heard her story -- renal failure, dialysis eight hours a night, constant exhaustion -- he made a decision. He would give her one of his kidneys.
This decision happened two years ago, when, according to the Chicago Sun-Times, de la Vega was unsure how serious she was and still hoping her sister would be a good match. But she wasn't; Coyne, a 52-year-old school social worker, was.
So this Friday, they're heading to the operating room together, one man and his favorite smiling grocery-store cashier.
"It still makes me cry," de la Vega told WGN-TV. "It gives me chills because of his generosity."
(Scroll down for video of de la Vega and Coyne discussing the decision.)
de la Vega isn't the only one moved by Coyne's generosity. At his school, Pershing East Magnet School on the near south side, principal Antonia Hill declared Tuesday "Dan Coyne Day." Students learned about the kidney, and Coyne and de la Vega told their extraordinary story.
"That's a very good lesson for them to have learned," Hill told WGN. "I really think they have a grasp of it."
Coyne, who WGN describes as a "deeply religious man," said he'd prayed on the subject, knew it was the right thing to do, and wasn't afraid.
"I'm confident I'm supposed to do this. I think I'm more fearful when I'm on Lake Shore Drive in the winter time and some of those pot holes try to swallow my car," he said to NBC.
Watch WGN's report on Coyne and de la Vega:
REAL LIFE. REAL NEWS. REAL VOICES.
Help us tell more of the stories that matter from voices that too often remain unheard.