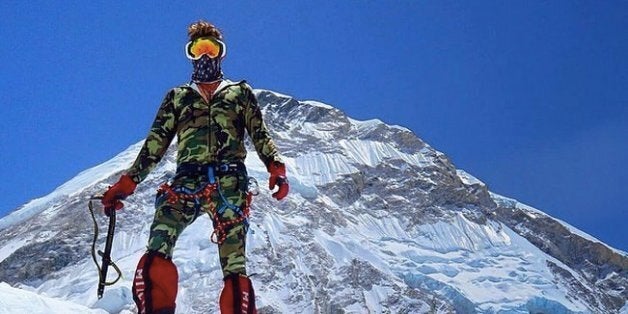 "We'll also know that you've already lived the equivalent of at least 100 lifetimes."
Those were the last words Max Stossel wrote to his friend, Dan Fredinburg.
Fredinburg died in an avalanche while climbing Mount Everest after a 7.8-magnitude earthquake hit Nepal Saturday. Stossel's words were written in one of a handful of letters that Fredinburg, a Google employee and avid adventurer, carried with him from family and friends, wishing him luck on his journey and telling him how much they love him.
His girlfriend, Ashley Arenson, had asked those close to Fredinburg to write letters that he could open at different check points and levels along the way. Stossel is not sure which ones he would have opened when. "It's totally possible, because it's Dan, that he might have read all of them immediately," he told The Huffington Post Monday.
Dan, (dan dan dan)

You must be really high up for this written echo (echo echo). Everyone you know and love is eventually going to die (die die die). When we do, we leave behind our stories. Those stories are told and passed on, impacting the lives of others until they are stories (stories stories stories). Your story has already greatly impacted mine for the better. With each adventure you return with stories that most people wouldn't dream of experiencing themselves (selves selves selves). Thank you for pushing the human race to be greater, more daring, and to truly live life rather than survive it (it it it). I love you, brother. Please return safely with stories (stories stories). And even if you don't... We'll all be horrified, saddened, and heartbroken, that we can't create new stories with you, but we'll also know that you've already lived the equivalent of at least 100 lifetimes.

You are a fucking champion.

Safe, wonderful & breathtaking journey.

Love,Max Stossel (ossel ossel)
Stossel said he shared the letter as a reminder of how amazing Fredinburg was. "He had this incredible hacker mind, finding innovative ways to solve problems," he told HuffPost. "He used that mind to bring more love into the world, more adventure into the world, and create those experiences for the people he cared about." Fredinburg, who joined Google in 2007, had gone on multiple Mount Everest expeditions, photographing the region for Google Street View, the New York Times noted. The company released a statement confirming his death and reporting that the three other Google employees who were also on the hike are safe. A Crowdrise campaign honoring his life is raising money for two Nepalese orphanages Fredinburg had been dedicating his climb to.
Related
Popular in the Community