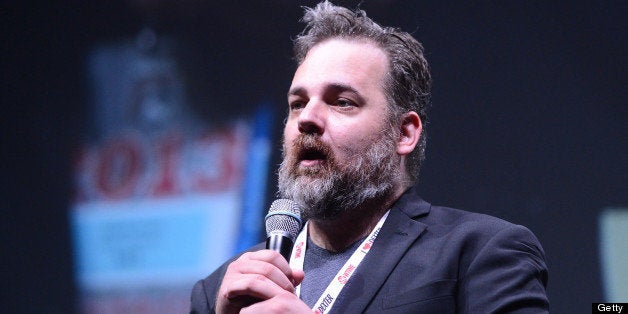 "Rick and Morty" is a new animated comedy premiering on Cartoon Network's Adult Swim this fall, all about the adventures of a genius inventor and his less-than-genius grandson.
Answering questions from critics at the annual Television Critics Association press tour, Harmon talked about the benefits of doing animation versus live-action: "You can make a banana purple. You can put three hats on a cowboy." Then when talking about influences, Harmon cited the "British sci-fi stuff" that he grew up reading, as well as "a heavy dose of 'Doctor Who.'"
That the follow-up question wasn't about "Inspector Spacetime" is a total TCA fail, but the questions did quickly shift to "Community," naturally.
When asked about getting production notes from Adult Swim versus notes from NBC for "Community," Harmon threw in a small jab. "[Adult Swim's] Mike Lazzo is a bonafide actual genius -- especially in the world of network executives," Harmon said, going on to praise Lazzo's note-giving and fair management style, then wrapped it up with a laugh: "On the NBC side, it's even better!"
Roiland praised his partner, saying, "He's a talented, genius writer who writes some of the best dialogue I've ever read," to which Harmon said, "I would rather die than make terrible things for people."
But when Harmon was asked if he thought a sixth season (and a movie!) of "Community" was a real possibility, he deflected to Roiland to answer for him ("I think it's a very real possibility," Roiland said) before talking about his choice to return to the NBC series after being so publicly fired. "If I had not gone back, the worst case scenario was 30 years of wondering. I had to go back," Harmon said. "The worst case scenario if I go back is one shitty season. Who cares?"
As for "Rick and Morty," both characters are voiced by Roiland, with additional voices by Harmon, Chris Parnell, Sarah Chalke, Spencer Grammer, Brandon Johnson and Kari Wahlgren.
"Rick and Morty" premieres this fall on Adult Swim; "Community" Season 5 premiere date is still TBD on NBC.
PHOTO GALLERY
'Community' Season 4
REAL LIFE. REAL NEWS. REAL VOICES.
Help us tell more of the stories that matter from voices that too often remain unheard.