The art of the monologue offers a performer nowhere to hide. Few are as gifted in this genre as Dan Hoyle, whose one-man show The Real Americans keeps getting extended at The Marsh in San Francisco. In his program notes, Hoyle writes:
"When I first talked to friends about my three-month trip around Small-Town America, and workshopped the material of this show, the most common response was 'But Dan, Obama won! The country has changed!' When I got home, there was dancing in the streets of urban America as the nation elected its first black President, the most progressive in a generation.

I did not expect to make the show I have made. I wanted to create a portrait of Small-Town American heroes with bubble-bursting wit and insight. Instead, I ran into the angry populism of the folks whom Sarah Palin famously called 'the Real Americans.' But a year into Obama's presidency, the populist anger of the Town Hall rallies, the Tea Party Movement, Glenn Beck, and Fox Nation is making headlines and shaping policy. (Did death panels and Socialist healthcare kill the public option?)

I felt I had experienced something politically significant, but when I got home, people didn't believe me. I believe this anger is here to stay, and will continue to have a huge impact on our culture and politics."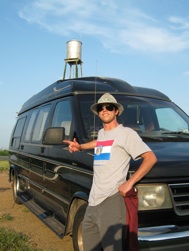 Performance artist Dan Hoyle (Photo by: Brendan Furey 2010)
With help from his long-time colleague, Charlie Varon, Hoyle has strengthened the front end of his show with a hilarious hip hop routine that details his goals and prepares the audience for the types of characters they will meet. He has also added a dream-like conversation with Barack Obama, who urges him to continue his work and never lose hope. Late in the show, when Dan picks up his guitar and slyly pours his frustration into a song he has written about the current state of these United States, his audience dissolves into easy laughter.
Hoyle has mastered the art of using his body to denote changes in character with the grace, subtlety, and precision of a classically trained dancer. Inflections of voice, combined with changes in gaze, stance, and inhalation add depth and delineation to each word spoken by whichever character is fleetingly inhabiting Hoyle's body. His innate ability to capture the music of regional speech patterns (including clipped or dropped consonants, flattened vowels, and self-conscious mumblings whose musical pitch rises as they approach the end of a sentence) are the mark of a gifted, hard-working performance artist.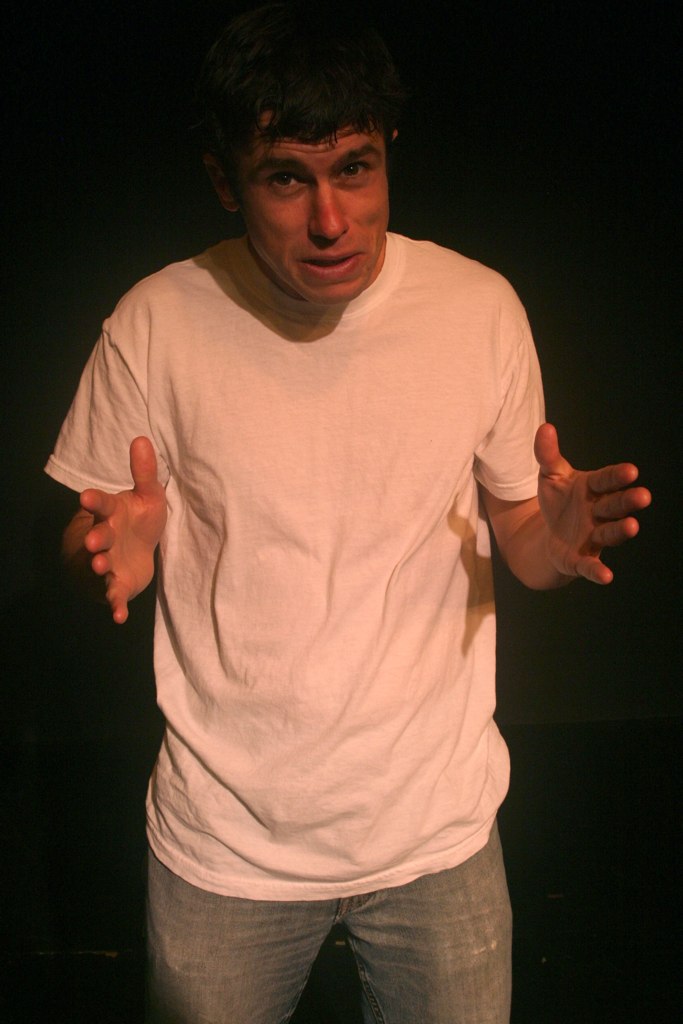 Dan Hoyle in The Real Americans (Photo by: Lyra Harris 2010)
To watch Hoyle as he reenacts a conversation between four San Francisco hipsters at brunch is like attending a master class in managing multiple personality disorders. Unlike such high voltage performers as Robin Williams or John Leguizamo (who strive to dazzle you with the power and rapidity of their delivery), Hoyle often pulls back and lets the audience feel as if they are watching him work through a gentler lens as he introduces viewers to a variety of personalities under much more intimate circumstances.
The voices Hoyle creates are rarely declamatory. Instead, they are cozy, nurturing, and often wistful (in the way that long-time partners speak to each other in a personal kind of shorthand). In moments when Dan is conversing in an unintelligible dialect (subtitles are provided) -- or imitating an excited young Dominican who is alternately speaking in rapid-fire Spanish and English -- the musicality of his phrasing is revelatory in the way it allows us to see into each character's soul.
Whereas a performer like Jim Carrey might go for broader, more hard-hitting strokes on an emotional canvas, Hoyle paints his characters with the meticulous determination of a pointillist like Georges Seurat. There is no smoke. Nor are there mirrors. Instead, Hoyle uses his finely-tuned instrument to communicate deeply-hidden shame, a sense of scabbed-over loss, profound self-righteousness, and hard-boiled folksy ignorance while contrasting such qualities with nearly manic levels of idiotic expertise, comic enthusiasm, and loving tenderness.
It's easy to throw out terms like "poetry in motion" or "one-man circus" when describing the work of an artist like Hoyle. But after attending a performance of The Real Americans, you'll discover yourself struggling to find ways to accurately describe the emotional depth and intellectual breadth of what you have just witnessed.
Watching what, at first, seems like a slight and sweet young man with a naturally athletic body morph into 20+ characters of varying ages, wisdom, genders, and enthusiasm -- with a physical ease and theatrical grace that are downright uncanny -- is a dramatic experience you won't want to miss. The Real Americans continues at The Marsh in San Francisco through September 25.
REAL LIFE. REAL NEWS. REAL VOICES.
Help us tell more of the stories that matter from voices that too often remain unheard.