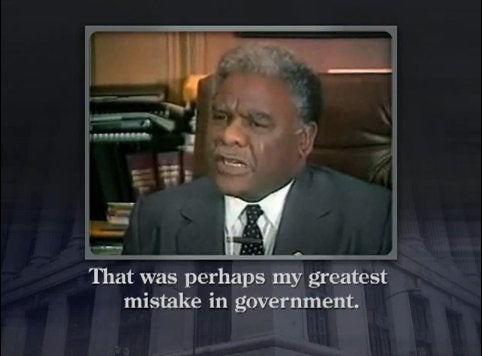 Dan Hynes has released a new ad, featuring nearly a full minute of monologue by former Chicago mayor Harold Washington. In it, Washington describes his firing of now-Governor Pat Quinn from his post as the city's revenue director.
"Pat Quinn is a totally and completely undisciplined individual," Washington says, "who thinks this government is nothing but a large easel on which he can do his P.R. work."
Washington goes on to describe his dissatisfaction with Quinn's work in the role, saying that Quinn was like "a bull in a closet."
The ad comes less than two weeks before the primary elections, in which Pat Quinn and Dan Hynes are in a closely contested race for the Democratic nomination for Governor. Recent internal polling showed Quinn dropping below 50% for the first time in the race, and Hynes has stepped up the heat in recent weeks. Hynes also appears to have a significant fundraising edge of more than $1 million.
Quinn had been suffering the political consequences of a controversial program that released a number of violent inmates from prison early in order to meet budget cutbacks. At a recent debate, however, he struck back as the race took a decidedly nastier turn.
During the debate, hosted by ABC 7 and the League of Women Voters, Quinn took the offensive by highlighting Hynes' failed campaign against Barack Obama in the 2004 Democratic U.S. Senate primary.

Quinn accused Hynes of using the same negative-campaigning tactics in the governor's race that he employed against Obama -- painting him as a naysaying presidential foe.

Hynes "smiles in your face and stabs you in the back," Quinn said.
Popular in the Community