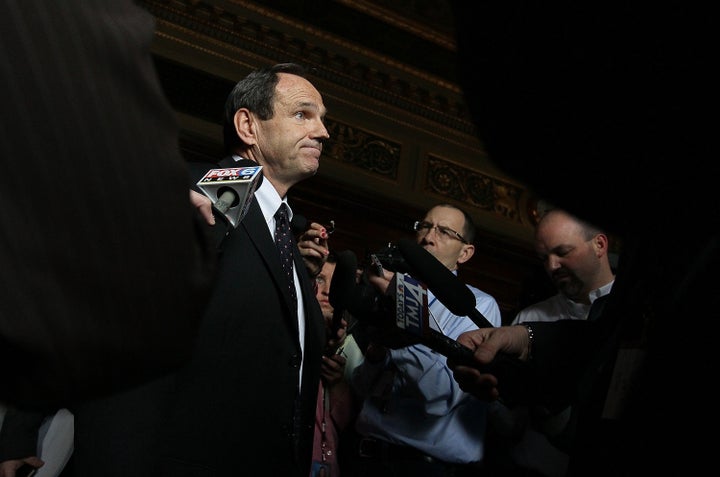 Democrats in Wisconsin say they have collected sufficient signatures to recall state Senator Dan Kapanke, a Republican, over his vote to restrict collective bargaining rights for state workers, the Lacrosse Tribune reports.
Kapanke is one of eight GOP legislators targeted by Democrats for supporting a controversial anti-union bill signed into law by Governor Scott Walker. The measure is not currently in effect as a Wisconsin judge examines the process by which it was advanced and approved. The AP reports:
Having declared that Wisconsin's divisive union law isn't really a law yet, a judge was set to return to one of the underlying questions dogging the measure - whether Republicans violated the state's open meetings law during the frenzied run-up to passage.

Republican Gov. Scott Walker's administration reluctantly suspended efforts to enact the law Thursday after Dane County Circuit Judge Maryann Sumi unexpectedly declared the measure hadn't been properly published. The move marked another round in a messy legal fight over the law, which requires most public workers to pay more for their benefits and strips away most of their collective bargaining rights.
The Tribune reports on the effort from La Crosse area Democrats to recall Kapanke from office:
Recall organizer Pat Scheller said volunteers have gathered more than the 15,588 signatures needed and that they plan to take them to Madison after a noon rally today at La Crosse City Hall.

It is expected to be the first completed of 19 active recall efforts registered between Feb. 24 and March 2 against 16 senators.

Kapanke did not return messages Thursday, but has said the recall is "part of the process."
Meanwhile, The La Crosse County Republican Party is already preparing for a recall election to oust Kapanke, and county chair has said he thinks it's a "foregone conclusion that they're going to get the signatures that they need."
Last Saturday, Kapanke reportedly said, "I love campaigns. I just didn't think I'd do one every year."
Popular in the Community