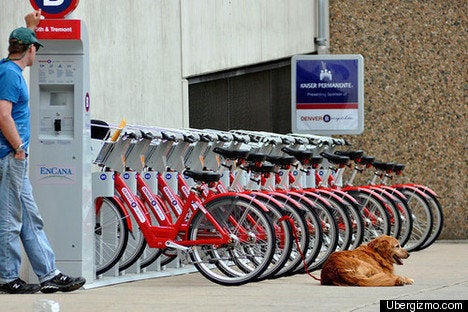 This week, former Congressman Tom Tancredo (R-Colo.) "made good on his threat" to jump into the race for the Colorado statehouse after a prolonged temper tantrum about how unsatisfied he is with the GOP's two candidates for the nomination, Scott McInnis and Dan Maes. Tancredo -- who will run under the auspices of the American Constitution Party -- immediately threw the GOP's designs on the governor's race into stunning disarray: polls indicate that Tancredo would divide the state's conservatives nearly in half, paving the way for a John Hickenlooper victory.
Dan Maes, however, isn't going down without a fight, and has apparently decided to go all out in competition for Tancredo's natural constituency -- ridiculous xenophobes. So, what crazy paranoia over the creeping menace of foreigners is Maes fearmongering about? Let's ask the Denver Post:
Republican gubernatorial candidate Dan Maes is warning voters that Denver Mayor John Hickenlooper's policies, particularly his efforts to boost bike riding, are "converting Denver into a United Nations community."
"This is all very well-disguised, but it will be exposed," Maes told about 50 supporters who showed up at a campaign rally last week in Centennial.
Okay, here's the mystery that Maes alone has penetrated. Denver is a member in something called the International Council for Local Environmental Initiatives. They've been a member since 1992. It is an "international association that promotes sustainable development." One of the things that contributes to sustainability and an overall pleasant quality of life is a bike-sharing program called "B-Cycle" which has taken donations and grant monies to make 400 bicycles available for the residents of Denver to tool around on when the spirit moves them. Hickenlooper has praised the program so Maes is trying to make the case that it's a UN plot to deprive people of "freedom."
Just last week, Transportation Secretary Ray LaHood -- a former Republican member of Congress -- visited Denver, strapped on a helmet to take a bike ride through town, and called the bicycle-sharing program "a model for America."
So, in other words, Dan Maes is deeply, unquenchably crazy. But will he be able to out cray-cray Tancredo? Westword's Michael Roberts offers Maes some suggestions on where to go from here, including doing something about Denver-area "Best Buy outlets still selling TV remotes with SAP buttons, nefariously promoting languages other than 'Merican."
[Would you like to follow me on Twitter? Because why not? Also, please send tips to tv@huffingtonpost.com -- learn more about our media monitoring project here.]
Popular in the Community