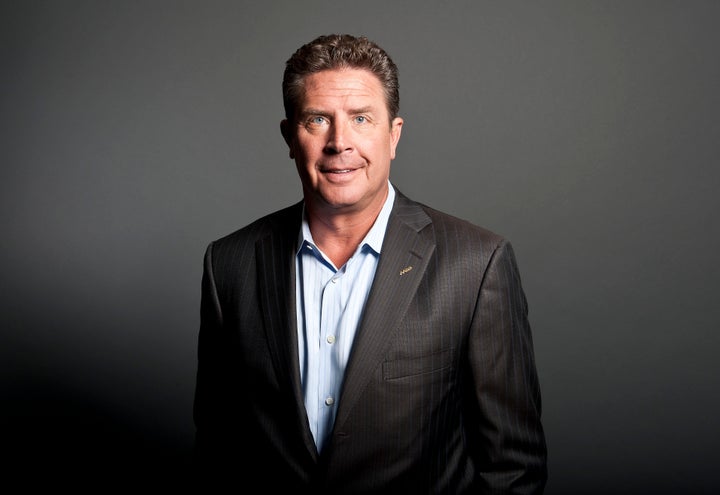 For more than a decade the Miami Dolphins have been looking for the next Dan Marino. Entering the 2012 NFL Draft, the search continues.
Having recently turned 50, the Hall of Fame quarterback has also been thinking a lot about the next Dan Marino. Unlike the decision makers in Miami, though, he isn't concerned with college kids with wide eyes and rifle arms. Instead, he's thinking about the next phase in his own life.
"I joke but it's the truth, I played football for so many years and I've been doing TV for 12, and I still don't know what I want to do when I grow up," Marino said during a recent interview with The Huffington Post.
In order to provide an example for his new peer group, Marino has been named AARP's "Men's Life Ambassador" and is getting himself acquainted with a new set of challenges and opportunities.
"Fifty is only a number. It's really about your attitude, either before or after," said Marino. "It's really about what you want to do with your life going forward."
Nearly 30 years ago, Marino was at another transitional point in his life. The Pittsburgh native had finished his collegiate career at the University of Pittsburgh and was set to enter the 1983 NFL Draft. Although it wasn't a made-for-TV extravaganza like the 2012 edition of the draft taking place at Radio City Music Hall over three days this week, it was undoubtedly a key moment in Marino's life. Until he had his name called by the Miami Dolphins, Marino had always lived close enough to his parents' home in the blue-collar South Oakland neighborhood of the Steel City that his father -- who delivered the Pittsburgh Post-Gazette -- was able to pass him handwritten notes about his play.
Decades later, Marino is the doting father, speaking glowingly of his children's exploits. He recently visited with The Huffington Post to discuss his new relationship with the AARP, reflect on being drafted into the NFL, his relationship with his own father and the work he has done to help those, like one of his son, diagnosed with autism.
HuffPost: What drew you to the AARP?
Dan Marino: First of all, I have a relationship with James Brown, who is a community ambassador for AARP. We work together at CBS.
Last fall, I thought I was going out there to give him an award for his community service as an ambassador in L.A. I got out there and they flipped it on me. They gave me my first AARP card and it was this big card. They wanted me to be an ambassador for them.
That platform is amazing and also having the relationship with James and him being a community ambassador helped, too. He talked to me about it and I thought it was a great opportunity for me. You feel like you can make a difference.
HP: What do you have planned in your new role?
DM: The "Men's Life Ambassador" is not just about football. It's about the average guy that is working who has dreams of doing things, whatever they may be. I think our work on the website and some of the articles and videos that we're going to be doing is to help be with looking forward to what you want do in your life, making decisions, and overcoming whatever challenges there might be to do what you want to do.
HP: How has your transition been to turning 50?
DM: When I look at it, it's about your attitude and the way you're approaching life and what you want to do no matter if you're 50, 60 or 40 or approaching 50. It's all about your attitude.
HP: What wisdom would you pass along to your younger self?
DM: I would have explored some things that I didn't that I thought I should have. I had a lot of business opportunities and things that I could have done in my late 20s and 30s, some while I was playing. I didn't take advantage of it maybe as much as I should have. I look back on it and think that would have been fun to do, create something, build something.
For the Dan Marino Foundation, that's something I jumped on and we have worked with. But business opportunities, things like that, that I think would have been successful but I didn't do them. I was like, "I'm playing football. Why do I need that?"
HP: Is 50 better than 25 in any way?
DM: I don't know about that! My knees were a lot better when I was 25!
HP: Were you planning for life after football during your playing career?
DM: When I finished playing football, I wasn't really sure I was ready to finish. But then I decided to finish. So it's kind of like, "well what do you want to do next?" And I always thought that I wanted to do some TV. I wasn't completely sure about that and started doing it and really kind of enjoyed it. I've been doing it ever since.
You have to prepare before, whatever your career may be. It could be changing your career. You could be over 50 or you could be 38 when I was, and you have to start thinking about what you want to do that's not only going to challenge you but will also fulfill your expectations in life and for what you want to do. It could be working for other people with charities or starting another business.
HP: Can it be hard for athletes to see beyond the field?
DM: When I played there weren't a lot of guys thinking about the next year, the next month. They were thinking, "Right now in my life, I'm playing football and that's all it is."
I think that today the players are a lot smarter about what may be life after football. What business am I interested in that I can start working now in the offseason when i get time to help develop those relationships? From franchising businesses to working corporately, I think they're smarter about that now then ever before.
HP: What are the challenges in your life these days?
DM: There are a few business opportunities, things I've been involved with, that I'd like to see develop. I really get a kick out of starting things and being a part of it. There is a pizza business that I'm working with that has been pretty cool and successful.
HP: How do you keep yourself fit and healthy?
DM: The challenge is making sure that you're dedicated and committed to be healthy and living an active life. But not only for yourself, because you're getting to a certain age where there's a lot of other people around you that are counting on you. It's not only about health and wellness and having a good attitude for yourself, it's for them, too.
The challenge is making sure you get up and do it -- whether it's something every day, every other day or whatever it may be -- and making it fun. I know it sounds corny but you set a goal. Even if it's go in and get on the treadmill for 15 minutes. If you get to 15 minutes and you had said that's what you were going to do then you feel good about it.
HP: What is a fitness goal for Dan Marino?
DM: I try to do something every day. I don't always do it. But I do an hour -- either a cardio or cross training. I work with a trainer and that helps me even though most of the AARP members won't have that. But some of the stuff I'm doing will be on the AARP website and we'll have some videos showing what you need to do and even some of the things that I do.
I have a son who plays golf in college, and I probably play more than I would if he wasn't a college golfer. So, the golf game is pretty good. I'm a 4 handicapper.
HP: How does golf or your other challenges compare with playing in the NFL?
DM: It's not close. That's the problem! Whatever your hobbies are, it's not going to replace winning a football game and coming from behind to do it or whatever it may be. But the golf part, it's you against the course, against the score, so it's competitive that way. Also, the fun part of business is creating something and letting it grow and that's competition in it's own way.
HP: What goals are you still chasing or trying to replicate?
DM: Well, if I could still play, it would be winning a Super Bowl because I didn't win one of those. So that's pretty much out. You accept certain things in life. But that would be one. I guess, I'm also trying to set a good example as much as I can, not only for people around me but also with this. This is something, being the Lifestyle Ambassador, because of the platform we have with AARP, we can infect a lot of people in a positive way.
HP: What's the riskiest thing you've done since turning 50?
DM: Playing football on the beach! That was pretty risky. [There's been] no skydiving, none of that stuff. I don't think anything is a risk if you believe in it. But things can be risky no matter what you're doing. As far as businesses -- like we talked about the pizza places that I'm involved with, Anthony's Coal Fired Pizza -- they are risks because financially you're taking chances. But at the same time, it's not because if you believe in what you're doing then it's not because you make it work.
HP: What social and political causes are you most passionate about?
DM: For me, in the state of Florida and anywhere, it's [raising] the awareness of autism and helping families and kids with developmental disabilities that might not have had the same opportunities that my son Mike had from the time he was 2. Now he's 23, going to be 24, and he's doing well. There have been a lot of programs that we've helped develop that I think are making a real difference. I would say that is the social part. You know, the political part, I try to stay away from.
We have a developmental center in Weston, Florida in Fort Lauderdale that sees about 6,000 kids a month. It's really made a difference, I think, in a lot of people's lives. What's cool about it is that when I go there, a dad will come up or a mom will come up and say that this place has made a difference in our kid's life, in our family's life. It gives you chills, really.
HP: Was there a foundation or a person who helped you out most when your son was young and first diagnosed?
DM: In most cases, when I was that age, it was probably my father. He was a guy that I looked up to because of what his work ethic was. I always talked to him very openly about things. When Michael got diagnosed, I had no idea what autism was. I had to look it up in a dictionary or encyclopedia. The awareness really wasn't there. So I think because of Mike, he's been a blessing, we've really helped with awareness.
HP: Did your father have any particular advice for you before you got to the 1983 NFL Draft?
DM: There was nothing like, I sat down and he gave me a speech. There was nothing like that. It was just that our relationshop was always very close. I don't think that there was one statement that I can remember him saying. Through all that time, he was my best friend and the best coach that I ever had. You wanted to make him proud. He used to write me notes. If we'd miss each other, he'd always take notes on plays and his thoughts in general. I think it was his therapy. I still have them.
HP: Was it hard to leave for Miami after staying close to home and family for college?

DM: I didn't leave to go to school but it was great for me. I could always go home and see mom or whatever but I always had an apartment on campus. It was still like going away. It was the best of both worlds. I think in some ways, I was ready for [leaving Pittsburgh], the challenge of going to another city, getting a different perspective and being on your own and living what life was about.
(Check out the slideshow below for Marino's career highlights and more.)
REAL LIFE. REAL NEWS. REAL VOICES.
Help us tell more of the stories that matter from voices that too often remain unheard.
BEFORE YOU GO