A police officer who pushed a CNN journalist on live television in Ferguson, Missouri, this week has been relieved of duty following the discovery of a videotaped speech in which he criticized President Barack Obama, Muslims and gays in the military.
St. Louis County cop Dan Page, a 35-year police veteran, also denounced hate crime laws and boasted of killings he claimed to have committed in the remarks delivered to a group called the Oath Keepers of St. Louis and St. Charles. Its members vow to uphold the Constitution and are drawn from the military, law enforcement and emergency responders.
"Policemen are very cynical. I know I am," Page says from a podium on the video. "I hate everybody. I'm into diversity. I kill everybody."
CNN's Don Lemon, who was pushed by Page on Monday at demonstrations triggered by the police killing of Michael Brown, obtained the video. It was uploaded to YouTube in April, but it was unclear when the recording was made.
County Police Chief Jon Belmar suspended Page after watching the video. Belmar told the St. Louis Post-Dispatch he would have fired Page if a review weren't first required. The review will begin Monday and Page will be told to undergo a psychological evaluation, according to USA Today.
Reading from the Declaration of Independence and the Bible, and talking about his past as a Green Beret, Page claims on the video that the federal government has abused its power.
"We have no business passing hate crime laws. None. Because we're setting aside a group of people special," Page says. "We got a Supreme Court out of control with laws on sodomy," he says later.
At other points, he calls Obama an "illegal alien" and shows a photo of himself in Kenya. "i went to our undocumented president's home. He was born in Kenya."
But it was Page's flippant talk about violence that Belmar said he found particularly alarming.
He "was disturbed by the conversation being had. Chief Belmar does not expect this kind of rhetoric from his officers, just like they don't expect it from him," according to a statement on the department's Facebook page. "Chief Belmar, on behalf of the St. Louis County Police Department, would like to apologize to the community, anyone that video has or will effect, and to the other hard working officers on the detail with the officer in question because they deserve better than that. While the officer has never been involved in an officer involved shooting, the statements made about killing are unacceptable and not what we are about as a Department."
There's even a disclaimer on YouTube to distance the Oath Keepers from Page's commentary.
"The statements made by [Sergeant] Major Dan Page do not reflect the opinions of our local Oath Keeper Chapter, nor the national organization. Dan Page, speaking to the St. Louis/St. Charles, Missouri Chapter of Oath Keepers, explains how they plan to end American sovereignty and the Constitution, establishing martial law and merging the U.S. with the New World Order."
Before You Go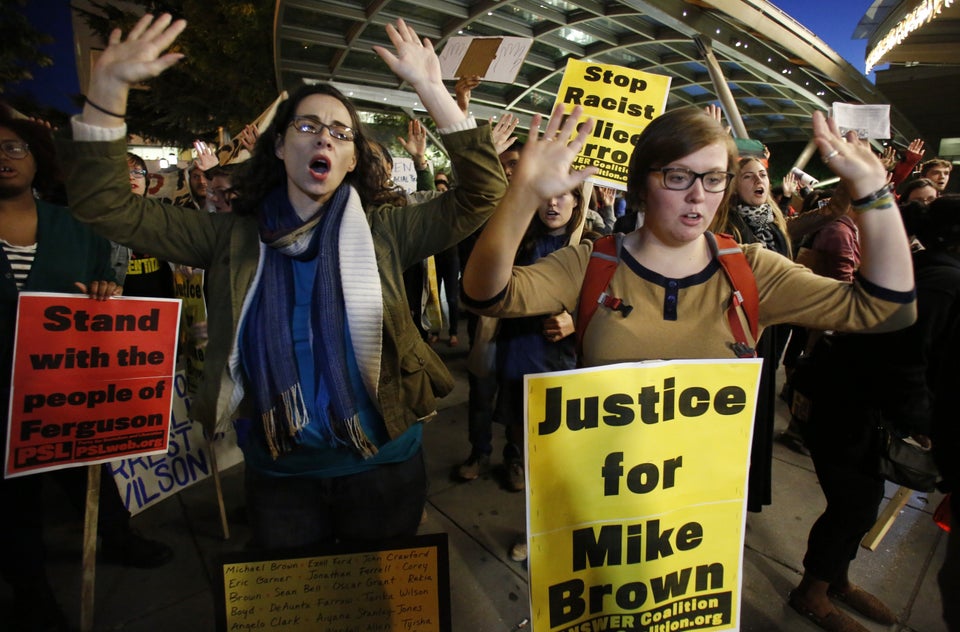 Ferguson
Popular in the Community