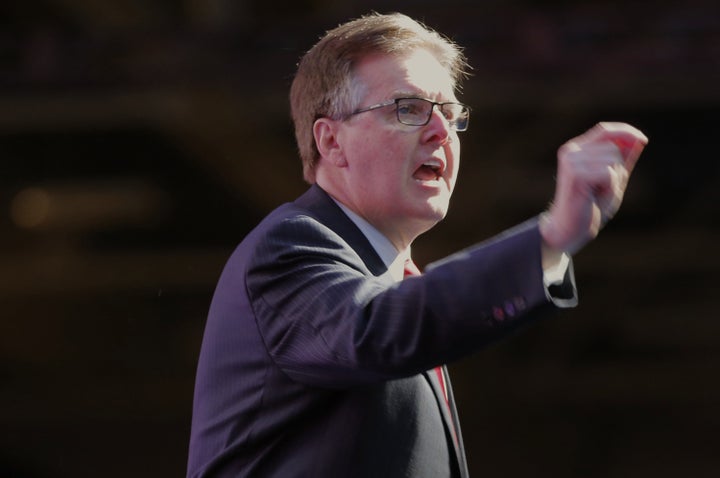 WASHINGTON -- Texas Lt. Gov. Dan Patrick (R) has said he wants to "let every school decide, let the parents decide" how to police transgender students' bathroom choices.
But when Fort Worth school district Superintendent Kent Scribner decided last month that school staff should "acknowledge the gender identity that each student consistently and uniformly asserts," and make sure students "feel comfortable and safe in the use of restroom and locker room facilities," Patrick called for him to resign.
"Dr. Scribner has lost his focus and thereby his ability to lead the Fort Worth [school district]," Patrick said. "He has placed his own personal political agenda ahead of the more than 86,000 students attending 146 schools in the district by unilaterally adopting 'Transgender Student Guidelines.'"
The case highlights a contradiction in some conservatives' positions: They want to fight federal overreach by policing students' bathroom choices themselves. The Obama administration has argued that existing law requires public schools to let transgender students use bathrooms that correspond to their gender identity. But conservatives say the president has gone too far, and have fought back. Patrick sent a tweet on Tuesday that made his position clear:
Patrick released his statement attacking Scribner the same day that North Carolina Gov. Pat McCrory (R) sued the U.S. Department of Justice over the state's law forcing people to use public restrooms that correspond to their birth certificates. (The feds countersued.) Patrick has said that he would rather give up billions in education funding than comply.
The Fort Worth superintendent "did what Barack Obama is doing... circumventing the people," Patrick said in an interview with WFAA's "Inside Texas Politics" on Sunday. He claimed that Scribner failed to consult parents and other stakeholders. "Local control is only if you have a local voice, so I stepped into the fray," he said.
Another Texas school district, Keller, went about it the right way, Patrick suggested Friday. Last year, Keller put off a vote on LGBT protections after parents spoke out against them. "The parents said no, they made accommodations," Patrick said.
Patrick's complaints about the process by which Scribner came up with his policy are an excuse, said Cathryn Oakley, senior legislative counsel for the Human Rights Campaign, which advocates for LGBT rights.
"He has a specific outcome that he believes will be the best outcome," she said. "And he is criticizing folks who are coming to an outcome that's different from his."
Patrick doesn't have control over the school districts, but his statements could foreshadow an upcoming legal fight. (In an op-ed for The Dallas Morning News on Tuesday, Patrick said that he plans to pass a bill related to this issue in the 2017 legislative session.) His remarks could also put superintendents in an awkward position. Other school districts, including Houston and Dallas, have general non-discrimination policies, and plan to continue enforcing them. "Schools have a lot of cover to continue to do the right thing," Oakley said. But "in Texas in particular, it's an environment that could be intimidating."
So far, Scribner is standing by his non-discrimination policy. "Dr. Scribner has said we will follow the law," Clint Bond, a spokesman for the school district, told The Huffington Post. "If the law changes, we will follow the new law."
In a statement released Friday, Scribner was more blunt: "The bottom line is that our policy helps protect kids from bullying," he said. "Nothing more, nothing less."
But at least one superintendent has already said he agrees with Patrick. "I got news for President Barack Obama," Port Neches-Groves Superintendent Rodney Cavness told 12News last week. "He ain't my President and he can't tell me what to do."
Calling all HuffPost superfans!
Sign up for membership to become a founding member and help shape HuffPost's next chapter
BEFORE YOU GO