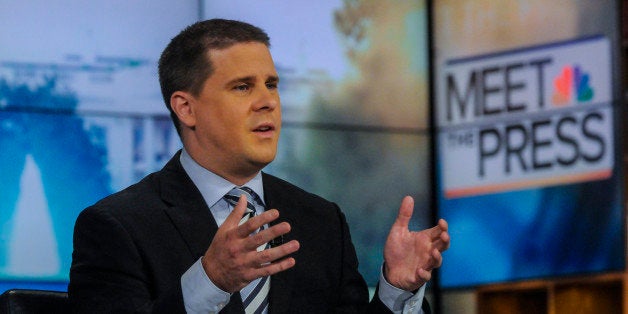 NEW YORK –- Dan Pfeiffer said Thursday that the president's "latte salute," the Twitter-fueled media outrage of the week, epitomizes just "how fake the whole conversation" around politics can be.
Pfeiffer, a senior adviser to President Barack Obama and a longtime communications operative, said that "no one in the political sphere" trying to make a story out of the president greeting a couple of saluting Marines with a beverage in hand "actually believes that this somehow indicates some disrespect." (And for the record: Obama was drinking tea, not coffee.)
"It's just like, 'Here's a gotcha moment. We know it's not real,'" Pfeiffer said. "The Republican operatives who push around know it's not real. The press knows it's not real, but everyone's got to cover it and play the whole game."
Pfeiffer described the relationship between the press and the White House during an hourlong discussion Thursday morning with BuzzFeed Editor-in-Chief Ben Smith at a breakfast event attended by the site's staffers and a few outside reporters.
They talked about how both legacy news outlets and the White House have lost some degree of control in today's more fragmented media environment and how an image as seemingly benign as the president holding a cup, published by the White House's own Instagram account, can quickly go viral. Pfeiffer also addressed the coverage of race involving America's first black president, breaking through the unceasing news cycle, and what the White House gets out of Obama's off-the-record meetings with columnists.
One way for the White House to cut through the media clutter, Pfeiffer suggested, is by surprising the press. That was the case last year when Obama made an unexpected appearance in the White House briefing room and spoke passionately about his personal experience with racial bias just days after George Zimmerman was found not guilty in the killing of unarmed teenager Trayvon Martin.
Pfeiffer said that the lack of advance warning meant the president's talk would "pop on the Internet in a way it would not have otherwise." The strategy also prevented cable news hosts and pundits from pontificating for an hour beforehand about what the president might say and what it might mean, Pfeiffer said. The White House could "own the moment in a way before it felt old."
On race matters broadly, Smith mentioned an article last month by Vox's Ezra Klein -- a writer Pfeiffer acknowledged the president reads regularly –- about how Obama didn't give a similarly heartfelt speech following unrest over the police killing of unarmed teenager Michael Brown in Ferguson, Missouri.
Pfeiffer said that it's both "harder and easier" for Obama to speak about race. It's more difficult, he said, because Obama's comments on race come "with a whole host of political complications for the president" and are "covered in a different way than if someone else did it." But Obama's the only U.S. president who could have spoken in such a way about the injustice many felt following the Zimmerman verdict, Pfeiffer said, and "has the most relevant, personal biographical understanding of what happened in Ferguson."
"I think that race is a complicated issue on its own, if it's a conversation happening at your dinner table," Pfeiffer said. "When it happens in the context of politics and then is covered by the political press, it gets even more complicated."
Dealing with the press is already far more complicated for the White House than it was a generation, or perhaps even a decade, ago. There once was a time when the White House had to be concerned with just a few broadcast networks, the major newspapers and the leading wire services, like the Associated Press. But the Internet disrupted everything, and the social media conversation now churns non-stop. These days, Pfeiffer said, the top legacy media outlets "can't set the agenda [the way] they did before."
Overall, Pfeiffer suggested, that's a good thing for the American public. For instance, he said, "if we had today's media in 2002, we would have had a very different discussion about the Iraq War." He said there would likely have been more skeptical viewpoints and greater pressure put on the Bush administration to back up its false claims that Iraq possessed weapons of mass destruction.
The downside, he said, is that "sometimes things that are either incorrect or malicious or distracting can become part of the national narrative, because you lose, for good or ill, the policing of the major media outlets."
Washington reporters have been rankled at times by the Obama team's strategy of often turning to nontraditional outlets, like the late-night talk shows and more celebrity-focused media. Pfeiffer said the White House isn't trying to go around the press corps, the traditional media filter, but is looking to reach the public in a variety of ways. "It's not an either/or; it's an and/both strategy," he said.
The president sat down with "Meet the Press" moderator Chuck Todd for his first time as host, Pfeiffer said, because it was an opportunity to discuss major issues at a time when that conversation would get the most attention. He noted that Obama also sits down with influential columnists to get his views across.
The Huffington Post asked Pfeiffer about off-the-record White House meetings with influential columnists and commentators, the most recent of which took place just hours before Obama's primetime address on the escalation of the U.S. fight against the Islamic State, also known as ISIS.

Pfeiffer replied that one segment of the traditional media that's only "grown more powerful, not less powerful," is opinion journalism. Now, he said, readers turn to opinion leaders on Twitter, their blogs or television -- and not just in print columns appearing days after a speech. "They have a lot of followers and they carry a lot of influence," he said.
It was significant, Pfeiffer said, when writer Andrew Sullivan and MSNBC host Chris Matthews -- two media figures presumed to be in the president's corner on most issues –- criticized Obama's performance in the first 2012 election debate against Mitt Romney so harshly. He recalled fielding questions from journalists about how the pair appeared ready to "commit ritual suicide" online and on television.
"It will influence all the coverage of it," Pfeiffer said of opinion makers' first take on an event. "It is a sign to all the reporters who are writing at that moment -- Obama's speech was such a failure, even progressive Columnist X thought it was a failure.'"
"There is no time between the end of the speech and when someone opines on it to get to them," he added. "So you actually have to get to them before the speech to explain why it is you're doing what you're doing."
Related
Popular in the Community