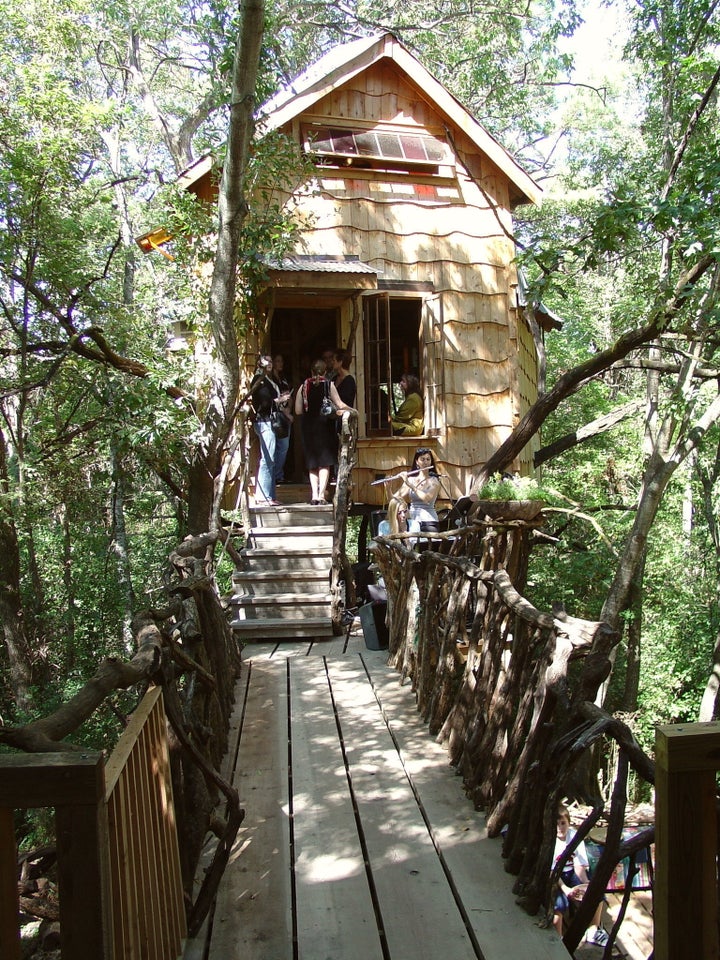 HUNTSVILLE, TX - Imagine a home built with love for art; love for all people around us, and also a home which does not pressure our earth more than it should in this day and age. Imagine being a part of playfully planning and building your own home, using your artsy freedom and your own hands.
That's what the members of Phoenix Commotion founded by Dan Philips do. They prove that building homes with salvaged materials is doable and fun. Dan's main agenda is to build eco-friendly green homes for lower income people from the community.
Dan, who always wanted to be a builder, during the 70's, came across a book called "Handmade Houses" which inspired him.
The Phoenix Commotion started twelve years ago is going strong, inspiring and helping a lot of people on the way. Dan believes that anybody can be a builder. That's why he hires unskilled laborers who work their way to experience.
Every home is unique. It's a combination of donated building materials and landfill treasures. For example, Bone House features patio furniture and a stairway made of bones, floors covered in wine corks and beer bottle caps, a skylight that used to be a Pyrex baking dish, and a bathroom with its walls, floor and ceiling entirely paved in mirror shards.
Phoenix Commotion has been responsible for creating 18 artful homes, a church, waste management education course and some commercial projects in the town of Huntsville.
One interesting project currently underway is Smither Park. Sponsored by Orange Show Foundation for Visionary Art and involving numerous artists, the park exemplifies what artists can create with random stuff. The project will include folk art images exploring our humanness.
Phoenix Commotion is dedicated to building safe and environmentally friendly nests for everyone. Their current target homesteaders are artists, single parents, and low-incomefamilies. Dan's philosophy: "I won't be saving the world in one day, but one person can make an awful lot of noise in a lifetime and that is what I'm doing, making a lot of noise." Phoenix Commotion is certainly doing that.
Calling all HuffPost superfans!
Sign up for membership to become a founding member and help shape HuffPost's next chapter
BEFORE YOU GO