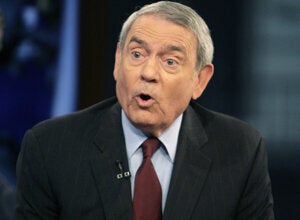 The Hollywood Reporter's Paul J. Gough reports that Dan Rather has amended his complaint against CBS, this time alleging that the network cut off his opportunities for employment at other networks by labeling him "too hot to handle." From THR:
Dan Rather fired another round against his former network Tuesday, charging in an amended lawsuit that CBS News labeled the anchor "too hot to handle" and prevented him from being hired by other networks following his acrimonious departure.

Rather was rebuffed in an earlier attempt when many of his claims were knocked down by a New York state judge. But the judge also allowed Rather to resubmit his claims.

In the latest filing, Rather claimed that CNN, ABC, NBC and other networks met to talk about possible employment but that all eventually declined for reasons that included, in the lawsuit's words, that Rather had "too much baggage." It said he lost other business opportunities as well. He later signed with HDNet.

"Mr. Rather's exposure is dramatically limited and, accordingly, his reputation and standing in his trade and profession have not recovered from the damage caused by the defendants' conduct," the lawsuit said.
Read the entire article here, or review the amended complaint, embedded below via DocStoc:
Note: An earlier version of this post, and the Hollywood Reporter story it linked to, claimed that Rather filed a new lawsuit. Since the Hollywood Reporter has corrected their story to say that Rather has amended his complaint, so too has the Huffington Post updated this post.
Popular in the Community