They say that music can save lives, and that's exactly what Dan Reynolds, lead singer of Imagine Dragons, intends to do. All across America, LGBTQ+ youth are plagued by a high level of attempted suicide, risky drug use, and bullying in schools. In Utah, teen suicide is the leading cause of teen deaths in the state. According to research by the Family Acceptance Project that has developed the first "Best Practice" resources for suicide prevention for LGBTQ youth (including LGBTQ Mormon youth), LGBTQ+ youth who are highly rejected by their families are more than eight times as likely to attempt suicide when compared with LGBTQ peers with no or low levels of family rejection. In addition, LGBTQ youth are estimated to account for about 40% of the population of homeless youth. Religious-based rejection is believed a major reason for parents to reject their LGBTQ youth and to eject them from the home.
For this reason, Dan Reynolds, the lead singer of Imagine Dragons, has decided to take action by creating the LOVELOUD Fest, uniting musical artists and guest speakers in support and acceptance of LGBTQ youth. "What can we do as a community to change these devastating statistics?" Reynolds asks, rhetorically. "I have no power or authority to speak on how to fix this problem, but I have been lucky enough to be given a platform that can hopefully raise awareness and create respectful conversations that lead to positive change." And that's exactly what LOVELOUD Fest plans to do.
LOVELOUD Fest will feature live music from Imagine Dragons, Neon Trees, Krewella, Nicholas Petricca of Walk the Moon (Acoustic), Joshua James, and Aja Volkman---all of whom have gathered together to donate their time and performances to this cause. All proceeds from this concert will go to the LOVELOUD Foundation which lends support to various Utah-based charities such as Encircle and Stand4Kind, as well as national charities, such as The Trevor Project and GLAAD. Each one of these organizations are dedicated to promoting acceptance and providing much needed resources to LGBTQ youth.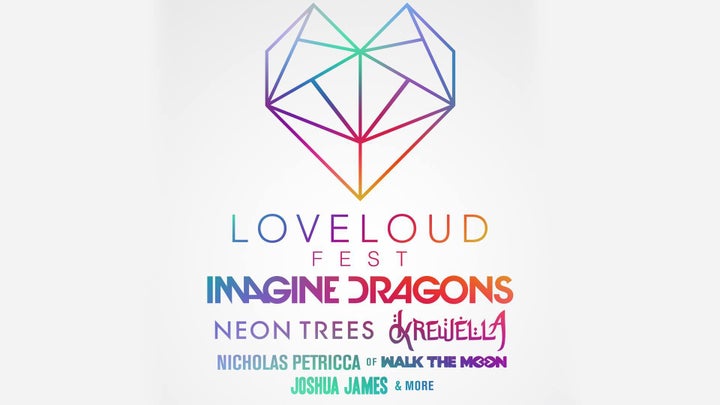 "We can all agree that our LGBTQ youth deserved to be loved," Reynolds explains. "They need the support of their families. Their friends. Their brothers and sisters. If we listen to them and their needs, we can change the climate of our communities. We can make our neighborhoods and schools places of acceptance and love." For Reynolds, the acceptance and empowerment of LGBTQ+ youth all starts with loving and accepting conversations at home.
"I know there are millions of open hearts and loving homes within the walls of faith," Reynolds notes. "I believe that we can all be further educated on what it means to truly love and accept our LGBTQ youth." In his own youth, Reynolds was raised Mormon, and knows firsthand the powerful role of religion in a young person's upbringing and life experience.
"We live in a very divided world. It seems sometimes as though we are all just screaming at each other and not actually listening," Reynolds asserts. "The LOVELOUD Fest seeks to help our LGBTQ youth be heard. Their voice is the one that will bring true change." LGBTQ+ voices, which are largely unheard in religious communities, will be heard at LOVELOUD Fest. "At LOVELOUD we will hear from numerous speakers and artists within the LGBTQ community throughout the evening. It will be a powerful night filled with stories of courage and love."
LOVELOUD Fest is more than just a one-night concert benefit: it has blossomed into the LOVELOUD foundation, an organization dedicated to igniting the relevant and vital conversation of what it means to unconditionally love, understand, accept and support LGBTQ+ youth, all in an effort to keep families together.
"LOVELOUD Fest is going to be an annual event that will continue to grow with each year," explains Reynolds. "Our goals and aspirations are lofty but attainable. We have a very passionate and driven team of people committed to showing our LGBTQ youth that they are loved and they will be heard." Reynolds and his team are committed to shining a light on LGBTQ+ youth, sharing their stories and celebrating the beauty and importance of their lives.
"I have been given so much," reflects Reynolds. "I only hope to give back in some way. I have found a deep love for our LGBTQ youth. I dealt with deep feelings of guilt and depression in my youth and can only imagine how difficult a path many of our LGBTQ community have faced. I am committed to doing all in my power to be a helping hand to our LGBTQ youth."
For those who can't travel to the Utah event, Reynolds has a special message: "I hope our LGBTQ youth from around the world hear the resounding cry from LOVELOUD that they ARE loved and accepted---that they are beautiful and unbroken. If you can't come this year, come the next. We will also be filming the entire event and sharing it with the world." Reynolds adds, "My hope for our religious communities is that they know this is not an attack on any religion or people. We need you."
The LOVELOUD concert will be held on August 26, 2017 in Orem, Utah at the Brent Brown Ballpark at UVU. Tickets to the festival are available on the LOVELOUD website beginning July 31, 2017 at 10:00am MDT. General admission tickets start at $11.00, ensuring that this event is affordable to families and all college students that reside within the Utah area. In addition to general admission, there is a special ticket package that comes with a swag bag that includes a t-shirt and other commemorative merchandise and a VIP ticket package.
To purchase tickets to this life-saving event, click here. For more information, or to donate directly to the cause, click here. 100% of your donation will be split between the four concert benefactors listed above.
Watch below to hear Reynolds reflect on why he created the LOVELOUD concert: