Dan Savage has never been one to mince words, but the outspoken lesbian, gay, bisexual and transgender (LGBT) rights activist got particularly frank in a no-holds-barred New York Public Library conversation with writer Andrew Sullivan.
He offered a behind-the-scenes take on his "very stressful" 2012 debate with the National Organization of Marriage's (NOM) Brian Brown, much of which he outlines in the new book. "I suddenly felt the weight of the world on my shoulders at that moment," he recalled of the discussion, which was moderated by The New York Times' Mark Oppenheimer. "I overprepared, I had notes in front of me, and it was kind of a nightmare."
Savage also revealed that the headline-making debate (which ran well beyond the scheduled hour) ended abruptly at the insistence of his husband Terry Miller, when Brown implied that the couple weren't fit to serve as parents to their adopted son, D.J. "Everyone says Terry really won that debate," Savage told the New York Public Library audience with a laugh.
Here's what Savage had to say about other issues:
On coming out: "When I was 17 years old and thinking I was going to come out, I thought, 'I'm going to be the kind of gay person straight people like. I'm not going to have anal sex -- that was my big concession (laughs) -- I'm not going to do drag, I'm not going to wear leather in public.' I thought that was the price I would have to pay to convince my parents, Anita Bryant and Jerry Falwell that we weren't all like that. But once I came out, I relaxed a little bit, and I realized that you could do these things and enjoy them and be able to sort of mine the worst of gay culture, which can be the best in moderation. Everything in moderation -- including moderation."
On being "monogam-ish": "I look at marriage and I say…children, family, time together, shared history, property…all of these things should outweigh a blowjob. Those people who say adultery in all cases is wrong…they're making sex more important than it has to be."
On minors having easy access to pornography on the Internet: "The challenge is to educate your child to be a…critical and thoughtful viewer of porn, and to think about what they may be viewing."
On Anthony Weiner re-entering the New York mayoral race after his "sexting" controversy: "I kind of want Anthony Weiner to win just for all those kids out there who have dirty pictures floating around out there that might haunt them one day. We've got to get past [the mindset that] a dirty picture getting loose on the Internet ruins you forever, just like we've gotten past drug use ruins you forever politically."
Before You Go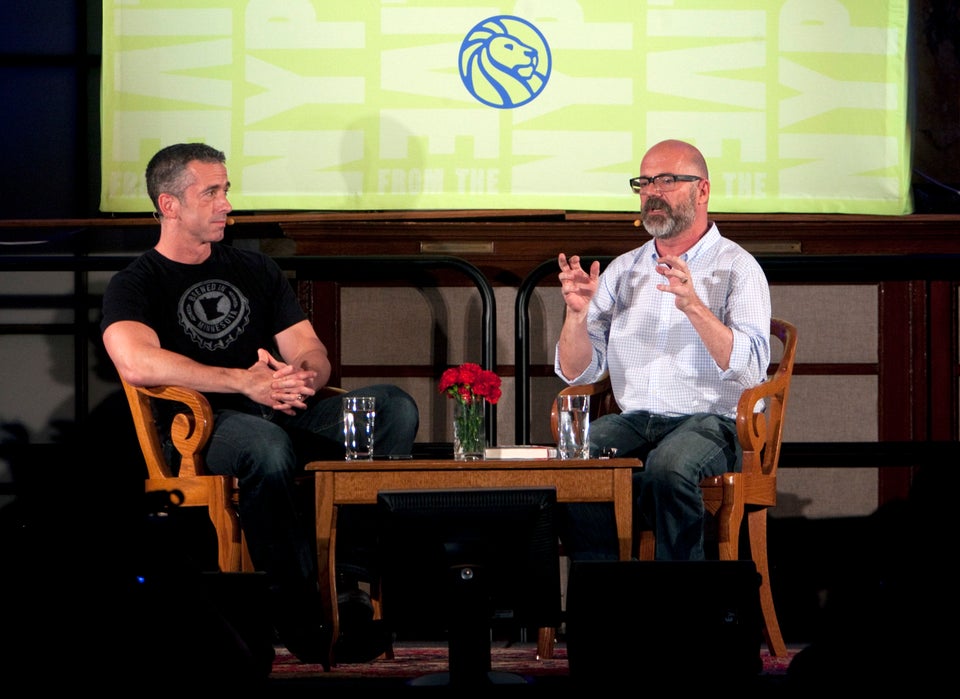 Dan Savage & Andrew Sullivan
Popular in the Community