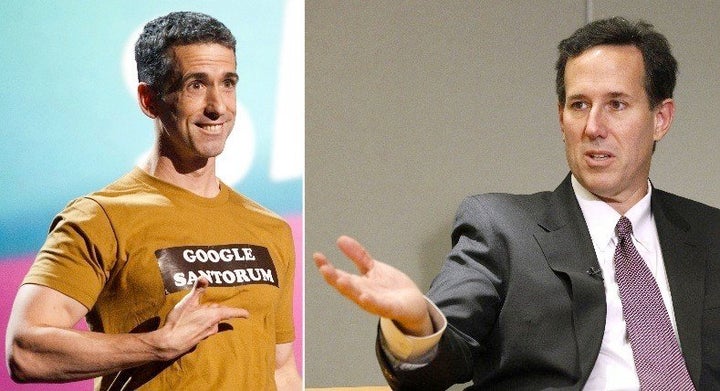 An activist "devoted exclusively to exposing and countering the homosexual activist agenda" has put out a call for columnist Dan Savage to take down his Santorum.com website, a page which has presented GOP presidential candidate Rick Santorum with a now-notorious "Google problem."
LaBarbera issued his missive to Savage on Thursday:
"You are a role model for 'gay' youth, and your 'It Gets Better' video campaign to help kids overcome bullying in their teen years has gained international attention. Yet bizarrely, with apparent ends-justifies-the-means rationale, you yourself have employed heinous bullying methods to malign Mr. Santorum -- tactics you would strongly condemn if used against a self-identified 'gay' kid."
Savage's Santorum.com features a photo of a brown slime-like substance and lists a definition of "santorum" as "the frothy mixture of lube and fecal matter that is sometimes the by-product of anal sex." Savage coined the term, which ranks highly upon searching for "Santorum" in search engines, in 2003.
LaBarbera further criticized Savage, who with his husband Terry Miller has a son, in the letter by asking "what did or will you tell him about Santorum.com?"
"Have you no compassion for Rick Santorum's wife, children and extended family, who too must bear the brunt of your high-tech smear?" LaBarbera continues. "This is calculated character assassination engineered by a 'gay' activist who, ironically, crusades against hate."
"Who are these gay people who support Rick Santorum for president despite his having compared sex between consenting adults of the same sex to child rape and dog fucking? Who are these gay people who support Rick Santorum for president despite his having asserted that gay relationships are a threat to 'homeland security?'"
Calling all HuffPost superfans!
Sign up for membership to become a founding member and help shape HuffPost's next chapter
BEFORE YOU GO