White House social media director Dan Scavino violated the Hatch Act when he tweeted at Trump supporters in April that they should help defeat Republican Rep. Justin Amash (Mich.) in a primary, according to a letter this week from the Office of Special Counsel, an independent federal agency.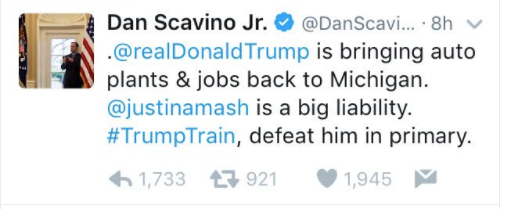 The Hatch Act prohibits federal employees from using their government positions to publicly support or oppose political candidates.
Scavino's April 1 tweet ― seen in a screen shot above ― was posted from his personal Twitter account, not his government account. But at the time, the bio for his personal account (as seen below) mentioned his official White House position, and the page displayed a photo of him in the Oval Office.
Amash is a leading member of the House Freedom Caucus, which helped to derail President Donald Trump's hopes for a quick and easy passage of his Obamacare repeal plan. This earned Amash the ire of the White House, which considered the repeal bill its top priority in Trump's first 100 days.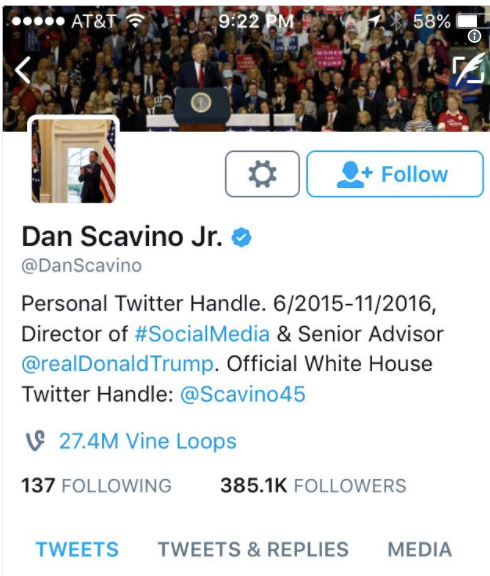 According to a complaint filed by the watchdog group Citizens for Responsibility and Ethics in Washington, Scavino was invoking his White House position in his Twitter account while calling for Amash to be defeated in a primary.
The Office of Special Counsel agreed that the tweet violated the Hatch Act. In response to the violation, the OSC said in its letter that it has issued Scavino a warning, and that the Office of White House Counsel recently held a special meeting with him to review the Hatch Act.
If Scavino violates the law again, wrote Anna Galindo-Marrone, director of the OSC's Hatch Act Unit, it will be considered "a willful and knowing violation of the law, which would result in further action" under Hatch Act rules.
Scavino, a onetime golf caddy who rose through the Trump Organization's ranks, is the second Trump administration official to run afoul of rules governing how government employees can use their positions.
Earlier this year, White House senior adviser Kellyanne Conway appeared on television urging viewers to go out and purchase clothes from Ivanka Trump's clothing brand ― an apparent violation of rules that prohibit federal employees from using their official positions to promote commercial products.
You can read the OSC's full letter on Scavino below.
Popular in the Community