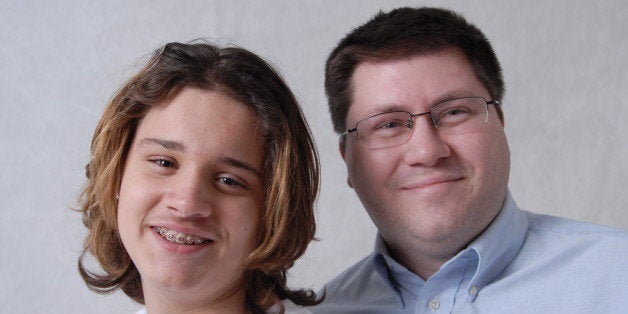 This week's Huffington Post Gay Voices RaiseAChild.US "Let Love Define Family" series features the perspective of a single gay dad with five children with special needs. What he's learned could help us all become better parents.
Not everyone chooses to parent foster children who have disabilities and have experienced significant trauma. Even fewer choose to do it as a single parent, but Dan Barcus is not one to shy away from a challenge.
Daniel Barcus, 48, lives in Antioch, a small village on the northern border of Illinois. His work as a career coach and a certified professional resume writer for the last ten years has allowed him the freedom to do the kind of parenting he does. Working closely with Little City's Foster Care & Adoption Program in Chicago, Dan has been able to provide a stable and loving home for five children with special needs.
"I adopted Andrew, 21, and Joel, 22, by guardianship through foster care when they were 17," explained Dan. "I have not adopted my 18-year-old foster son, my third oldest child, primarily because his guardian ad litum refused to consider either guardianship or adoption for him at age 17, saying that the boy would give up too much money from the state for college. Ironically, the education benefit for foster children only applies to public college, but he has chosen private Lake Forest College instead."
Dan's two youngest children, ages 8 and 6, are biological brothers. They are still in foster care pending termination of parental rights, but Dan's home has been identified as a potential adoptive placement for them.
"Choosing to parent severely traumatized children requires an extensive commitment but I find it completely fulfilling," said Dan. "The agencies I chose to partner with, Little City Foundation and the Allendale Association, both in Illinois, have both gone above and beyond to ensure that my kids received every service and benefit possible to make things work for our family," said Dan.
Living in Antioch and previously in Chicago, Dan's family has been welcomed and made a part of the community.
"I will tell you that I catch a lot more 'flak' about being a single dad than I do being a gay dad," said Dan. "People might razz me about my housekeeping or cooking but, for most people, my being gay never even crosses their mind."
Although Dan always wanted to become a parent, specifically an adoptive dad to tough kids, he didn't envision being single.
"I always thought that I would become a dad with a partner, a great job, lots of money, a housekeeper, nanny, dog-walker and grocery delivery service. None of that really panned out, but once my industry imploded, I took a serious look at life and decided to make a big leap," Dan explained. "I have not regretted it for a single moment on my worst day, and I have to admit I've had some doozies. I have often told my kids that my worst moments with them are better than my best moments traveling wherever to hustle software applications for $1 million," as he did in his previous career.
Early on, Dan was surprised by a stereotype-based assumption from a very experienced social worker from a government agency sent to interview him in his home a home study in 2005. She asked, "How do you plan to handle telling your future foster kids about all the strange men coming and going from your room at all hours of the day and night? You know, since you are gay?" Ultimately, Dan instead chose two agencies that he experienced as highly culturally competent in LGBT issues, first becoming licensed with Little City in Chicago and then transferring to Allendale Association when he moved to Antioch.
But times have changed for LGBT people in the world of fostering and adopting. In contrast, Dan offers a recent experience in Lake County, IL, a few months ago. "I wrote an introduction to a judge for the two brothers I hope to adopt, whose case is extraordinarily complex. In that introduction I mentioned that I was gay. When I submitted the briefing for review to the boys' attorney, she suggested removing the reference to being gay, because, as she put it, 'This isn't the 1980s up here. Really, truly, Dan, no one cares, least of all the judge. All she cares about is the well-being of your children.' On reflection, it was probably the most affirming criticism I will be granted in life."
The best thing for Dan about becoming a parent is "becoming real in the eyes of these kids who have never been able to trust anyone before." Also memorable, he says, is "the first time each kid allows himself to express love for you."
Like other parents, Dan wants to see his kids be happy and healthy and to succeed to the best of their ability. His oldest two boys were the first in their families to graduate from high school and are now out living on their own. The middle son is an athlete and an AP Advanced Placement scholar. All the kids have helped challenge Dan to stretch and grow as a person, from coming up with creative parenting strategies to learning as an adult to play baseball, bike, and skate.
"The sounds and sights of my two youngest sons playing together could light up the Grinch. Their laughter is so spontaneous, so ridiculous, and so genuine that I often wonder what in the heck I was so concerned about yesterday or the day before, because they, clearly, are going to be all right," says Dan.
With optimism, faith, and determination, Dan has made a difference in the lives of five boys and impressed the Little City staff with his wit, wisdom, and perseverance.
"Dan's continued love for and dedication to children with special needs has made a powerfully positive impact on their lives that they will carry with them forever," said Rich Bobby, director of Little City's Center for Family & Community-Based Services. "The unfortunate nature of many children in the foster care system needing permanent loving homes could easily be solved if there were more prospective foster families like Dan's."
Corinne Lightweaver is the Special Projects Manager at RaiseAChild.US, a national organization headquartered in Hollywood, California that encourages the LGBT community to build families through fostering and adopting to serve the needs of the 400,000 children in the U.S. foster care system. RaiseAChild.US works with foster and adoption agencies that have received training in LGBT cultural competence through the Human Rights Campaign Foundation's "All Children-All Families" initiative. Since 2011, RaiseAChild.US has run media campaigns to educate prospective parents and the public, and has engaged more than 2,000 prospective parents. For information about how you can become a foster or fost/adopt parent, visit www.RaiseAChild.US and click on "Next Step to Parenthood."
Popular in the Community