 Correction: Previous news reports stated that Rahm Emanuel would meet @MayorEmanuel creator Dan Sinker Tuesday. In fact, Sinker and Emanuel will meet Wednesday on WLS-AM's "Roe Conn Show with Richard Roeper." There, Emanuel will present Sinker with a $5,000 check to the charity of his choice, as promised. Causes.com has also decided to match Emanuel's donation with a $5,000 check to the charity of Sinker's choice, according to the Chicago Sun-Times.
Within hours, Sinker tweeted that every news station in Chicago was outside of his house. He was the top story on the nightly news, and soon, he'll meet with the real Rahm Emanuel.
"I didn't think people would be outside my house," he told NBC Chicago Monday, adding that he did not know how the meeting with Emanuel would go.
On the "Roe & Roeper" show earlier this month, Emanuel pledged to donate up to $5,000 to the charity of the mystery tweeter's choice if he or she agreed to come forward. Emanuel spokesman Ben LaBolt told the Associated Press now that the cat is out of the bag, Emanuel will keep his promise.
"It always brings a smile to my face," Emanuel said of the tweets. "This guy or gal has garnered a huge following. A lot of people go, I just read your tweet and I'm like, what?"
The obscenity-laced comments on the fake feed during the mayoral race were so popular they attracted more than 40,000 followers. The real Emanuel only has about 11,000.

Sinker explained that he started the account as a joke, but it turned into a hilarious story--featuring a cast of characters including David Axelrod, Carl the Intern and Quaxelrod the duck.
"I really want to meet Axelrod," Sinker told NBC. "He was so fun to write."
After the election, the tweeter joked that he'd entered a time vortex and signed off, and Sinker realized it was time to come forward.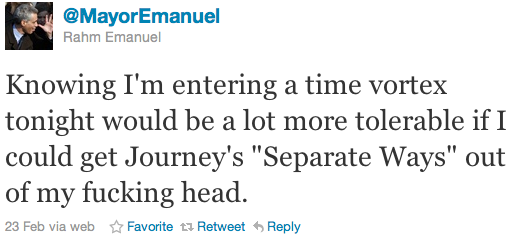 He told NBC that he had no intention of keeping the account going throughout Emanuel's tenure as mayor, and that he was tired of keeping the secret from so many friends and colleagues.
WATCH NBC Chicago's interview with Sinker here:

Popular in the Community