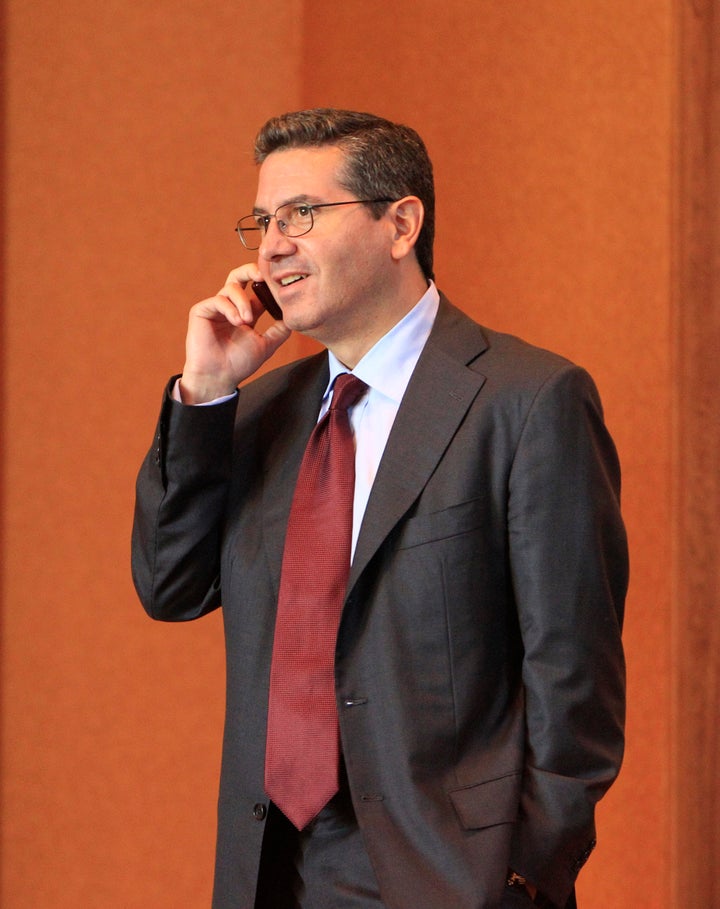 WASHINGTON -- When Dan Snyder dropped his defamation lawsuit against Washington City Paper, the American Civil Liberties Union of the Nation's Capital commended the owner of the Washington Redskins, but lamented the missed opportunity to have a court ruling uphold the District of Columbia's new anti-SLAPP law, which was being challenged for the first time.
"The ACLU is pleased that Mr. Snyder finally did the right thing, although we're a bit disappointed that now there will not be a judicial precedent upholding the DC Anti-SLAPP Act of 2010 and dismissing his case as a SLAPP," the organization wrote in a statement.
In June, City Paper moved to dismiss Snyder's lawsuit against it under D.C.'s
Strategic Lawsuit Against Public Participation Act, which allows defendants to file special motions to dismiss lawsuits designed to keep them from exercising their First Amendment rights. The legislation, introduced by D.C. Councilmembers Mary Cheh (D-Ward 3) and Phil Mendelson (D-At-Large), went into effect in March. Snyder's lawsuit had been cited as an attempt to silence City Paper's criticism of the NFL franchise owner through costly litigation. Snyder's legal team responded to the special motion with a filing of its own, arguing that, as a law that changes D.C. court procedure, the anti-SLAPP law violates D.C.'s Home Rule Act.
The ACLU-NCA filed an amicus brief supporting City Paper's special motion to dismiss, and argued that the anti-SLAPP statute does not violate Home Rule. D.C. Attorney General Irv Nathan was due to file a brief supporting the validity of the anti-SLAPP statute, but Snyder dropped the case before the brief was filed.
Arthur Spitzer, legal director of the ACLU-NCA, told The Huffington Post that D.C.'s law was drafted carefully to avoid Home Rule conflicts -- unlike most anti-SLAPP statutes, D.C.'s law does not allow for immediate appeals of dismissals of special motions, for example. And the law, Spitzer said, is consistent with Home Rule: it doesn't change the "organization or jurisdiction" of the courts, which is prohibited by the Home Rule Charter; it's a tort reform statute, and there is case law saying that the D.C. Council has the power to enact tort reform statutes.
But because this case was dismissed before the issue could be decided, "I assume that the next SLAPP suit will very likely see the same argument raised," Spitzer said.
There's one case of which Spitzer is aware in which this issue might come up again: the Shirley Sherrod case. Sherrod was the U.S. Department of Agriculture employee who was forced to resign when conservative blogger Andrew Breitbart posted a heavily edited video clip of her giving a purportedly racist speech to his website, BigGovernment.com. In February 2011, Sherrod sued Breitbart for defamation in D.C.'s federal court. Breitbart filed an anti-SLAPP special motion that was dismissed in August -- but Spitzer says Breitbart will probably appeal the dismissal; and if the motion does go before the trial court again, Spitzer said he expects that the Home Rule issue will arise once again, at which point the ACLU may or may not get involved.
"If the D.C. attorney general has already written the definitive brief on that, they're more experts on that particular issue than we are," Spitzer said. "So we might decide we don't need to weigh in on that if it's already being adequately covered."
Mendelson, the original proponent of D.C.'s anti-SLAPP legislation, says for his part, he's not concerned about any lingering legal uncertainty. When the council was drafting the anti-SLAPP bill, it looked to see if there were any Home Rule conflicts and decided there weren't, he said in an interview.
"I am comfortable with the status of the law," Mendelson said. "There are some folks who would love to see a judicial resolution. I don't feel like that's essential. We adopt a lot of laws and get challenges all the time as to whether we have the authority. I don't believe that every law needs to be taken to court to determine whether it's valid."
(Disclosure: I previously wrote for Washington City Paper as a freelancer.)
Calling all HuffPost superfans!
Sign up for membership to become a founding member and help shape HuffPost's next chapter