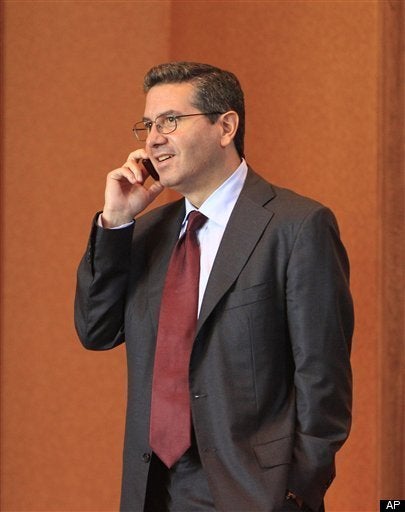 Snyder's suit was filed late Wednesday--curiously, in New York, rather than in any of the Washington-area jurisdictions where City Paper circulates.

Earlier in the day, City Paper publisher Amy Austin published a letter to readers defending columnist Dave McKenna's reporting. The Snyder suit specifies four alleged misstatements in the story, and also claims that a cover illustration depicting Snyder with horns and a goatee was anti-Semitic. We expect the claims to be defended vigorously. We've also made clear that we think the allegation of bigotry is sensationalistic and absurd.
Schaffer has also made Snyder's full complaint available to readers, which allows us, for the first time, to see what Snyder finds so objectionable about the work of McKenna -- whose dismissal we are led to believe is part of what Snyder is seeking:
The City Paper falsely and maliciously asserts that Mr. Snyder has engaged in "heinous deeds" and acts of treachery, disloyalty, and deceit. The most egregious falsehoods in the Article (or items referenced in the Article) ("the Misrepresentations") include, without limitations, the following:

a. that "Dan Snyder...got caught forging names as a telemarketer with Snyder Communications;"

b. that Mr. Snyder caused Agent Orange to be used to destroy trees "protected by the National Park Service" on "federally protected lands," a matter about which previously published reports had been publicly corrected;

c. that Mr. Snyder bragged that his wealth came from diabetes and cancer victims; and

d. That Snyder was "tossed off" the Six Flags board of directors.
It would appear that this lawsuit is more a claim against "hyperbole" and "metaphor." In the "Cranky Guide," McKenna writes:
So before we welcome the New Dan Snyder, let's look back at the one we know. That's the Dan Snyder who left his mark, or stain, on more than just a football team. That's the Dan Snyder who got caught forging names as a telemarketer with Snyder Communications, made a great view of the Potomac River for himself by going all Agent Orange on federally protected lands, and lost over $121 million of Bill Gates' money while selling an "official mattress" while in charge of Six Flags. That's the Dan Snyder I've found to be the most fascinating and consistent man on the planet, responsible for the hilarious and/or heinous deeds outlined in the following pages.
On the matter of what went down at Snyder Communications, here's what McKenna writes:
Slamming: The illegal practice of switching a customer's telephone service without authorization. Florida authorities fined Snyder's pre-Redskins outfit, Snyder Communications, $3.1 million in 2001 after investigators uncovered more slamming in its offices than you'd find stagefront at a Limp Bizkit show.
And the "Agent Orange" line is quite clearly a metaphoric quip. What happened is carefully laid out in a Washington Post article that McKenna links to, straight up, in his "Cranky Guide." (The upshot: a "high-ranking National Park official" took the fall for "improperly help[ing] Washington Redskins owner Daniel M. Snyder broker a deal to cut down more than 130 trees on a hillside between his Potomac estate and the C&O Canal." It was determined that Snyder did "nothing improper," but the official in question is said to have "unduly influenced" by "personal communications with Mr. Snyder." The short story, here, is that Snyder threw his weight around to get special treatment to which he was not entitled.)
Did Snyder brag about amassing wealth from "diabetes and cancer victims?" Yes. This is a matter of public record. It was on the teevee. DVDs were made that included this. And McKenna reported on this in depth:
"Major League Entrepreneurs" was the title of the first episode of Season 1 of PBS's program called "CEO Exchange." Most of the footage came from a Q&A Snyder and Dallas Mavericks owner Mark Cuban did with Jeff Greenfield on Sept. 20, 2000 in front of a roomful of students from Kellogg School of Management at Northwestern University outside Chicago.

[...]

Snyder was hot at the time; the Skins had just been named the most valuable sports franchise by Forbes. His cockiness gets him in some trouble here. You could cue the "Jaws" music at about the 13 minute mark, when Greenfield, who had earlier introduced Snyder with a speech about "the shy kid in the back of the room in high school, the kid nobody notices... while the quarterback and the basketball captain gets the cheers and the dates," eggs on the Redskins owner to divulge the secret behind his making money as a marketer. Snyder replies that at Snyder Communications, they had "weekly meetings" to come up with a list of what groups to market goods and services to.

"We'd make jokes, each niche would be a $5 million niche, and we'd go after each one," Snyder says.

Greenfield asks for examples of his targeting decisions.

"We were looking at trend lines," Snyder says. "We saw that the aging baby boomer demographics were coming on strong. That meant there's going to be a lot more diabetic patients, a lot more cancer patients, etc. How do we capture those market segments?"

The first 20 times or so that I saw the clip, I had pretty much the same reaction: "Uhhhh....Did Dan Snyder just brag to a crowd of college kids that he looks at folks on the business end of diabetes and cancer as a target market? As members of '$5 million niche?'"

And then I'd rewind the clip. And, dang if Snyder wouldn't say it all over again!

So let me type it again: "That meant there's going to be a lot more diabetic patients, a lot more cancer patients, etc." Snyder says. "How do we capture those market segments?"
With these things in mind, I really long for this case to proceed to discovery. Assuming that the City Paper is prepared to defend themselves as "vigorously" as they say they are, I'd love to see what comes of a thorough re-examination of these issues. Especially those decisions of Snyder's that led to him getting tossed from the board of Six Flags. The potential for Snyder to be revealed as worse than McKenna's wonderful profile depicted him is staggeringly high.
Speaking of! The suit leans heavily on the claim that the art that accompanied the article is anti-Semitic. There are paragraphs and paragraphs about that in the complaint. It's going to be a tough hang for a lot of reasons. First, by any reasonable standard, the artwork is very clearly reminiscent of the way a child (or a "cranky fan") might mark up an image of a reviled figure. The New York City subway is filled with such graffiti. Additionally, as City Paper managing editor pointed out yesterday, the "staffers who edited the story and designed the cover" are, in fact, Jewish.
But a better question is this: where does Dan Snyder get off making such a complaint? To wit:
"Emulate Charlie Chan": What Asian actors trying out for a mascot job at Snyder-run Six Flags were allegedly told during 2008 auditions. After the 2006 firing of Mr. Six, the longtime mascot Snyder deemed "creepy," the theme park chain's marketing team hired a Japanese actor to scream "More flags! More fun!" in a vaguely Asian accent in TV commercials. The Chicago chapter of the Japanese American Citizens League, which publicized the "Charlie Chan" angle, was among the advocacy groups critical of the effort. The campaign was canceled very shortly after its debut.
Also, have you heard of the Washington Redskins? That name does not refer to a potato, or the great 1980's punk-soul band The Redskins. It is a viciously racist slur against Native Americans. The team also happens to be Snyder's most recognized investment. This is not in dispute! Snyder's complaint says, point blank: "In 1999, Mr. Snyder made perhaps his most recognized investment when he purchased the Washington Redskins NFL football team...and its stadium."
It will be indescribably awesome to hear Dan Snyder's legal team lecture the Washington City Paper about ethnic slurs, I can tell you!
The bottom line here is that Dan Snyder doesn't seem to have the first clue about running a public relations strategy. McKenna's profile is months old. It had its time. The smart decision would be to either a) move on with your life or b) actually stop doing awful things all the time. Instead, he's making a big public show of suing an alt-weekly. As a result, new attention is being focused on Snyder from all quarters. This matter is being written up in the Washington Post, at Gawker, at Slate, at Deadspin, at The Awl, and -- heh, heh -- at the Huffington Post. Gene Weingarten, the Washington Post's legendary columnist, got the green light to tee off on Snyder. The bad publicity is coming from everywhere. I can't keep up with it! My colleague, Arthur Delaney, keeps finding new things to show me!
As for the legal case, well, it seems like an unbelievably misguided suit to me. Again, why pay lawyers an exorbitant amount of money to prove that you aren't a jackass when the more cost-effective thing to do is to simply stop being one? Snyder's lawyers are probably perfectly content to play out the string. After all, Snyder is paying top-dollar for legal representation that already appears to be lazy (the complaint doesn't even get Dave McKenna's name right) and unconcerned whether Snyder wins or loses.
[Would you like to follow me on Twitter? Because why not? Also, please send tips to tv@huffingtonpost.com -- learn more about our media monitoring project here.]
Support HuffPost
The Stakes Have Never Been Higher
Related
Popular in the Community