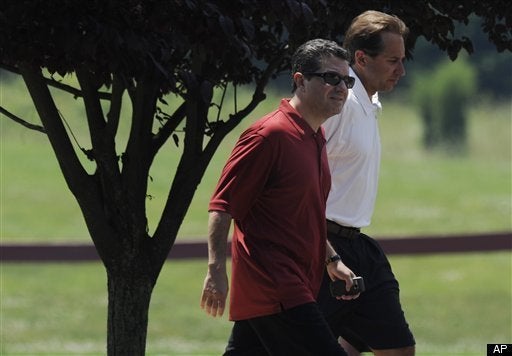 As you know, Washington Redskins owner Dan Snyder has decided to file a lawsuit against Atalaya Capital Management, a hedge fund that owns Creative Loafing, which owns the Washington City Paper, which employs a reporter named Dave McKenna, who repeatedly points out -- accurately -- all of the many ways Snyder is terrible as a football owner and a human being. That was yesterday. Today begins the charm offensive!
The basic component of Snyder's new strategy is to walk around suggesting that all he really wanted was for the City Paper to say that they were sorry for all their accurate reporting. Here's how Rick Maese reports it, over at the Washington Post:
Daniel Snyder says he never sought the job of a Washington City Paper reporter who wrote critical articles about his tenure as Redskins team owner. Instead, Snyder says he simply requested a retraction.

"We were hoping that he'd apologize, hoping they'd say sorry," Snyder said Friday afternoon in an interview in Dallas. "All they had to do was apologize and retract their lies."

But when they didn't, Snyder filed suit this week against the City Paper's parent company, Atalaya Capital Management, seeking $2 million in general damages plus unspecified punitive damages and court costs, alleging the City Paper and writer Dave McKenna have libeled and defamed him.
Of course, this is, as they say, a lie. Dan Snyder never "requested a retraction" from the City Paper. He never sought an apology from the City Paper. As City Paper publisher Amy Austin makes perfectly clear in the piece that Paul Farhi wrote about this matter, no one from the City Paper has ever been contacted by Dan Snyder or his representatives. The only people who have been contacted are the folks at Atalaya, and in that case, an "apology" apparently costs "$2 million in general damages plus unspecified punitive damages."
Asked about the timing of the lawsuit, Snyder said the team held out hope the City Paper would respond to the team's requests. "Apology," Snyder said. "That's it."
Of course, all of this gets even better. Earlier this afternoon, Dan Snyder was interviewed on "The LaVar Arrington Show with Chad Dukes" by the aforementioned Arrington and Dukes, along with Mike Wise of the Washington Post. It was extremely friendly territory for Snyder, as it turns out, because Arrington -- a former Redskins linebacker -- practically bent over backwards to flatter him. (It's honestly embarrassing to listen to, but one should refrain from calling Arrington a brown-noser because who knows? Maybe Snyder's legal eagles will sue you for racism!)
In the interview, Snyder attributes his new litigious bent to his new senior vice president Tony Wyllie, who Snyder says "pushed him to" sue the City Paper because he thinks it's important for Snyder to get out into the public eye and demonstrate that he is a super-nice guy (who just wants to relentlessly gouge Redskins fans out of the kindness of his heart).
During the interview, the trio do confront Snyder directly on the matter of his complaints of anti-Semitism, which seems a tad hypocritical, given the fact that he owns a team named for a racial slur. Snyder's response? "Obviously, you've not read some of the history of the Redskins and the name of the team and what it means and what the name Redskin means." Oh really? "What the Redskins are all about is the tradition of the Redskins, fighting for old D.C., fighting for victory, the terminology 'redskin' is not meant to be offensive whatsoever, and to compare that is silly."
One of the interviewers (Mike Wise, I think?) jumps in to make the point that he wouldn't name a team the "Blackskins," but Arrington immediately shuts the conversation down to let Snyder off the hook, like a good little kiss-ass.
And, as ESPN's Locke Peterseim pointed out: "And while the Redskins still use a racial slur for their team name, some words in the original fight song didn't do much to deflect accusations of racism. Where the song now says, 'Beat 'em, swamp 'em, touchdown! -- Let the points soar!' it once went, 'Scalp 'em, swamp 'em -- We will take 'em big score / Read 'em, weep 'em, touchdown! -- We want heap more!'"
I'm not at all sure how reading about the tradition of the Redskins is supposed to excuse the fact that the term itself is a slur that Native Americans find to be highly offensive. I will point out that what Snyder is calling a "silly" comparison actually led to litigation, which the team successfully fought off. If that's a "silly" comparison, than surely Snyder's complaints of anti-Semitism are silly as well. Obviously, Snyder has not read some of the history of the Washington City Paper and the people who designed the cover art to which he attributes anti-Semitic intent: they are Jewish.
Calling all HuffPost superfans!
Sign up for membership to become a founding member and help shape HuffPost's next chapter