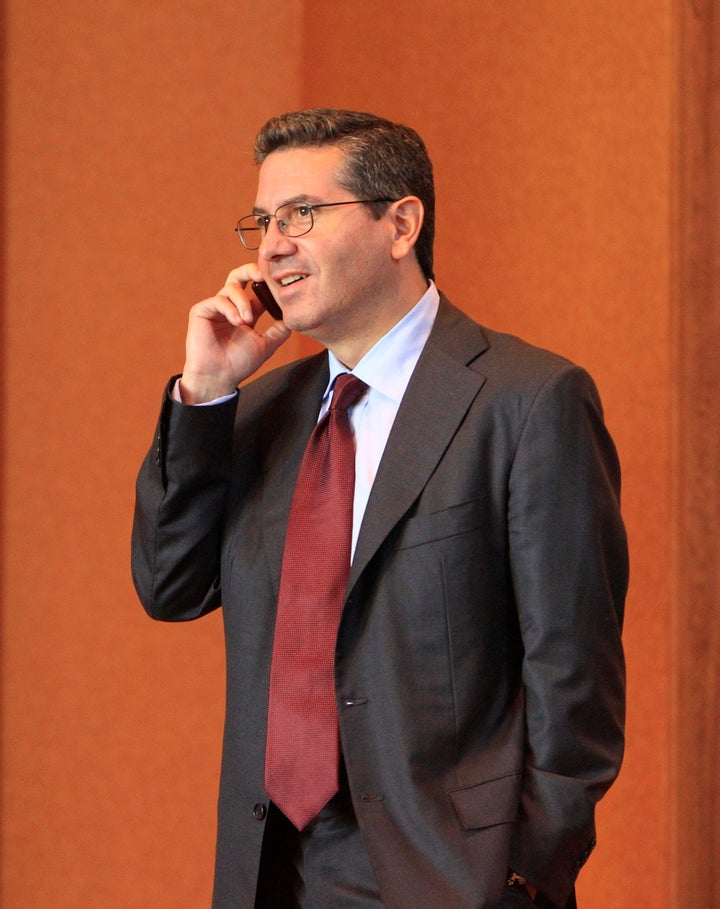 This week, a federal judge deemed the National Football League's lockout of players illegal and ordered its halt, giving NFL fans some measure of hope that their favorite teams would soon get back down to the business of playing football.
And then there's Washington Redskins owner Dan Snyder. In an example of exquisite timing, Snyder took to the Washington Post's op-ed pages to remind everybody he was still deeply involved in his stupid lawsuit with the Washington City Paper.
For those of you unfamiliar with the backstory, let's review. In November of 2010, the Washington City Paper's Dave McKenna published "The Cranky Redskin Fan's Guide to Dan Snyder," which collected, in one place, a complete catalogue of Snyder's awfulness. Those same "cranky fans" loved the piece, but it had its time and place and then mostly faded from memory.
Snyder's original suit was chockablock with some of the dumbest claims this side of an Orly Taitz filing. For example, Snyder made it clear in his complaint that he took a metaphoric quip from McKenna, "going all Agent Orange on federally protected lands," as a literal assertion that he had actually used Agent Orange. Snyder also said McKenna's claims that he had "bragged that his wealth came from diabetes and cancer victims" and been "tossed off" the Six Flags board of directors were malicious.
Of all the components of Snyder's original claim, he seems pretty fixated on one in particular, per his op-ed:
Among many examples in the November 2010 article, the most egregious was when the article stated: This is "the same Dan Snyder who got caught forging names as a telemarketer for Snyder Communications." That is a clear factual assertion that I am guilty of forgery, a serious crime that goes directly to the heart of my reputation -- as a businessman, marketer and entrepreneur. It is false.
That might be Snyder's best hope for success. In the introduction to the "Cranky Guide," McKenna does write, "That's the Dan Snyder who got caught forging names as a telemarketer with Snyder Communications," but he subsequently goes on to detail what exactly went down:
Slamming: The illegal practice of switching a customer's telephone service without authorization. Florida authorities fined Snyder's pre-Redskins outfit, Snyder Communications, $3.1 million in 2001 after investigators uncovered more slamming in its offices than you'd find stagefront at a Limp Bizkit show.
For example, the article said that Snyder "was caught forging names as a telemarketer," based on an investigation by Florida's attorney general that led to a $2.5 million fine for "thousands of instances" in which Snyder Communications "forged customers' signatures" to switch long-distance telephone providers. Snyder claims this is false because he did not personally forge any signatures, even though his company did. But Snyder of all people should understand the concept of attributing to an owner the bad as well as the good that his company does; in his suit, Snyder uses the same reasoning to claim that Atalaya is responsible for libel committed by a newspaper owned by one of its investments.
Is it possible that Snyder does not still understand "the concept of attributing to an owner the bad as well as the good that his company does"? Let's return to his op-ed:
I understand the anger people feel toward me when the Redskins have a losing season or when we sign a veteran player who does not meet expectations. I have been a Redskins fan all my life, and I get angry, too, including at myself. I am the first to admit that I've made mistakes as an owner. I hope I've learned from them. All I want is for the Redskins to win!
At any rate, Snyder's op-ed is rife with entertainment. "I am not thin-skinned about personal criticism," is one of my favorite lines in the whole piece, seeing as it comes from the guy who banned signs from FedEx Field because so many of them criticized Dan Snyder.
I also love the self-righteous way he cites his background in journalism, which he's primarily used to bully and manipulate local media organs into giving him favorable coverage.
But this is my favorite part:
Let's be clear what this lawsuit is not about. It is not about money. I have already publicly committed to donate any financial damages I win to help the homeless. Nor did I or any of my representatives ask for the tabloid writer to be fired, despite published reports to the contrary.
No, no. Dan Snyder just wants to litigate the Washington City Paper out of business, which would ostensibly achieve the same result as "firing Dave McKenna." He's made it pretty clear that this is his intention if he does not receive the apology he's seeking. As Levy points out, in his original demand letter to Atalya, Snyder specifically threatened that defending the suit "would not be a rational strategy" because "the cost of litigation would presumably outstrip the asset value of the Washington City Paper."
(Also, if Snyder had a good P.R. representative, instead of this tone-deaf yes-man fellow Tony Wyllie, they would tell him, "Why don't you just cut bait and do something nice for a change, like donate your own goddamned money to the homeless?")
At any rate, it's nice to see that Snyder has seemingly diminished the importance of his previous claims that the City Paper's devil-horn cover doodle was "anti-Semitic," because man, Snyder really has no room to complain about ethnic slurs.
[Would you like to follow me on Twitter? Because why not? Also, please send tips to tv@huffingtonpost.com -- learn more about our media monitoring project here.]
Related
Popular in the Community