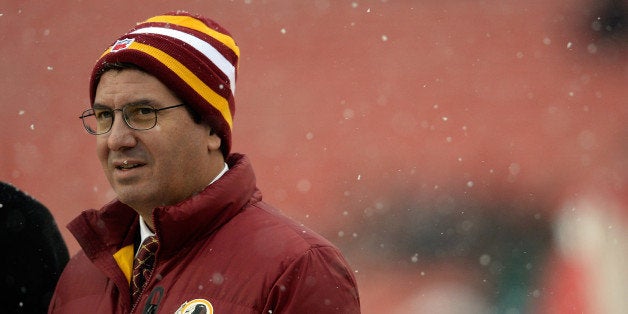 In the words of Washington Redskins owner Dan Snyder, the name of his NFL franchise is "not an issue" for Native Americans. The 49-year-old billionaire called on critics of his team's name and iconography to "focus on reality" in his latest statement on the controversy.
Whether Snyder approves or not, the name is an issue for Oneida Indian Nation representative Ray Halbritter.
"If Dan Snyder thinks it is acceptable for a billionaire to market, promote and profit off of a dictionary defined racial slur, then he's living in an alternate universe," Halbritter said in response to Snyder's latest remarks, per CBS DC. "If he wants to focus on reality, here's a reality check: the longer he insists on slurring Native Americans, the more damage he will keep doing to Native American communities, and the more he will become synonymous with infamous segregationist George Preston Marshall, who originally gave the team this offensive name."
Snyder's comments on Tuesday echo what he wrote in a letter in March introducing the Washington Redskins Original Americans Foundation. Snyder said the foundation will "provide meaningful and measurable resources that provide genuine opportunities." In the letter, Snyder said he visited 26 Tribal reservations and learned that Native American communities have "genuine issues they are truly worried about, and our team's name is not one of them."
"The Washington football team's front office has tried to make the issue about them and it's really not about them," Begay said. "It's about, unfortunately, the NFL and its owners and its corporate partners condoning use of that word. I don't think if a similar racially offensive word was used for the Hispanic, African American or Jewish communities that it would be tolerated."

REAL LIFE. REAL NEWS. REAL VOICES.
Help us tell more of the stories that matter from voices that too often remain unheard.