As calls for change to the name of the Redskins continue to grow louder, franchise owner Dan Snyder has once again publicly defended the nickname. In a letter to season ticket holders steeped in nostalgia, Snyder goes as far as to call on those offended by the team's name and iconography to keep in mind what it means to him and his fellow fans.
As loyal fans, you deserve to know that everyone in the Washington Redskins organization -- our players, coaches and staff -- are truly privileged to represent this team and everything it stands for. We are relentlessly committed to our fans and to the sustained long-term success of this franchise.

That's why I want to reach out to you -- our fans -- about a topic I wish to address directly: the team name, "Washington Redskins." While our focus is firmly on the playing field, it is important that you hear straight from me on this issue. As the owner of the Redskins and a lifelong fan of the team, here is what I believe and why I believe it.

"I don't know whether our attachment to a particular name should override the real legitimate concerns that people have about these things," Obama added.
For Snyder, personal attachment certainly seemed to override the concerns of others. In his letter, the 47-year-old billionaire set about rationalizing the team's insistence on maintaing the status quo by providing non-specific, impressionistic details of his first game at RFK Stadium as a six-year-old with his late father.
That tradition -- the song, the cheer -- it mattered so much to me as a child, and I know it matters to every other Redskins fan in the D.C. area and across the nation.

Seemingly in deference to comments made by Goodell in September about listening to those offended by the team's name, Snyder did briefly acknowledge the existence of those who found it to be outdated and offensive.
I've listened carefully to the commentary and perspectives on all sides, and I respect the feelings of those who are offended by the team name. But I hope such individuals also try to respect what the name means, not only for all of us in the extended Washington Redskins family, but among Native Americans too.
In perhaps the most audacious passage of the letter, Snyder explicitly asked for those who object to the team using a racial slur for its nickname and as the basis for its iconography to keep his feelings in mind.
Taking a cue from ESPN columnist Rick Reilly, Snyder then cited two polls and anecdotal evidence collected from interviews indicating that support for a name change is far from unanimous, even among Native Americans. Like Reilly, Snyder made no attempt to address those who are offended, like Oneida Nation Representative Ray Halbritter.
"We do not deserve to be called redskins," Halbritter said in a radio ad that ran in Washington ahead of the team's season-opening appearance on "Monday Night Football" in September. "We deserve to be treated as what we are – Americans."
Our franchise has a great history, tradition and legacy representing our proud alumni and literally tens of millions of loyal fans worldwide. We have participated in some of the greatest games in NFL history, and have won five World Championships. We are proud of our team and the passion of our loyal fans. Our fans sing "Hail to the Redskins" in celebration at every Redskins game. They speak proudly of "Redskins Nation" in honor of a sports team they love.

Snyder seemed to be arguing that the accomplishments of the team's 81-year history somehow insulate it from this debate. Does Snyder not comprehend that it is possible for a team to have traditions of strong on-field performance and off-field support while also being saddled with a name that was offensive? Does he also not see that the best way to honor those traditions may be to change the offensive name to remove the cloud hanging over the fans and players he has so much love for?
In closing, Snyder told his season ticket holders that he "will continue to listen and learn." Of course, he then signed off by making his clear his desire for the team name to remain in place "in the years to come."
I respect the opinions of those who disagree. I want them to know that I do hear them, and I will continue to listen and learn. But we cannot ignore our 81 year history, or the strong feelings of most of our fans as well as Native Americans throughout the country. After 81 years, the team name "Redskins" continues to hold the memories and meaning of where we came from, who we are, and who we want to be in the years to come.

What is perhaps most remarkable about Snyder is that this letter prioritizing his own sense of nostalgia over the feelings of outrage espoused by so many actually represents a step toward more open communication.
"We'll never change the name. It's that simple. NEVER — you can use caps," he told USA Today Sports in May.
"I don't think saying 'All caps. Never' is the right tone," Davis said, via CBS DC. "I think saying 'we care about people's feelings, we're respectful when anyone is offended, but we have this eighty-year name that we love. We sing 'Hail to the Redskins' every Sunday at the stadium, and we say we're part of 'Redskins Nation.' That's our vocabulary. Those are terms of honor.' And that's what he should have said, but he, I don't think is going to say 'all caps. Never' again."
While it seems that Snyder has yet to truly listen to those calling for change to his team's name, he does seem to have heard the advice of his lawyer.
Related
Before You Go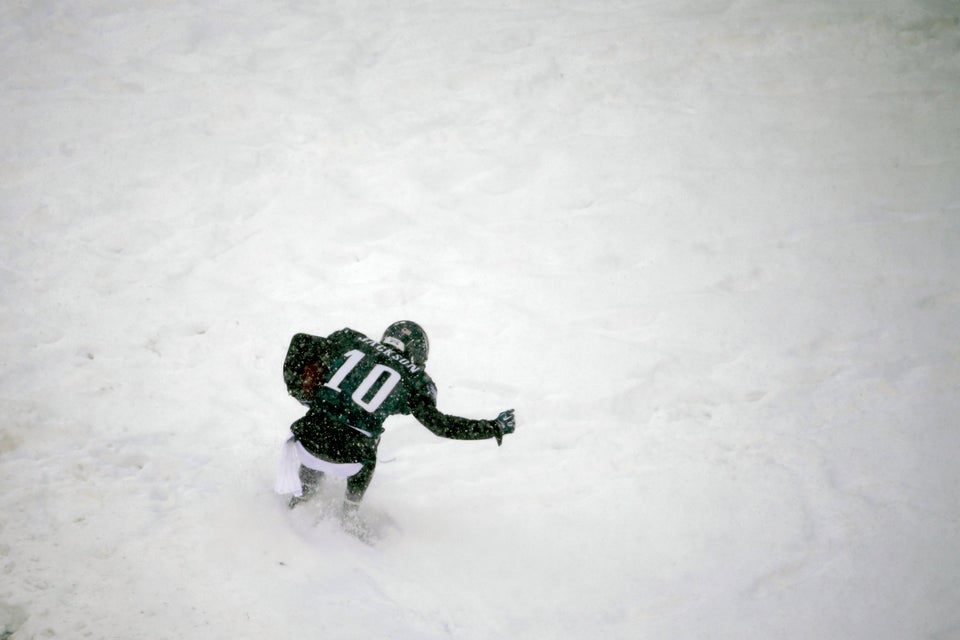 Best 2013 Sports Photos
Popular in the Community