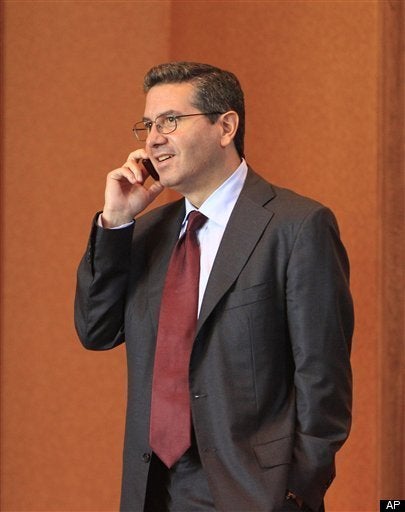 Here in Washington, D.C., the local National Football League team is the Washington Redskins, and it is owned by Dan Snyder -- easily one of the most loathsome people in the world and second only to Los Angeles Clippers Donald Sterling on the list of the most widely-despised owners of professional sporting concerns. Locals are pretty fanatical about the home team, even during these dark days of extended mediocrity, but Snyder is one of the most disliked figures in the history of the team -- which is amazing, considering the fact that the team was once owned by George Preston Marshall, a racist heel of the highest order.
I could go on at length about Snyder's awfulness, but I don't have to, because back in November, the Washington City Paper's Dave McKenna offered the definitive guide in the form of "The Cranky Redskins Fan's Guide to Dan Snyder." To my mind, McKenna's only crime in having penned the piece was being immeasurably awesome. But Dan Snyder didn't see it that way, because he happens to be as thin-skinned as he is wealthy. And now, according to today's Washington Post, Snyder has escalated his pouty-faced rage to the point that he is now making legal threats and, apparently, seeking McKenna's ouster from the City Paper.
If there's one thing that's been a hallmark of the Snyder era in Washington -- besides consistently overpaying for terrible players who consistently underperform, and overcharging fans for just about anything to which a price tag could be attached -- it's been Snyder's intense desire to crack down on just about anyone who has anything discouraging to say about him or the Redskins. One particularly sorry episode involved the banning of signs from the stands -- even ones that expressed support for the troops in Afghanistan -- because many people were bringing signs to FedEx Field that insulted Snyder.
Snyder's efforts to enforce a global ban on anyone saying mean things about him have extended to attempts to influence media coverage of the team itself. Many examples of this are included in McKenna's "Cranky Guide," so here are a few representative highlights:
Conflict of Interest: What Snyder created by employing members of the D.C. media to work for Redskins Broadcast Network, wholly owned by the team. Among the many journalists who worked for Snyder while also reporting on his Redskins for major news outlets: George Michael, Michael Wilbon, Dan Hellie, Wally Bruckner, Andy Pollin, Lindsay Czarniak, Brett Haber.
Knott, Rene: D.C. sportscaster who in 2000 was forced to do live reports from the Redskins Park parking lot while peers filmed inside the practice facility. Knott's employer, WJLA-TV, was the only local network affiliate that did not pay Snyder to become a "media partner" of the team.
Redskins Unfiltered: Feature on Redskins.com designed to "offer fans an a la carte menu of information," as Snyder told The New York Times in 2006. In practice, Unfiltered was mainly used to rebut everything written about the team by The Washington Post. Immediately after the Post ran a story that mentioned players eating "fast food" at Redskins Park, for example, Snyder staffer Larry Michael produced a long video in which team employees testified that Baja Fresh was NOT fast food. Unfiltered came back to haunt management when players used its video as evidence in a union grievance over "contact drills" during voluntary workouts. "You know how we caught them?" said NFLPA chief Gene Upshaw. "We saw it on their Web site."
Snyder's overall media strategy is basically to put reporters on the payroll, keep them in line and aggressively beat back criticism. But this is the first time, to my knowledge, that Snyder's actually sought the firing of a reporter.
Of course, no one from Snyder's legal team or the Redskins organization has actually contacted the City Paper about any of this -- a fact that the paper's publisher, Amy Austin, makes abundantly clear to the Post. Rather, Snyder's counsel has complained to Atalaya Capital Management, the hedge fund that owns Creative Loafing Inc., who in turn own the City Paper. It's a wonderfully petty move indicating that Snyder's taken his whinging to his fellows in the white-collar community in hopes they will sympathize with his plight.
And if you're wondering how it came to pass that the Washington Post even got wind of this story, wonder no more:
According to several people with direct knowledge of the situation, Snyder's attorneys contacted The Post last week and asked the newspaper to preserve e-mails between Post sports blogger Dan Steinberg and McKenna.

The attorneys said they intend to explore whether there was any agreement between McKenna and Steinberg to cross-promote McKenna's pieces on Snyder. Steinberg routinely links to sports content across the Web.

McKenna and Steinberg are former neighbors and longtime friends, a fact disclosed by Steinberg when he linked to McKenna's City Paper article on Steinberg's D.C. Sports Bog blog in November. At the time, Steinberg called McKenna's article "an encyclopedic takedown of Snyder's decade of Redskins ownership, with just about all the horror stories gathered in one place."

McKenna, in turn, occasionally mentions Steinberg's work in his City Paper columns and blog postings, referring to him as "the Great Dan Steinberg."
Yes: Dan Snyder's lawyers are exploring the possibility that two people who cover sports happen to know and like each other, perhaps to the extent that they share links to one another's stories, all of which are utterly quotidian practices in the world of online media.
What we're seeing here, of course, are moves that come right out of the hack-lawyer playbook: a bullshit threat of discovery intended to scare the owners of the City Paper into acceding to demands, with a brushback pitch aimed at the Post -- a reminder that they're being creeped on -- as an added bonus.
Patty Glaser, the "well-known litigator based in Los Angeles" who at one time represented Conan O'Brien but whose character judgment has fallen off to the point of representing Snyder in this claim, tells the Post, "We have been pushed in this direction, in our view ... it's something we tried to avoid." But, as they've never actually contacted the City Paper directly -- the first thing one would do when one wants to "avoid" legal action -- you know that this is complete crap. Glaser also says, "We feel [the Washington City Paper has] published untruths," regarding Snyder, but -- significantly -- has no specific example of any "untruth."
For its part, the City Paper is standing behind McKenna's reporting. Should this proceed to discovery, one thing that might be enjoyable for everyone would be for the City Paper to seek out internal Redskins emails in order to prove the truth about every single thing McKenna has reported. (I would particularly enjoy an official measurement of Dan Snyder's height, myself.)
In the interest of full disclosure, I am a longstanding fan of the team who has written about them for DCist.com. That said, I am very much opposed to the team's maintenance of their indefensible and viciously racist name. Ironically, there was a time when Dan Snyder may have had the power to do something about that -- in 2002, Snyder sought and obtained the rights to the trademark on the name "Washington Warriors." At the time, Snyder gave out that the trademark was obtained for the purposes of fielding a Washington team in the Indoor Football League, but this all happened at a time when Snyder's trademark on the name "Redskins" was being challenged by Native American activist Suzan Shown Harjo on the grounds that it violated the Lanham Act. Harjo eventually lost her suit, and both the name "Warriors" and the memory of Snyder's IFL ambitions faded from memory. All of this was ably reported out by -- wait for it! -- the City Paper's Dave McKenna.
All of which goes to show that at one point, Dan Snyder might have done the right thing, in terms of correcting the team's racist name. But Dan Snyder is congenitally incapable of doing the right thing, ever.
UPDATE: The Washington City Paper has responded at length, to this nonsense. Yes, Snyder's team took their threats to Atalaya Capital Management in precisely the terms I described. Per their complaint: "Mr. Snyder has more than sufficient means to protect his reputation. We presume that defending such litigation would not be a rational strategy for an investment fund such as yours. Indeed, the cost of litigation would presumably quickly outstrip the asset value of the Washington City Paper."
The City Paper continues to stand by their reporting. In addition, they "also emphatically reject the suggestion that we stop reporting on Snyder or that we pull McKenna." They have proactively offered to grant relief to Snyder by allowing him to have "the opportunity to publish a guest column responding to the article." But, again, it's not like Snyder doesn't already have means at his disposal to respond to Dave McKenna's article in a more dignified fashion. As publisher Amy Austin puts it:
It's extremely unfortunate that Snyder believes that it is appropriate to threaten City Paper with litigation because he objects to our coverage. As a 30-year old newspaper and vibrant website committed to both in-depth news reporting and full-throated commentary, we do not believe that using the court system to stifle or chill free speech is ever appropriate. In this case, it's especially shabby: As a well known public figure, Snyder has more than ample ability and resources to respond to coverage he does not like, including through his significant public relations apparatus. Lest there be any doubt, we have offered him a forum to do so in our pages, and that invitation stands. Should he elect to actually file a lawsuit, we have directed our counsel to defend the case vigorously.
The City Paper has also included copies of all the correspondence they have received in this matter. Like I said, it's all straight from the hack-lawyer playbook, including this gem from Washington Redskins general counsel David Donovan: "The papers depiction on its cover of Mr. Snyder with horns was anti-Semitic."
Popular in the Community