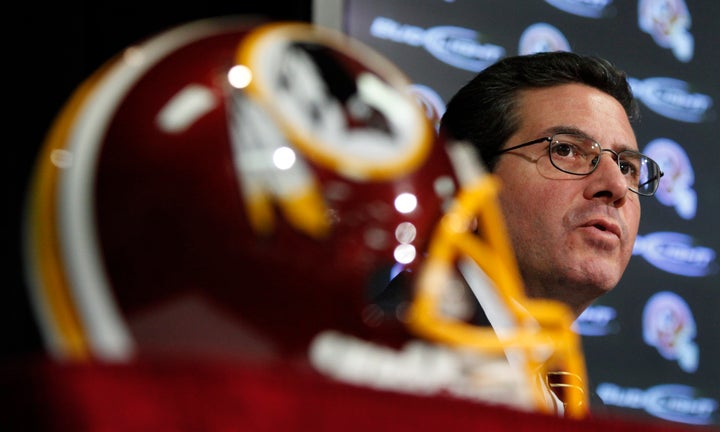 Earlier this week, Washington Redskins owner Dan Snyder made news when he shifted the venue of his lawsuit against the Washington City Paper and writer Dave McKenna (who penned "The Cranky Redskins Fan's Guide To Dan Snyder") from New York to D.C. Superior Court. Snyder went on to write an editorial for the Washington Post, reminding everyone that he was bent on pursuing this matter, at the encouragement of his new flack, Tony Wyllie.
For starters, Wyllie apparently openly admitted that the lawsuit was designed to intimidate the media into more favorable coverage. Per Mussenden, Wyllie said: "Some people ask, are you firing a warning shot at other members of the media, and I'd say yes."
This was a really stupid thing to have done, because it's tantamount to saying, "We intend to file a strategic lawsuit against public participation," or SLAPP lawsuit. Courts are starting to take a dim view of such suits, which are solely designed to intimidate or exhaust defendants in stupid cases that the plaintiffs aren't even trying to win. The Washington City Paper should take note of this, and learn about D.C.'s "Anti-SLAPP Act of 2010," which provides "a special motion for the quick and efficient dismissal of strategic lawsuits against public participation, to stay proceedings until the motion is considered, to provide a motion to quash attempts to seek personally identifying information; and to award the costs of litigation to the successful party on a special motion."
Wyllie's co-panelist Diana Huffman, of Merrill College, apparently alluded to this almost immediately, telling Wyllie (per Marso), "As public figure, hard for Snyder to win his lawsuit, even if City Paper's writings were false -- legal standard prevents chilling effect of Snyder's 'warning shot.'" That's when Wyllie walked back his remark, saying "we're not trying to be bullies...we're not trying to make anyone afraid." (But that's exactly what "warning shots" do.)
Beyond the legal ramifications of the discussion, Tony Wyllie is just straight up out of his mind. Per Steinberg:
Elsewhere in the discussion, according to the school, Wyllie compared Snyder to truth-seeking Egyptian protestors and called City Paper writer Dave McKenna "evil and mean."
Yes, Dave McKenna is just like evil and mean old Hosni Mubarak.
REAL LIFE. REAL NEWS. REAL VOICES.
Help us tell more of the stories that matter from voices that too often remain unheard.