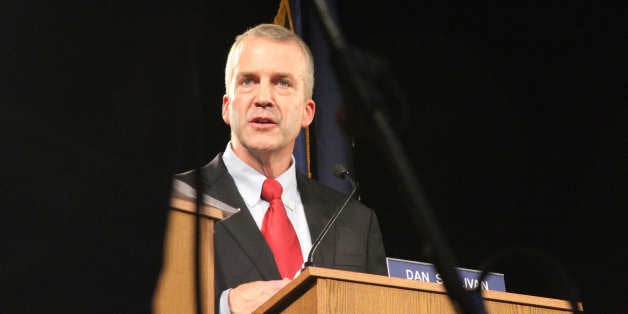 Former Alaska Attorney General Dan Sullivan, the Republican challenging Sen. Mark Begich (D-Alaska), frequently talks about how he "actually read" the Affordable Care Act and "spent weeks -- weeks! -- reviewing that law."
But that doesn't mean Sullivan is familiar with all of the law's provisions, as an interview with the Alaska Dispatch News published Wednesday revealed:
Sullivan does, however, want to preserve one key element of the Affordable Care Act -- insurance coverage for individuals with pre-existing conditions. Sullivan wants to do that through high-risk pools, which have in the past forced those individuals to pay higher premiums than people get on the standard market.

As to other elements of the law that Begich cited in his defense of the measure, Sullivan said he was unfamiliar with a provision guaranteeing that women could not be charged different rates than men, though he added he doesn't support allowing gender-based discrimination if people 'are similarly situated with regard to health issues.'

Sullivan wouldn't directly answer a question about whether he supported a provision of the law requiring insurers that offer dependent coverage to provide it to children up to the age of 26, saying he would leave families to design their own health care plans with the help of their doctors.
The Republican was professing ignorance of the Affordable Care Act's ban on the practice known as "gender rating," whereby insurers would charge women higher premiums than men for identical plans. Sullivan perhaps said he supports -- or doesn't know about -- those provisions because polling shows a paradox: Americans dislike the law, but like that it allows children to stay on their parents' plans until 26, bans discrimination based on gender and eliminates lifetime coverage caps.
This paradox is also illustrated in the manner in which Begich's campaign is approaching the law in Alaska. Though Begich has said in in radio ads he has worked to "fix" the law, a super PAC backing his bid also ran television ads featuring a breast cancer survivor describing how the law enabled her to get health insurance despite her pre-existing condition.
The senator has taken pains to distance himself from President Barack Obama, but two new polls this week show Sullivan ahead.
Sullivan's campaign didn't immediately respond to a request for comment.
Calling all HuffPost superfans!
Sign up for membership to become a founding member and help shape HuffPost's next chapter
BEFORE YOU GO
PHOTO GALLERY
Senate Seats Up For Grabs In 2014