Dan Severn's life story may be told in several contexts.
Call it a precise and multifaceted mix of unlocked fearlessness and inflicted pain. Call it an existence rooted in the efficacy of violence. Call it a life of strength, stamina and tightly enclosed spaces.
Label it a life of thinking big.
No matter how you view it, there is no part of Severn's past that can be considered too banal to merit discussion.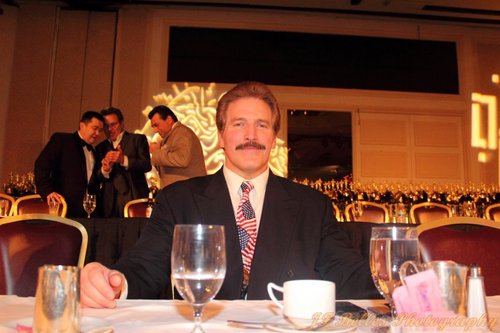 And while Severn didn't have a specific blueprint when he began his life in the trenches of combat, he is gratified that so many developments have happened on so many different fronts.
In truth, Severn's entry into the Ultimate Fighting Championship (UFC) -- the event he is most intensely associated with -- was a spur-of-the-moment affair.
Thumbing through a martial arts magazine, he spotted a full page ad seeking no-holds-barred fighters for the newly formed organization. He was familiar with its consensual violence, which launched in 1994.
Severn had watched Brazilian grappler Royce Gracie succeed in the UFC's first two tournaments, and with thoughts of how he could put his own wrestling background into operation, he signed the application.
At the time, not too many people were aware of this crazy thing now known as mixed martial arts. I met with Art Davie, and I did an interview, and I was accepted. There was a great deal of scrutiny regarding those earliest ultimate fights, there were politicians calling it human cockfighting, and people calling it the decline of civilization. But a lot of people enjoyed that era, and enjoyed its raw format. I mean, you had boxers, kick boxers, kung fu guys and wrestlers wearing singlets. You had all kinds of fights, and only two rules to abide by, no eye gouging or biting. It was the Wild Wild West, true cage fighting.
And now the UFC's slickly packaged brutality is as American as cherry pie. Its ritualized violence as embedded in our cultural landscape as minivans, big-box districts and fuel megacenters.
In five years, I would guess that even the use of the elbow to strike an opponent will be taken out and there will be a rule implemented to remove it from competition. Those strikes might just be too damaging. Either way, those early bouts will have their place in history.
Severn's training for the UFC was minimal, just five one-hour sessions of punching, kicking and grappling. He would close the distance on his training partner, clench him hard, slap on an amateur wrestling move, and that was the extent of it. (Following a pair of quick victories, Severn lost to Gracie via triangle submission choke in the finals of UFC 4.)
I never trained a single strike or true submission. At heart I was an American wrestler, and this fight was before amateur wrestling was in the martial arts. Today, wrestlers continue to invade that world. When I fought Gracie, things were going fine, but the primitive things were not working for me. I had to think before I had to hit him. The striking went against 26 years or rules, regulations, and sportsmanlike conduct. I struggled more with my conscience in the Octagon than with any opponent.
In the Octagon, Severn learned that violence when it is used in self-defense is an act of intelligence. He found an arena charged with transparent emotions -- nothing cryptic. With the science of wrestling and the brawn of a mustached ass-kicker on his side, Severn won UFC 5 and the Ultimate Ultimate (December 1995).
Pre-UFC, Severn already had a wealth of competition behind him -- a lifetime of constraining enemies, and accomplishing his own will. That was before the omnipotence of ultimate fighting, a period of his life which he had a scowl and a singlet but no legacy to call his own.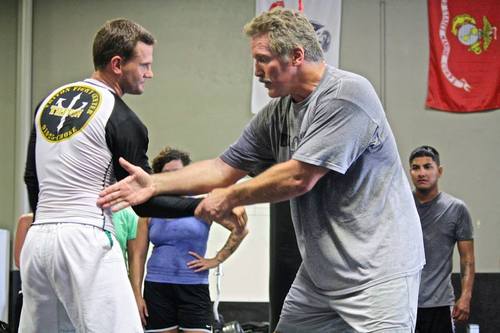 Rudyard Kipling said, "If history were taught in the form of stories, it would never be forgotten."
Writing Severn's history requires smart editing; there is so much of it to tell, so many compartments and segments not to be forgotten.
Born in 1958, and raised on a Michigan farm, Severn attended high school in Montrose, Michigan, the second of five brothers.
All five Severn boys were All-American wrestlers in both high school and college. They were such good wrestlers that coaches even tried to sweet talk his big, strong sisters to try out for the high school wrestling team. In high school, Severn was a two-time national champion and set eight national records.
From 1976 to 1992, Severn placed in the top six in the nation every Olympic year. In 1980, he qualified for the finals of the Olympic trials, but with the United States boycotting because of Soviet encroachment into Afghanistan, he didn't compete.
1984 to 1986: 'I Had Hate on My Side'
In 1984, Dan Severn and Ed Banach were the top two wrestlers in the United States at 220 pounds. They met in a best-of-three series to determine the United States' Olympic representative. Banach won the first encounter, Severn the second.
In the third match, Severn controlled the pace and swished Banach on his back. The three referees were "conflicted," says Severn, as to exactly what had transpired. One referee was certain Severn pinned Banach. The second official awarded Severn points for "back exposure." But the third didn't give Severn any points at all.
After a heated discussion, the referee who decided Severn hadn't scored any points prevailed; with less than one minute remaining in the match, Severn now trailed. He never caught up.
Severn filed a formal protest. But he was rejected.
He swore he would never let politics determine the outcome of another one of his fights. He would win decisively, violently -- memorably. Standing on the podium at the 1984 Olympics, Severn watched as the gold medal was placed around Banach's neck. With his dreams of becoming an Olympic gold medalist in wrestling shattered, something in Severn snapped. Violence resolved Severn's problems.
I would have retired in 1984 if things went the way they were supposed to go. There I was, the alternate, watching the guy ahead of me get the gold. I went on a rampage after that. From 1984 to 1986, I had hate on my side. I took out knees, shoulders, backs, and I took everything I could a bit further. I got screwed over, and I decided that from then on, I would never allow politics to become a factor.
In 1988, he tore his other ACL prior to the Olympics.
In the 1990s, Severn continued his career in the fight game as a Greco-Roman and freestyle wrestler. In 1994, he stepped into the Octagon for the first time.
Severn-Taktarov: "I Might Have Killed Him."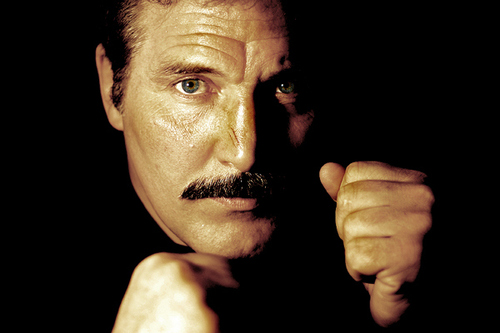 Severn's legacy will forever be linked to his brutal demolition of Russian Oleg Taktarov in the semifinals of UFC 5. The violence and raw power of this tumultuous meeting were amazing to ponder. Severn dropped knee after knee on his downed foe; several times, he looked up at referee Big John McCarthy and asked, "Why is this fight continuing?" He had Oleg teetering at a point between life and death.
But Oleg refused to tap out, so the lopsided beating ensued.
There was so much blood streaming from Taktarov's eyes and face that the blinded Russian could not see the deployment of a series of knees. At one point, Taktarov even turned his head sideways to let the blood drain out the corner of his eyes, exposing his temple. Realizing that the Russian was clearly on the precipice, McCarthy finally called off the match.
It definitely crossed my mind that had I dropped another knee I might have crushed his skull. I could have killed him. There was so much blood flowing into his eyes, and three times I looked at John. I knew I had him in a checkmate position, and he was hurt.

At an event after the fight, I saw Oleg. I said to Oleg, 'I feel bad for what happened. I'm sorry that you got hurt. I didn't mean for you to get hurt.' He looked at me, and he said, 'It is no problem. They should not have stopped the match. I had an armbar on you. I was waiting. I was waiting for you to get tired.'

I looked at this guy and I was thinking to myself, 'You should get down on your hands and your knees and thank God it was me who you went against -- that it was someone who actually has a heart and is compassionate towards their fellow competitor.' He should pray to God that it was someone like me who had a heart, because if not, they could have taken him out in a body bag. If that were likes of a guy like Tank Abbott who had him in that position, he would've been killed.
WWF: "McMahon Couldn't Control the Beast"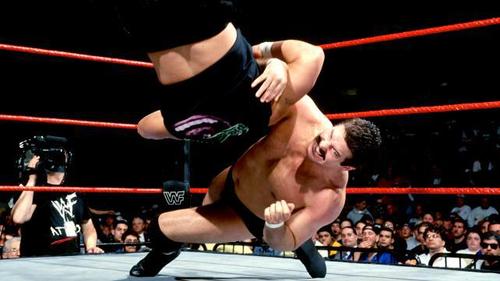 Severn stepped into a different ring in 1998 -- the arena of entertainment wrestling. He took part in thousands of matches in at least 30 separate professional wrestling organizations, holding the National Wrestling Alliance heavyweight title for longer than any other previous champion.
As a member of the WWF, he feuded with Owen Hart, wrestled "The Rock," and carried over his real feud in the Octagon into the fictitious realm of entertainment.
Honestly, I had no problems with [Ken] Shamrock. It seemed to be more on his side toward me. I have to say that professional wrestling, even to this day, it makes me nervous. There is a small window related to the timing, and being that it is a timed entertainment product, you always put your body in somebody else's hands, and you hope they don't hurt you.

Many wrestlers end up fighting a bitter internal custody battle to preserve their own true identities.
It's a world of fantasy. It's like Halloween. And when you live in the world of fantasy, sometimes you forget when it ends and where reality begins.
Severn says that the notoriously autocratic wrestling tycoon Vince McMahon had no control over his autonomy to come and go as he pleased.
I was the first pro wrestler for the WWF to be non-exclusive. I looked at it this way, you could either pay me to sit home or you had to allow me to be non-exclusive. I was not a politician. I would rather put my size 12 boot in your ass than have to kiss it. But there were plenty of guys around McMahon who never asked a single question. If McMahon wanted a 98-pound weakling wearing a pink tutu to be the champion, it wasn't questioned. But he had no control mechanisms over me.
Transforming Dan Severn into "The Beast" is still nothing more than a simple act of a man losing and regaining his composure. With his measured demeanor and sly sense of humor, he's an incongruous figure for those who don't understand calculated violence.
The mind is the greatest tool you'll ever have. And if you give me a few minutes alone, I'll become somebody else when I go into my competitive mode. I often talk about "The Beast" in a third person perspective. I mean, well, Dan Severn is a nice guy, but not "The Beast." The Beast will do whatever he can that's legally viable and within the rules to succeed.
He is a man without breaks: He operates a 10,000 square-foot training facility to train all types of fighters. He teaches law enforcement officers ground fighting tactics, and is involved with a fight promotion he founded in 1999 called The Danger Zone.
Severn also instructs and oversees college-accredited martial arts and submission grappling classes, at two separate universities. Applying his own college degree in education, Severn still signs up to substitute teach in the local high school.
You can hear the smile in Severn's voice when he talks about retirement, you can hear the passive acceptance of a man who sounds surprised that it has happened.
What am I doing in retirement? I'm training for life. I'm hoping to live longer and have a high-quality life. And I have longevity on both sides of my parents.
It seems as if Severn and retirement have a nasty fight ahead.
Would I come back out? There are three matches that I still want: one with Marc Coleman, one with Ken Shamrock, and one with Royce Gracie. But I don't think any of those three will ever transpire.
As a man who is clearly appalled by the thought of not competing with others or challenging himself, he admits that he has a submission grappling match planned in the near future.
There is this guy who has won 24 fights in submission grappling, and he's pretty good. He's six-foot-three, 290 pounds, and he is rife for the picking. I've visualized what I'm going to do to him. He will never know what hit him, or how fast I'll submit him. I've visualized how fast I'll do it.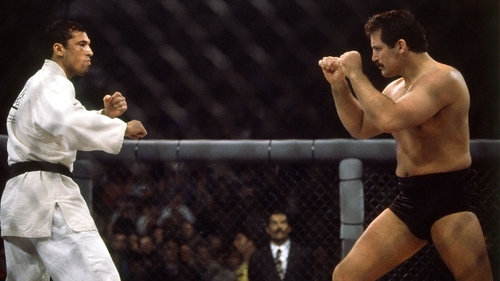 There is passion in his throat, the outpouring of raw emotion; he's clearly a man in love with the fight game and not altogether prepared to live without her.
I'll do things he's never seen before, and that crowd will witness what I can do with simple, simplistic incredible amounts of pain. I'm a competitor at heart.
He shows no presentation of physical vulnerability or no sign that he has foreclosed the notion of one final aggressive stand or revival.
Just because I've retired from MMA, don't think that I'll be sitting on a rocking chair any time soon.
REAL LIFE. REAL NEWS. REAL VOICES.
Help us tell more of the stories that matter from voices that too often remain unheard.