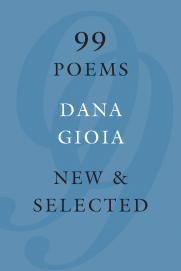 California Poet Laureate Dana Gioia has a long history with Northern California readers. In addition to his poems and other work, for seven years he wrote about classical music and, occasionally, poetry for San Francisco magazine, where I happened to be his editor. It was an excellent working and personal relationship until Dana got a call from Washington, D.C., where he moved in 2003 to become chairman of the National Endowment for the Arts.
On leaving the NEA, Dana began writing poetry again, and he has a new book out: his fifth and latest collection, 99 Poems: New & Selected, from Graywolf Press. Recently, he gave an excellent reading, packed with poetry-loving friends and others, at Book Passage in Corte Madera. One of the poems he shared is below. He had a terrific story to introduce it, about how, after another reading, a woman told him what the poem meant to her. In this poem, Dana had hoped to convey one thing, his response to one situation--and he did. But this poem, the woman had told him, helped her understand the feelings of a loved one in a quite different situation, an experience she could never share.
Here's the poem, without the title.
This is my past where no one knows me.
These are my friends whom I can't name--
Here in a field where no one chose me,
The faces older, the voices the same.
Why does this stranger rise to greet me?
What is the joke that makes him smile,
As he calls the children together to meet me
Bringing them forward in single file?
I nod pretending to recognize them,
Not knowing exactly what I should say.
Why does my presence seem to surprise them?
Who is the woman who turns away?
Is this my home or an illusion?
The bread on the table smells achingly real.
Must I at last solve my confusion,
Or is confusion all I can feel?
The title is "Reunion." The poem is Dana's response to attending a college reunion and meeting people he hadn't seen in decades. "These are my friends whom I can't name....The faces older, the voices the same." The woman, Dana told the crowd in Book Passage that night, had said this poem helped her empathize with someone close to her, someone with Alzheimer's, and how he must be experiencing life now. "Is this my home or an illusion....is confusion all I can feel?"
Dana has published several poetry collections, including Interrogations at Noon (which won the 2002 American Book Award), and books of essays (including Can Poetry Matter?: Essays on Poetry and American Culture, which was a finalist for a 1991 National Book Critics Circle award; if memory serves, the title essay had its genesis in an essay he wrote for San Francisco). He's written opera libretti and edited literary anthologies. He's had work published in magazines that include the New Yorker, the Atlantic, the Washington Post Book World, and Slate. When he was in Washington, Business Week magazine dubbed him "The man who saved the N.E.A."
In other words, he's gotten a lot of attention for a lot of good work, in art and in life. This woman's comment, no doubt about it, will be one he never forgets.
99 Poems: New & Selected, by Dana Gioia, Graywolf Press, 350 Third Ave. North, Suite 600, Minneapolis, MN 55401, graywolfpress.org.
Popular in the Community