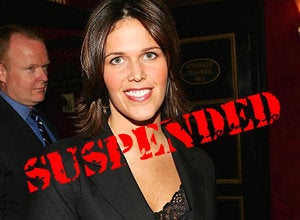 UPDATE: Icon Sports Media has released images of Dana Jacobson's drunken rant at the Mike and Mike roast. The coveted video is still hidden away, but the pictures below give you an idea of just how messy it must have been: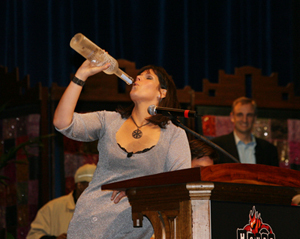 Dana at the podium swigging vodka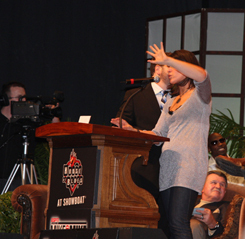 Dana being hauled off the podium by Jeff Ross (note Mike Ditka in the background)
Add ESPN's Dana Jacobson's name to the list of media members who recently found themselves in trouble because of inappropriate comments or actions.
Sources have confirmed that Jacobson, a co-host of "First Take" on ESPN2, currently is serving a one-week suspension because of her behavior at a Jan. 11 roast for ESPN Radio personalities Mike Greenberg and Mike Golic at Atlantic City, N.J.
While declining to confirm Jacobson had been suspended, ESPN spokesman Josh Krulewitz said, "Her actions and comments were inappropriate and we've dealt with it."
Jacobson reportedly said "F*** Notre Dame," "F*** Touchdown Jesus," and "F*** Jesus" in an attempt to talk trash to Mike and Mike co-host Mike Golic, a former Notre Dame football player.

An ESPN spokesman e-mailed me the following statements:

From ESPN: "Her actions and comments were inapprorpriate and we have dealt with it."

From Dana: "I am very sorry. My remarks about Notre Dame were foolish and insensitive. I respect all religions and did not mean anything derogatory by my poorly chosen words. I also deeply regret the embarrassment I have caused ESPN and Mike and Mike. My actions at the roast were inappropriate and in no way represent who I really am. I have personally apologized to many of the people involved. I won't make excuses for my behavior but do hope that I can be forgiven for such a poor lack of judgment."
According to the Catholic League, it remains unclear whether Jacobson actually said "F*** Jesus" or if she just said "F*** Notre Dame." In the event that she did say "F*** Jesus," the Catholic League will argue for a harsher penalty than one week's suspension.
Read more about the Catholic League's response here.
For more information on who Dana Jacobson is and a comprehensive bio, see here.
Popular in the Community