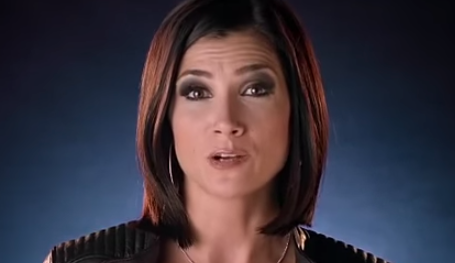 A gun control advocacy group is denouncing a violent viral video that has been wrongly associated with its name.
St. Louis-based conservative talk radio host Dana Loesch recently appeared in an ad for the National Rifle Association. But on Sunday, Twitter user @TomAdelsbach posted an edited version that makes it look as if Loesch is shooting herself in the head, reported TheBlaze, where Loesch is also a TV host. 
Loesch retweeted the graphic video with the caption, "Great. Now anti-gun #MomsDemand fans are making videos threatening to kill me."
The original post never mentioned #MomsDemand, a frequently used hashtag to reference pro-gun control organization Moms Demand Action for Gun Sense in America. The original tweet, which has since been deleted, read, "Dana Loesch's new promotional video for the #NRA 'backfires' on her." Adelsbach did not immediately respond to a request for comment.
Loesch did not immediately respond to a query as to why she invoked Moms Demand Action, but the organization was quick to condemn the violent imagery.
"We had no part in making this video and we vehemently oppose its message," Kate Folmar, Moms Demand Action deputy communications director, told The Huffington Post. "We're focused on saving lives and do not condone any kind of activity -- including this video -- that makes light of gun violence in America."
Folmar added that the advocacy group does not believe any threats are acceptable, no matter what side of the gun debate they're directed towards.
"The discussion about gun sense should involve facts, not violent threats," she said.
Loesch has since tweeted that she contacted the FBI in response to the video. On Monday, Remington Arms tweeted an offer to Loesch for a "new concealed carry piece."
See the original NRA ad featuring Dana Loesch:
REAL LIFE. REAL NEWS. REAL VOICES.
Help us tell more of the stories that matter from voices that too often remain unheard.