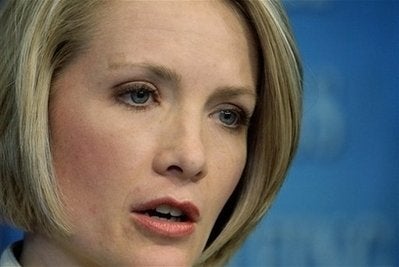 But that would not be the last time that she provoked critics. On Saturday, she appeared on NPR's "Wait Wait ... Don't Tell Me" during a segment that guarantees embarrassment for its well-known guests, or as the introduction gamely puts it:
The subjects are "asked ridiculous questions about completely random topics and then being mocked and punished for your wrong answers."
And mocked and punished she was, but not for batting 1-for-3 on the subject of Rudolph the Red-Nosed Reindeer minutiae. Instead, it was for volunteering up front the kind of canned tale of self-deprecation that is often seen on late-night-television. The Washington Post retells the relevant passage about a recent question in the White House briefing room that uncovered a glaring historical blind spot for her:
"I was panicked a bit because I really don't know about . . . the Cuban Missile Crisis," said Perino, who at 35 was born about a decade after the 1962 U.S.-Soviet nuclear showdown. "It had to do with Cuba and missiles, I'm pretty sure."
So she consulted her best source. "I came home and I asked my husband," she recalled. "I said, 'Wasn't that like the Bay of Pigs thing?' And he said, 'Oh, Dana.' "
Popular in the Community