Dana Perino may be just over five feet tall, but that did not stop her from taking her inner Gisele Budchen for a walk at a charity fashion show in Washington on Saturday night.
As club music pulsated and photographers clamored at the end of the runway, the former White House Press Secretary, known for her chic blonde bob and terse replies to reporters during the Bush administration, strutted down the catwalk in a slinky ball gown with a slit "up to there" with her dog Henry in tow.
The event, dubbed "Fashion for Paws", is an annual fundraiser benefit for the Washington Humane Society that allows socialites, media figures, and other animal lovers to model designer clothes and show their support for their four-legged friends.
Ms. Perino told me that she and Henry, a twelve year old Hungarian Vizsla, got involved because her former deputy at the White House, Scott Stanzel, is friends with Fashion for Paws executive director Tara de Nicolas.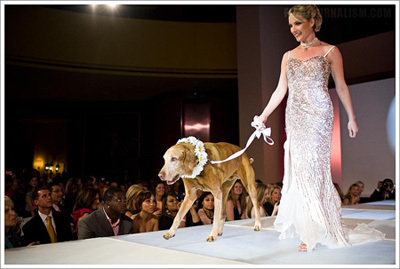 When Mr. Stanzel told Ms. Perino about the show and the money it raises for abused and neglected animals (this year's fete is expected to bring in well over $ 300, 000 at the end of the day), she was delighted to lend her time, but not without some trepidation.
"It was intimidating," she reflects on the moment she stepped out onto the runway in her Aram of Tyson's Galleria dress with lights blaring and thousands of onlookers at the Italian Embassy gawking.
The idea of playing supermodel, she also found daunting, but fun. "I'm from Wyoming. I wear jeans and sweatshirts".
As for next year's show, she says she already has a short list of model recruits in mind from the dog-eat-dog fourth estate.
"I think Bill Plante from CBS would be hysterical. And Megyn Kelly from Fox, and Bob Barnett who represents all of us."
When she is not working on her modeling gigs, Ms. Perino is a commentator for Fox News and works in Public Relations.

Related