"Surfin' Safari" and "Surfing USA" are great Beach Boys tunes. But what else do those iconic surfing songs have in common?
They both mention Doheny State Beach.
"Surfin' USA"
And down Doheny Way...
Everybody's gone surfin'
Surfin' U.S.A.
"Surfin' Safari"
...They're kickin' out in Doheny too
I tell you surfing's mighty wild
It's getting bigger every day
Talk about surf culture. Doheny State Beach is tucked into a unique city in Orange County called Dana Point which feels more like a beachy enclave with few chain stores, a local vibe and sky high bluffs. "It's a classic Southern California beach town that is still under the radar in many ways," observes Greg Mortimer of Canons, a longtime Dana Point local favorite restaurant.
The famous surfing hotspot is also known as California's first state beach. In 1931, oil magnate Edward Doheny donated acres of oceanfront to the state. And for several decades the locale has been a mecca of Southern California surf. Before much development in Orange County, Dana Point stayed mostly untouched. That left many of the surf breaks open for great uninterrupted surfing. The surf culture thrived. "Before the Dana Point harbor was built, the surf break (or massive wave) known as "Killer Dana", was one of California's largest," explains Matt McNally of Resorts of Dana Point. "Those waves rivaled Mavericks. They were huge." In fact, when filmmaker Bruce Brown was working on his famous surf documentary The Endless Summer, he lived in Dana Point.
When the Dana Point Harbor was built the Killer Dana wave was displaced. But Doheny State Beach remains one of the best long boarding breaks in California. "The ride is really long and when the swell hits, it's an incredible wave -- very easy and approachable," says McNally. "You could be a novice surfer, amateur or professional and still have a good time on that wave." (And while you're there check out Boneyard Beach Cafe which serves food, wine and beer on the sand.)
In addition to the waves, Dana Point has loads to offer. Click to this Parade.com story to learn some don't miss things to do.

The Ocean Institute and its famous Pilgrim, a full size replica of the hide brig immortalized by Richard Henry Dana, Jr.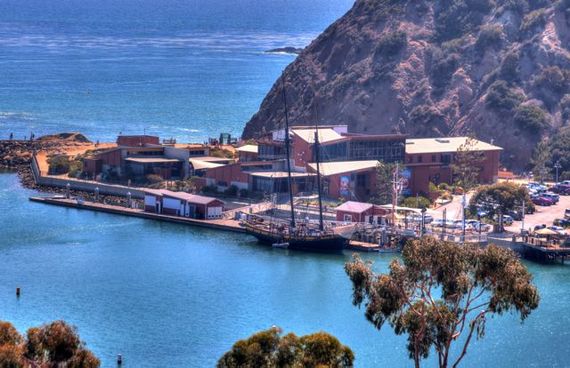 Courtesy, the Ocean Institute