On Thursday morning, The Huffington Post received an email claiming to be from artist Dana Schutz, requesting that her painting "Open Casket" be removed from the 2017 Whitney Biennial because of the harm it inflicted upon black viewers.
The email was soon revealed to be a hoax. Stephen Soba, Director of Communications at the Whitney Museum of American Art, told HuffPost that Schutz was in no way involved with the letter. For a brief period, however, it appeared to offer a long-awaited response to the outpouring of anger, pain and controversy surrounding the painting.
Schutz's painting, on view now at the Whitney, depicts the disfigured face of Emmett Till, a 14-year-old black teenager who was tortured and beaten to death in 1955 for allegedly whistling at a white women ― an allegation his accuser admitted to be false earlier this year. Emmett's mother, Mamie Till Mobley, insisted Till's casket be left open during his funeral, so that the racist brutality inflicted upon her son would not go unseen. Photos depicting Till's battered body and face were published in the magazine "Jet," becoming a catalyst in the fight for civil rights.
The violence inflicted upon Till as a black American is not a thing of the past. "I made this painting in August of 2016 after a summer that felt like a state of emergency," Schutz explained to Brian Boucher at Artnet News. "[T]here were constant mass shootings, racist rallies filled with hate speech, and an escalating number of camera-phone videos of innocent black men being shot by police. The photograph of Emmett Till felt analogous to the time: what was hidden was now revealed."
The goal of the Whitney Biennial ― the longest-running survey of American art ― has long been "to gauge the state of art in America today." The 2017 exhibition, co-curated by Mia Locks and Christopher Y. Lew, was imagined amid the chaotic and anxiety-inducing backdrop of the 2016 presidential election. "This biennial arrives at a time rife with racial tensions, economic inequities and polarizing politics," the curators write in the exhibition's introductory statement, "inviting us to pause and pose questions in a tumultuous world."
The Biennial was described as "humanist" and "pro-diversity" by New York Times critic Roberta Smith, for its more-inclusive roster of artists compared to years past, as well as its consideration of themes including misogyny, immigration, racism, violence and religion. And yet the most audible conversation surrounding the show has revolved around the museum's privileged exploitation of black suffering. It has also revolved around a white artist.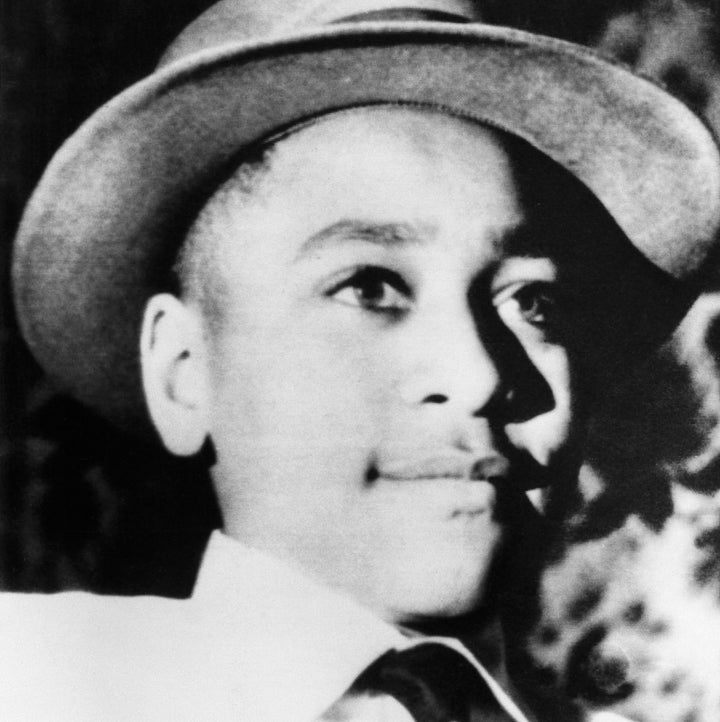 On March 17, the day of the Biennial's opening, a group of protesters gathered around Schutz's painting in protest, blocking it from view during the museum's open hours. Artist Parker Bright stood in front of the painting for hours at a time, wearing a shirt that read "No lynch mob" on the front and "Black death spectacle" on the back. As he told The Guardian: "I wanted to confront people with a living, breathing black body."
Shortly thereafter, artist and writer Hannah Black circulated an open letter calling for the work to be removed from view and destroyed. "In brief," she wrote, "the painting should not be acceptable to anyone who cares or pretends to care about Black people because it is not acceptable for a white person to transmute Black suffering into profit and fun, though the practice has been normalized for a long time."
On March 21, Rhizome assistant curator Aria Dean responded to Black's letter (and Locks' comments) on Facebook. To the idea that all Americans must "confront" Till's image, she replied:
I have already confronted it, and continue to confront it in its many forms ― those where the corpse is Till's, those where another body takes his place. I already understand these images. We can argue about the power of painting, but I will confidently argue that no white person will look at this painting and feel anything close to what a black person feels when confronted with it.

Likewise, I will argue that Dana Schutz' time spent making it was time spent in the throes of a simulation of the sick, complicated eroticism of white violence against black bodies whether or not she admits it or has even given it thought.
Dean, who co-signed Black's letter, was also disturbed by the idea that, despite the artist and institution's desire to address white supremacy through the artwork itself, both were less concerned about the pain and trauma of the many people of color speaking out against the work and pleading for its removal.
"We're again confronted with this ongoing and tiresome problem," Dean wrote, "where white and non-black people make symbolic gestures toward their supposed dedication to curbing antiblackness [sic] and overtly anti-black violence and refuse to do any work that has material impact on the lives of actual black people in this country."
Poet Jenny Zhang, who participated in discussions related to the painting on Twitter, articulated her solidarity with Black's message and echoed Dean in arguing that, whatever the original intention behind the painting, to ignore the suffering it ignited is unacceptable. "If you are a white artist and you create something that black people are telling you has caused harm, you ought to expend your energy, at the very least, on self-reflection, not self-defense," Zhang wrote to HuffPost in an email. "It's shameful to do anything less."
Additionally, Zhang, who is Chinese, wrote to the frequency with which black America is bombarded with images of violence and death at the hands of white supremacy. "I can't even begin to imagine how it would feel if there was a graphic video of an Asian-American person being murdered in public showing up in my news feed every week, every month," she added, "but that, as Hannah writes, is what black people in America are subjected to."
The Huffington Post's Zeba Blay offered a similar message in an op-ed Wednesday, describing the painful repercussions of using black pain for white gain. "We see white artists and creators profit off of black trauma, black death, and black bodies time and time again," she wrote. "We see it in the endless loop of shaky iPhone videos and dashcam clips that replay the deaths of black people like Alton Sterling, Philando Castille and Eric Garner over and over again on 24-hour cable news. We saw it in the photos of lynched black bodies shared as postcards all the way up to the 1960s."
Although such images are often circulated with the intention of spreading knowledge and compassion, they also yield a profit. As Blay put it: "Black trauma drives views and clicks. Black pain translates to dollars, even as we're told that the spreading of images of black bodies equals awareness, empathy."
In a Facebook post written March 22, writer and curator Legacy Russell continued the conversation, arguing that the painting ― through abstracting and stylizing an image with such a specific political purpose ― is itself an act of erasure, as she put it, of "the equivalent of closing the coffin." Furthermore, in directing the conversation toward Schutz and her work, Russell argues the entire ordeal erases the voices of Emmett Till, Mamie Till, and the many artists of color whose works in the Whitney are overshadowed.
"We need to be focusing less on Schutz here, and more on Mamie Till, and what her intentions were," Russell wrote. "This was her baby boy, and seeing him ― and remembering what this violent America did to a 14-year-old boy ― is the thing that we all should be aiming for, not allowing that body to be made lyrical or poetic via the process of being formally abstracted, blurred, erased, forgotten."
A string of comments quickly erupted beneath Russell's initial message. One dissenter, who, in an email to The Huffington Post, called the painting "a work of genius," was Art F City editorial director Paddy Johnson. "I think it's quite legitimate for artists like Hannah Black to be angered over the use of black pain as raw material, though I don't personally agree with it," she wrote. "Owning suffering is a very dangerous proposition, because it precludes the possibility not just of empathy but sympathy. Without that, there's no way to bridge these gaps."
In the conversation that unfolded on Facebook, commenters questioned whether or not Johnson, who is white, has a stake in the Schutz controversy and should be positing her opinion at all. In a similar vein, Black, in her open letter, requested only people of color co-sign her message. The conflict raises questions about whether white individuals' convictions are welcome or productive in conversations surrounding racial politics their experiences do not reflect.
Artist Kara Walker, a former professor of Schutz's and the creator of 2014's hit exhibition "A Subtlety," offered a veiled yet passionate defense of Schutz' work in an Instagram posted on Thursday. "Painting ― [sic] and a lot of art often lasts longer than the controversies that greet it," she wrote. "I say this as a shout to every artist and artwork that gives rise to vocal outrage. Perhaps it too gives rise to deeper inquiries and better art. It can only do this when it is seen."
On March 27, The New York Times' Roberta Smith penned a piece adding additional historical precedent to the current conflict, citing Walker's early work as a somewhat similar circumstance. In 1997, she wrote, black artists began a letter-writing campaign against "what they considered the negative stereotypes of blacks" in Walker's early works, described as "mercilessly Swiftian portrayals of antebellum plantation life." Of course, Walker is black and Schutz is white, though both were criticized for eroticizing black suffering for aesthetic purposes.
The debate over Schutz's painting even made its way to "The View." On March 22, the show's hosts argued that neither art nor empathy are specific to race, and the painting carries a painful yet important message regardless of who created it. They then discussed white artist Norman Rockwell and writer Mark Twain, whose depictions of black America helped to galvanize the forward progress for civil rights. Host Sara Haines added: "Now you have someone lifting up a story. Does it matter who lifted the story or that the story is being told?"
The problem, for many, remains whether the story of Emmett Till needs to be visualized by a white artist to be salient and horrifying. To imply it does, as Dean put it, "stinks of a white savior mentality."
A piece published on March 27 on Hyperallergic by artist, writer and curator Coco Fusco, titled "Censorship, Not the Painting, Must Go: On Dana Schutz's Image of Emmett Till," renounced calls to remove and destroy the painting on the grounds that there is a "deeply puritanical and anti-intellectual strain in American culture that expresses itself by putting moral judgment before aesthetic understanding."
We may understand artworks to be indicators of racial, gender, and class privilege — I do, often. But presuming that calls for censorship and destruction constitute a legitimate response to perceived injustice leads us down a very dark path. Hannah Black and company are placing themselves on the wrong side of history, together with Phalangists who burned books, authoritarian regimes that censor culture and imprison artists, and religious fundamentalists who ban artworks in the name of their god.
So what should be done? Black and her co-signers demand Schutz's work be taken down and destroyed, as to never be publicly shown or sold in the future. Zubeida Agha, a pseudonymous member of the art activist group Guerrilla Girls, who goes by the name of a late Pakistani artist, suggested in an email to HuffPost that the Whitney replace Schutz's work with Black's open letter.
Aletheia Wittman of The Incluseum, a project dedicated to increasing inclusion in museums, shared her thoughts with HuffPost as well. Specifically, Wittman highlighted the difference between freedom of expression ― the ability to create the artwork itself ― and giving it a platform at one of the most prestigious exhibitions in the U.S. Defenders of Schutz's work have expressed, both on personal blogs and on Twitter, that threatening "Open Casket" is an act of censorship and a limitation of free expression, arguing that even if the subject matter is offensive or wounding, censorship is never the answer.
But for Wittman, the central question is not whether the piece was made, but whether and where it was shown. "No one wants to censor art," she said, "but as with opinions, when we are in the position of picking and choosing which to give space to, not all opinions should be aired and amplified. Space and power has been given to this work as a result of its inclusion in the Biennial and now we hope that trust can be rebuilt."
The fake letter that circulated Wednesday, purported to have been written by Schutz and directed to Locks and Lew, also called for the removal of the work in lieu of the pain it's caused. Multiple outlets, including The Huffington Post, reported on the letter's contents, treating the sentiments expressed within as Schutz's. Hoax aside, the most recent, authenticated information we have regarding Schutz's feelings about the controversy comes from her interview with Boucher.
"The anger surrounding this painting is real and I understand that," she said. 'It's a problematic painting and I knew that getting into it. I do think that it is better to try to engage something extremely uncomfortable, maybe impossible, and fail, than to not respond at all."
As of now, Schutz's painting still hangs at the Whitney, and Black's call for its destruction still stands. The artwork, along with the protests and conversations it ignited, certainly raised a variety of "polarizing" issues, as Locks called them, including but not limited to white privilege, the limits of freedom of expression, art world inequality, the exploitation of black bodies, the limits of empathy, and the very purpose of art.
With no closure in sight, perhaps one constructive, though hardly sufficient, course of action, is to take a step away from "Open Casket" and lift up some of the other 62 artworks included in The Biennial, specifically those that illustrate the black experience from the perspectives of artists of color, artists for whom the issue of racism in America is not a horrific revelation to be explored or a creative well to be mined, but a lived reality, day in, day out.
We have repeatedly reached out to the Whitney for an opportunity to speak with Schutz, but our requests have not yet been met.
Aria Dean and Legacy Russell granted permission to have their words, originally written on Facebook, featured in this piece. We have updated this piece to included excerpts from Roberta Smith and Coco Fusco.
Katherine Brooks contributed additional reporting to this piece.
Popular in the Community