Paradigm Shifters is a series of interviews with a select group of women and men from eclectic walks of life. It will highlight unspoken, real-life insights on how they have been able to turn weakness into strength. A naked soul point of view of how their breakdowns were really a preparation for breakthroughs. They are your quintessential paradigm shifters; internal shifts converted into genuine change.
Everything I have ever done has been focused on this underlying theme of shifting the paradigm because, "What we think determines what we feel and what we feel determines what we do." Hence, why Empowered by You takes lingerie, which has traditionally been seen merely as a tool of seduction and redirected that energy as a tool of empowerment.
I hope from these stories you will look at your own situations, struggles and accomplishments through a different lens. At the very least you will be more equipped with real life tools to change your own paradigm. At the end of the day, we are our own Alchemist turning the silver we were born with into the gold we are destined to become.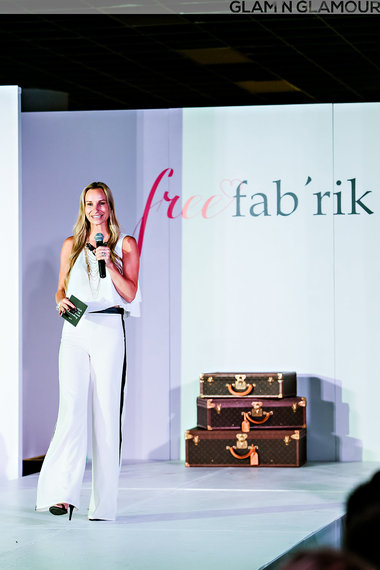 Dana Spinola - Founder & CEO, Fab'rik
What was the inspiration behind opening your boutique? What was the plan and how did that happen?
I was lucky to grow up with hippie artist entrepreneur parents who always told me, "If you love what you do, you'll never work another day in your life."
We didn't have a lot of money so mom made all my clothes. I didn't see it as a negative, it was like I had a personal stylist. But my parents wanted me to pick a career that would be more lucrative so I wouldn't go through the same hardships they did.
I walked into college the first day and said, "What's the major that I will make a lot of money in?" So I choose management information systems and got an incredible job in consulting and everything was going according to plan, until one day : I broke up with who I thought was going to be the guy.
I had to reevaluate my whole life and ask myself, "What do I love?" "What's important?" I knew it wasn't the money so I went back to my passion. I was that little girl that wallpapered her room from floor to ceiling with fashion magazines. My heart went straight back to fashion, but wondered if this could be a career. But I was going to start with one little store.
What do you feel is the DNA of Fab'rik today? What is the ethos?
I don't want it to be a pretty woman boutique. I think it came from how I grew up. I wanted to create a place where everyone could afford to feel that beautiful feeling. What does pioneering into that affordable luxury market look like? Our DNA is about making every single person feel beautiful inside and out whether they are getting ready for a first date or going through a divorce.
You have a very strong grounding in your unique selling point, which is amazing customer service and building relationships. How do you maintain that with 40 stores?
We have 40 stores and we are opening 10 more in the next couple of months.
So the challenge is to keep what makes fab'rik unique in the stores as we grow. I've learned "What you reward your team will know is important to you." For us we call them "Wows.
"Wows" are little and big things we do everyday to show our customers how important they are to us. At our conference, we reward the best Wows of the year honoring people who have gone above-and-beyond. The first step is making sure the team knows our expectation and that Wows are part of our interactive with all customers, that it is a priority. We reward their great service instead of simply rewarding the store with the highest sales. The other part is hiring people with big hearts. During the recruitment process we try to figure out if the person loves to serve. The last piece is to build it not only into your culture, but into your process. We put it in our operating manual and our fab'rik formula that you are required to wow customers. It's not as organic and as fun, but we train on lists of "Wows." Our customers are the single most important reason we're here so we want to make sure everyone is focusing on making each persons experience the best it can be.
Tell me about your trip to Africa and journey towards adopting your daughter?
I was sitting in church about 6 years ago and my pastor Andy Stanley said, "Do for one what you wish you could for many." My whole heart stopped. I like to go big or go home, but I asked myself, "What if I slowed down and did this for just one person?"
It took us 4 years to adopt and my fab'rik team went through this whole process with us. Finally we got to bring this little girl, Asher Adera, home. My daughter was abandoned in Ethiopia when she was maybe 6 months old. Her cry is the reason the officers found her. I look at her as this inspiring strong warrior, which I think so many woman are. I now have a clothing line named after her. The proceeds from the sales of the line go towards missions that empower young girls to believe in themselves. We are currently working on opening an orphanage in Asher's honor in Africa.
It's a beautifully addicting way to live when you realize the impact that one can have on the world. I see not only the impact that I had on one life, but the impact she has on everyone she meets.
You're in the position to be able to have an impact and that really inspires other people. How have you found that experience?
I selfishly started this business for myself. It was all about my dream of having a clothing store.
Then about 5 years in, and a few hundred 20-30 year old girls asking me questions, such as "Why do you do it?" I realized that I have a responsibility to show these girls that it's not necessarily about how great your butt looks in jeans and how high your heels are, there is so much more to learn about what we do at fab'rik.
I urge them all to volunteer with free fab'rik and meet the girls who are suffering as well as invite our team on our annual Africa trip. "I love when they come to Africa with me and see how these women live, it always changes perspectives."
How have you managed with opening the orphanage?
I was in a meeting yesterday and the group I was talking with told me all these reasons why it is going to be hard and I shouldn't do it. I said, "I totally agree, but someone has to do it, why not me." What's the alternative? Not doing it? Someone has to love these little ones until they find a home and family. I'm willing to take the chance knowing it will be messy, complicated and probably break my heart. They said that they hoped they didn't break my spirit and I thought, "Oh God, no. I see that you're not going to do this, but I've got some work to do."
How is the clothing line? Are the proceeds a percentage of the sales?
It started off as a small percentage of the sales. We've been discussing it fully funding our giving projects such as free fab'rik and orphanages, so that probably is the direction we are going to go in. I wanted to inspire people to buy the line more, but I also wanted to make sure it is super authentic and everyone knows where the money is going. We have also explored micro-finance and supporting the knitting facility we work with in Africa. When we are there we teach business classes to the women. It's incredible how quickly they pick up on everything from SWOT analysis to marketing plans.
What would you say in a nutshell is the legacy that you want to leave behind?
God leads my life. My leading verse is Proverbs 31:25, "She is clothed with strength and dignity and laughs at the days to come."
My legacy is focused all around the customers fab'rik serves, the victims of sex-trafficking free fab'rik serves and the woman in Africa our mission teams serve and every hard working fab'rik employee that I serve. The legacy I would love to leave is that I in someway inspired all of these women to mine out their dreams that God put in their heart and go for it. Follow that dream. Live it out and serve others through it. I believe people should live out what they were put on earth to do. As far as the "laughs at the days to come" part, well If you do it all and you don't feel the joy in it, then what's the point?
If your life was a book, what would your title be for 2015?
I would say 2015 was "Stop and Smell the Roses."
The years before everything had been moving so fast. My husband travels often; I have 4 kids under the age of 9, 20 chickens, a non-profit and a growing company. I didn't take the time to stop and appreciate it all. But thankfully I was given a husband that does, and makes me do the same so my focus is on balancing all of these amazing gifts while making time for the most important things...like slowing down to make cookies for your son's Valentine's day school party. My advice...if you don't feel the love in what you are doing, then you need to do something else because I think my parents were right.... if you love what you do, you will never work another day in your life.
Calling all HuffPost superfans!
Sign up for membership to become a founding member and help shape HuffPost's next chapter