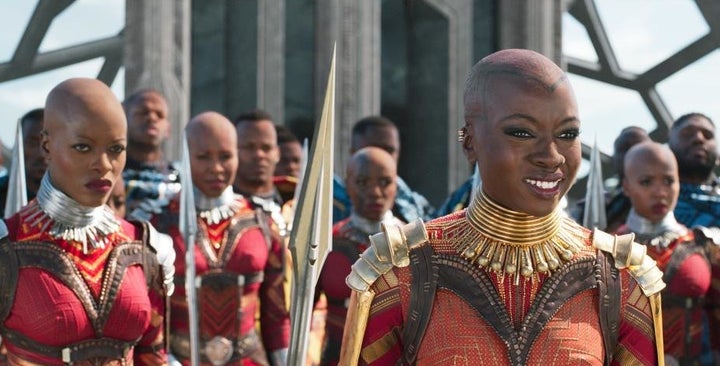 Thanos still commands silence when it comes to the specific events of "Avengers: Infinity War" and the untitled sequel set to hit theaters in 2019, and Danai Gurira will oblige Marvel's wishes ... to a point.
In a "Black Panther" deleted scene released ahead of the film's DVD debut, it was revealed that Gurira's character Okoye and Daniel Kaluuya's W'Kabi weren't just a couple ― they were officially married. W'Kabi's decision to betray Okoye and his country at the end of the movie kind of puts a damper on the whole relationship, though. The question remains: Since they were married before W'Kabi turned, did they stay together after?
In an interview with HuffPost, Gurira confirmed what we all knew already.
"No, did you watch the movie? Why would you be with him? She told him that she would take him down if she had to ... for the country, she would kill him. She said that to his face," Gurira said. "I don't think there's any coming back from that, do you?"
"Maybe Wakanda has some pretty fantastic marriage counseling," she added. "I don't know? I think W'Kabi was going to jail. That's what I think."
So the deleted scene just rubbed salt into our wounds. Wakanda's forever, but the couple formerly known as O'Kabi (W'Koye?) is not.
In addition to the upcoming "Avengers 4," Gurira has a slew of new movies on the way, including an eventual "Black Panther" sequel and rumored roles in a "Star Trek" sequel and "Godzilla vs. Kong." Outside of film work, she's also working on a new advocacy project, the "Make HIV History" initiative with Johnson & Johnson. As a woman born in the U.S. but raised in Zimbabwe, she described HIV awareness and the hopeful eradication of the virus as an issue close to her heart.
Oh, and Gurira still has a starring role as Michonne on "Walking Dead" ― at least, for now. Characters leave that show at an alarming rate; even the series' central character, Andrew Lincoln's Rick Grimes, swiftly departed this season. With all the projects on her plate, will Gurira stay on board the AMC show?
When I asked her, she completely avoided answering the question about her "Walking Dead" future. But you have to try, right?
With all the projects you have going on, in addition to working to raise awareness for HIV, should we be nervous about Michonne's future on "Walking Dead"?
All I'll say ― I follow the story, and I'm not going to go into my "Walking Dead" future therein. But I love the show. I love my family, and I do love the story I've been able to tell with her, deeply. But basically, I'm not gong to answer your question in any way, yes or no.
Good try. Good try [Laughs].
Why did you end up taking on this new project "Make HIV History"?
It made a lot of sense to me because I've been connected to this issue in various ways. Not only was I raised in Zimbabwe in the '80s and '90s, where I witnessed basically the onslaught and the epidemic on the very fabric of my nation's life and family, friends and experiences ― something you couldn't really not witness or see in your network of people growing up at that time in Southern Africa. The experience therein and all the very intricate sociopolitical and human cost that comes with this particular epidemic was something that affected me, and I wanted to give it voice. So I created a play about it in grad school ["In the Continuum"] with a classmate ... where I was trying to give voice to the experience of women around this issue. Because it was something which has been, from the get-go, disproportionately affecting women and girls, and often their power is negated anyway, being left with a lot of the devastation.
During that time, we toured about six or seven countries with the play and very extensively across the United States.
You will be in South Africa for the Global Citizen Festival on World AIDS Day this Saturday. How involved will you be with the campaign?
The great thing is a lot of it is around awareness that I'm already engaging in. When I was approached to work on the issue again, I had just put out my newsletter I put out every month, called Love Our Girls, and I had highlighted Mothers2Mothers, who are also affiliated with Johnson & Johnson. I met them back when I was performing my play, and they are an organization about really helping mothers with this issue ― helping eradicate pediatric AIDS and HIV and doing it through a Mothers2Mothers network. So they're a fantastic organization.
I know you also can't talk a lot about "Avengers," but director Joe Russo said he wants Okoye to take on a bigger role. What can we expect from her?
I can say nothing about it except ... what we have to go on is how the last one ended. But I do love Okoye, and I'm very thankful to be able to play an African woman who's in the position she's in and loves and cares for her country in that way. I really connected to her because I have a passion for my country of origin, Zimbabwe, and the continent as a whole. Her passion and connection to her people and to her country and wanting to do the best by them and retain a loyalty and protect it is something that really resonated deeply for me.
OK, so maybe one you can answer: Okoye says she wants a Starbucks in Wakanda. What's her order?
She's probably a green tea type of gal, which I am not.
To get involved on World AIDS Day on Dec. 1, Johnson & Johnson is issuing a call-to-action to #makeHIVhistory and flood social media feeds with facts. A series of HIV/AIDS-related GIFS will be released, and can be found by typing #makeHIVhistory into the GIF search on Instagram Stories.
This interview has been edited and condensed for clarity.