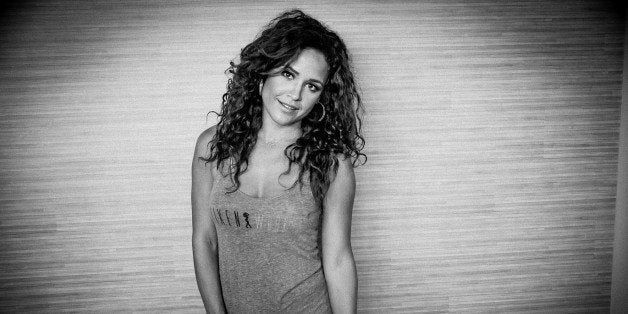 Like many young women, Janet Jones started taking ballet classes when she was just three years old. Eventually, most of us left the tutus and pointe shoes behind; Jones went on to become a professional dancer, including with the Miami Heat. "I was always in the best shape of my life, not because I had to keep up some sort of gym routine, [but] because of what I did and what I loved to do," she tells HuffPost Healthy Living.
But when she transitioned away from her passion to become a wife and a mom, she found it harder to carve out time for fitness, given her responsibilities at home and at her job in finance.
The gym wasn't cutting it. "It felt like one more responsibility to add to the list," she says. "I felt like an hour and a half to go to the gym for myself... was being a bad mom or a bad wife." She found herself depressed, void of a real sense of self and feeling like a failure.
When she was laid off after four years in the corporate world, she gravitated back to dance, "the only life I knew," she says. She started teaching classes for kids and getting back into shape in the process. "You don't realize what you're doing," she says of dancing for exercise. "I think everyone at some point has put the radio on at full blast and just danced for hours in their room." And considering that a 150-pound woman could burn more than 300 calories getting her groove on for 60 minutes, maybe it's not as silly as it sometimes feels.
Jones created the Vixen Workout to give other women a similar escape from daily life, and to help them see this time for themselves as important, not indulgent. I recently had the opportunity to try out a special Vixen Workout session for members of the media in New York. With the lights down low and the music up high, the Vixen Workout feels more like a club than a fitness class. "It's disguised in fun," says Jones, "in something you'd want to do anyway."
The moves are challenging, she says, but they're also full of flair, and the hour-long workout is designed to make every woman feel like a performer. You're more likely to get lost in the music than get lost counting squat repetitions.
You can currently try the Vixen Workout in various locations in Florida and New York (diehard fans call themselves the Vixen Army), or, you can incorporate these three high-intensity, full-body moves, demonstrated by Jones herself in the short videos below.
Squeezing your abs and arms at the same time will help you get the most out of this movement, Jones says in the clip.
"You're in a squat and you're doing hip rolls," Jones tells HuffPost. "You can do it really slowly to work on lower abs, and you're in a squatted position for legs and glutes."
My Milkshake Brings All The Boys To The Yard
"You're actually squatting, and doing hip rolls at the same time," she tells HuffPost.
Ready for more? You can try a three-minute routine with Jones here. Let us know how it goes in the comments below!