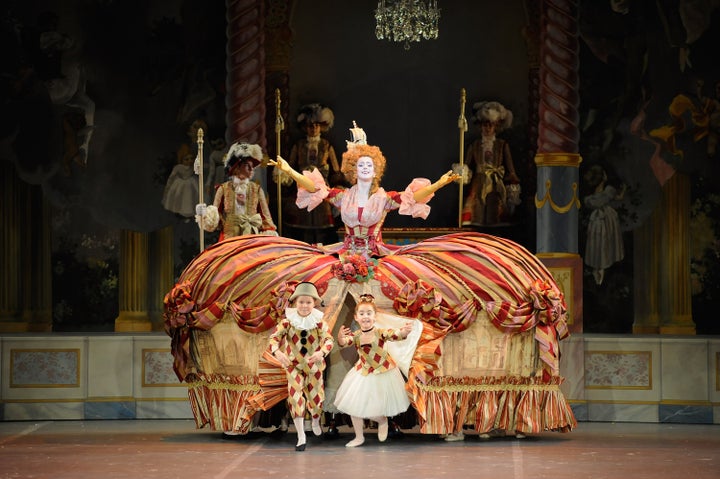 This week is the annual APAP conference in New York, which means it's time to spend five days covertly staring at people's badges to remember their names while being jammed into small spaces and feeling bad about the dancers who have spend hours preparing for a 10-minute 10 p.m. showcase, which will be attended by absolutely nobody. It's also time for our annual "Ten Things" list, which, this year, has been cut to five.
Another change in this year's list is that the top topic three years running has been retired: globalization. As predicted, globalization is no longer an emerging trend within the dance field, but instead is a state of permanent and perpetual existence. As I wrote in a companion piece published this week for Dance/USA's Inside the Green Room, dance organizations around the world are preparing for a future where their geographic proximity to an audience member provides no advantage against a distantly located competitor who wants the lion's share of that person's annual "dance spend." If there is one underlying shared thread among this year's entries, it's urgency. Decisions to adapt will have to be made this year, and many organizations, whether they realize it or not, have run out of time to "wait and see."
Here are those decisions:
1.) Dancer Wellness & Health Care (#7 in 2012)
Expecting a technology rant at the top? Don't worry, that will come later. The top topic this year is one that continues to not be addressed in any meaningful way by the field. While health care coverage has been a massive part of the national dialogue over the last few years, too many dance companies are not treating their dancers right when it comes to health care coverage. Over the next few years, an already tenuous situation will become more complex as the provisions of the Affordable Care Act take effect. Yet, the field hasn't organized any significant discussions about the impact of the Act on dance companies since its passage in 2010, and that represents an absolute failure. Service organizations and funders to step up with real health care related programming, advocacy and goal setting, beyond resource links on a website or annual short discussions surrounding free or subsidized resources.
Funders can, and should, force the issue. If an organization is not providing or making a reasonable contribution to health care coverage for its artists over the course of a proposed project, then that project should not be considered for support. Credit is due to New York Live Arts, whose Resident Commissioned Artist program, which recognized the need for a comprehensive creating and living environment. Programs like these should be the rule, not the exception.
P.S. Worker's comp is not a health care plan. Really, it's not.
2.) Oregon Ballet Theater and The "New" Artistic Director
Oregon Ballet Theater has issues. The company nearly (and abruptly) folded up shop in 2009, and in the last 60 days has shed a majority of its top staff, including Artistic Director Christopher Stowell, leaving the embattled company with little more than a Board of Directors and 30 dancers who are probably chasing every audition they can find.
The reality is that there may simply not be a future need for OBT. While they do have one program (in a smaller theater) this season that focuses on new work, more than 50 percent of their mainstage performances are of The Nutcracker. In a global field, their contribution is mainly maintenance. If they do have the local support to keep going, perhaps their best option may be to merge their administration and funder pool with another ballet company in the Pacific Northwest (*cough*) that has a more stable financial footing and that can commit to a similar performance schedule in the Portland area.
The OBT transition triggers reflection on the internal strife that has embroiled Miami City Ballet (MCB) over the last 18 months. In last year's list (#6), I opined that MCB should call Suzanne Farrell to right the ship. They went bigger, and brought in Lourdes Lopez.
Ms. Lopez's hiring represents a solution that makes the possible outcome of the OBT situation one to watch. Fiscal responsibility was cited a major factor in both Villella and Stowell's departures from Miami and Portland respectively -- they had artistic visions, the board had a financial vision, and the twain did not meet. In both cases, recently retired dancers have had their names mentioned as successors, and are seen as natural yet less problematic (e.g., young, eager and not likely to raise a stink with the board) paths to artistic continuity. MCB was lucky enough to find a candidate who can speak both the language of art and finance. An independent OBT, and any other company looking to fill an AD role, would be fortunate to find someone similar.
3.) N.A. (Nutcrackers Anonymous) and Developing Audiences for Contemporary Choreography (#3 in 2012)
For a ballet administrator, The Nutcracker is heroin. It is that easy, calming fix that makes all of those financial projections work. Take away The Nutcracker, and what you end up with is profuse sweating, retching, agitation and massive irritability.
Guess what? That time for rehabilitation is coming. Why? Because The Nutcracker is every ballet company's smack, and some junkies have bigger bank accounts and more accessible veins. The truth is that soon everyone's Nutcracker revenues will be under siege, because every large dance company knows that The Nutcracker is the simplest and easiest way to experiment with and penetrate new markets.
The big question is: At what point does a decrease in Nutcracker revenue become cataclysmic for a company? Is it 10 percent? 5 percent? 1 percent? It's time to start reeling in those revenue expectations and asking "What if?"
It's not just Nutcracker attendance that will be chipped away at in the years to come, but also every other work that gives a choreography credit that includes the word "after." It's a matter of simple saturation: How many versions of the same 150-year-old story ballets can a single audience member take? Of similar importance: If a regional ballet company puts their production of Swan Lake against those produced by larger companies, is that going to be a comparison that they will want their audiences to make?
For dance companies, particularly those below the topmost tier, to succeed in the future, they simply must adapt their business model to support development of and interest in new work. Otherwise, they simply won't have anything interesting to offer audiences.
4.) Purging the NEA Portfolio/Funder Driven Innovation (#5 in 2012)
Last week, the Pew Internet and American Life Project published a detailed survey titled "Arts Organizations and Digital Technologies," which polled NEA grantees from the last years. While the summary of findings initially seems to present a glowing view of arts organizations' use of technology, the survey actually hints that many organizations simply won't be able to effectively serve their mission in the future. Looking at the margins within the statistics, 10-15 percent should probably see their federal funding cut entirely.
1,258 organizations participated in the survey, representing slightly more than a third of NEA grantees from 2006-2011. The data shows that confusion and contradictions are rampant. For example, 22 percent of organizations do not use or did not know if they used web analytics and 33 percent don't know what kind of engagement they have on their websites. Yet, 93 percent report that social media has had a major or minor impact on their website traffic. How do they know? Similarly, while 91 percent feel that social media is worth the time that their organizations spend on it, 74 percent believe they lack the resources to use social media effectively and 70 percent admit that their older employees don't believe in social media as much as their younger employees.
When paired with the demographic profile of the respondents: 73 percent have existed for 20 years or more, 50 percent have budgets of under $1 million per year, and 56 percent have five or fewer full time employees (11 percent had no full time employees at all), the future view is troublesome. As the summary states, it's only going to get worse:
"Organizations will continue to need to adapt and incorporate digital technologies into their programming. This will be a good thing for art consumers and patrons by increasing accessibility and improving collaboration. At the same time, organizations will struggle with funding to keep up with technology. Funders so rarely fund some of the infrastructure necessary to create top-notch digital programming, and that will be a major struggle."
In 2011, the Arts Council England cut 206 organizations from their portfolio, and added 110 new grantees. While a number of worthy organizations saw their funding disappear, new and more productive ones were able to take the next step, and others saw significant funding increases. Most importantly, digital skill and capacity building was mandated across the portfolio.
If the NEA wants its grantees to make strong contributions in the future, it needs to not only implement a similar digital mandate, but also to revitalize the entire portfolio. Over the next five years, the Endowment should set two goals. First, it needs to examine organizations that receive regular funding and see if they are equipped to deliver their services in the digital future. If they can be, support them. If they can't be, cut them. At a minimum, 10 percent of organizations currently getting regular funding should have that support eliminated. Second, to encourage a spirit of innovation and revitalization, the NEA should set a goal that 20 percent of all of its grantees be companies under 10 years of age, tripling today's ratio.
5.) The Dance Press (#8 in 2012)
While two technology topics is somewhat redundant, the issues surrounding the stability of the dance press keep inching up our list. The future of dance depends on a healthy fourth estate, and there are so many problems facing the dance press it's hard to figure out where to begin finding a solution. Technology infrastructure and training is a solid place to start -- not only how to produce and distribute editorial for the next decade, but also having access to basic resources such as broadband internet access. Twice this year we were asked to make an accommodation for dance critics who couldn't access media files over their dial-up (!!!) connection. At least we weren't asked to dub the files to a VHS tape.
As the saying goes, "the medium is the message." If a dance writer doesn't have the skills for the medium, then their message can't be delivered. As a field, we need those messages to be delivered.
If all of these proposals were implemented, the field would be full of organizations that operate very differently and have a greater impact than they do today. Getting to the future will be a challenge. If the suggested health care contributions and technology integration were to happen tomorrow, the impact on budgets would force many organizations, including some that have been around for 20 years or more, to shrink or close, and some who read this might find that idea completely repellent.
We are beyond the point where we have the luxury to indulge those feelings. The facts on the ground are what they are. The field of today is not the field of tomorrow, and with so many organizations changing and adapting, there simply isn't room for those who don't.
Related
Popular in the Community