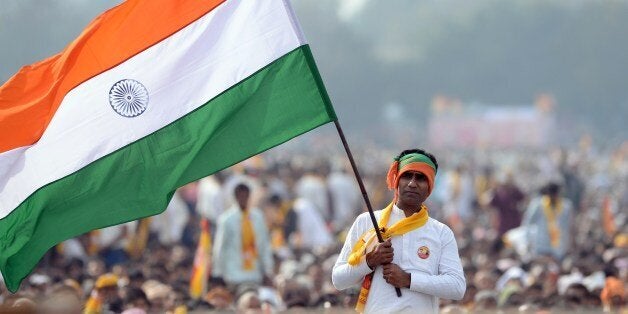 It has been described by one newspaper as the "dance of democracy," and by another as "Mahabharata," after the Indian epic that tells the story of an ancient war between two warring dynasties. Whatever you might call it -- Hillary Clinton called it "the global gold standard" -- India's elections are here.
The plural is apt, because although it is theoretically one single general election, the sheer size of the electorate, and the vastness of the country, have forced the Election Commission to split voting into five stages. Starting April 10, elections end a month later, and although electronic voting machines (EVMs) can add up results instantaneously, the results will be declared all in one go in May, so that the verdict from one segment does not influence the voting pattern in another.
This is without a doubt the biggest democratic election in the history of mankind, with a potential 810 million voters. They will go to nearly 1 million polling stations and use 1.5 million EVMs. An army of 11 million people is required to ensure that voting takes place peacefully and fairly. Although "booth capturing" still takes place, especially in less accessible areas, the deployment of paramilitary forces, video surveillance and what the Election Commission calls "vulnerability mapping" for sensitive areas has reduced this phenomenon considerably. (For the uninitiated, "booth capturing" is the takeover by force of a polling station by musclemen of a political party, who then vote "on behalf" of registered voters in favor of their party's candidate.)
This year a remarkable 120 million new voters will participate in the election process. Many of these will be young people becoming eligible to vote for the very first time. Many will be women who have registered after a massive, nationwide voters' education program made them aware of their rights. How will these first-timers vote? That's just one of the conundrums facing the (generally) old and (mostly) male politicians who are now busy campaigning.
A recent opinion poll threw up interesting figures that show the complexity of electorate preferences. Apparently the Bharatiya Janata Party (BJP) is the preference of the urban male voter over the ruling Congress by a very large margin (9 percent), whereas more women prefer the Congress (a difference of 2 percent). This is ascribed to the muscular presence of Narendra Modi, the BJP's prime ministerial candidate, who often boasts of his 56-inch chest. Thirty-two percent of Hindu voters are drawn to the BJP, against 23 percent for the Congress (no surprise, since the BJP is a Hindu, right-wing party), but Muslims overwhelmingly favor the Congress (by a margin of 31 percent). This may not seem significant, since Muslims form only 14 percent of the total population, but in fact, since their population is concentrated in certain areas, they have the ability to swing a large number of seats. That is why they are courted by all politicians, some of them quite hypocritically. Modi, for example, has been making overtures to them that sit oddly with the Gujarat Muslim massacre of 2002, which happened under his watch.
In spite of India's rapid urbanization, which makes caste redundant in cities (travel by overcrowded public transport, for example, erases all boundaries), caste affiliations play an important part in the very large rural vote. The upper-caste Brahmin prefers the BJP to the Congress by a massive margin (54 percent to only 16 percent), but the lower castes would rather have the Congress (a margin of 7 percent). This may appear significant, since there are far fewer upper-caste voters, but this is too broad a generalization, because subcastes are important in certain constituencies, and there are a rather large number of these caste divisions.
So what does the politician do? He campaigns on broad generalities, avoiding too many specifics. Narendra Modi's main thrust has been the misrule and corruption that have bedeviled the Congress-led UPA coalition's last five years in office. As he flaunts and thumps his large chest, he promises a more macho government, one that will deliver results and root out corruption. Rahul Gandhi, the Congress party's leader and Sonia Gandhi's son, counters this by questioning Modi's "Gujarat development model." Modi has claimed that Gujarat, the state of which he has been Chief Minister for many years, has the best record of all Indian states, a record that statistics prove to be blatantly exaggerated. But he has improved infrastructure and reduced corruption, both of which make industrialists and businessmen happy. That is why the BJP's overall lead in the opinion polls has sent Indian stock markets soaring to record highs. This only proves, if it needed proving, that stock markets all over the world are irrational: Modi has so far carefully avoided spelling out his economic policies, but the BJP is opposed to the liberalization of retail (they want to keep Walmart out) and, by stonewalling, ensured that the Congress government couldn't pass the insurance bill in parliament. All this doesn't suggest a liberal economic regime, so why are the markets and industrialists reacting with such unbridled joy?
The 2014 election is further complicated by the raucous entry of a brand-new political formation: the Aam Aadmi (meaning "common man") party, a rambunctious collection of individuals brought together by the single goal of rooting out India's pervasive corruption. Led by Arvind Kejriwal, an Indian Institute of Technology (IIT) graduate turned income tax official turned social reformer, AAP won a surprising number of seats in elections in Delhi state and actually formed a government there. To no one's surprise, the government collapsed in three months under the weight of its own overblown rhetoric.
Its performance there may have dampened the ardor of its early supporters, but very many members of India's urban middle class are drawn to AAP for the simple reason that it offers an alternative to the politics-as-usual cynicism of the country's major political parties. No one expects AAP to win more than a handful of seats, but it will play the role of the spoiler in some constituencies, and the role of entertainer everywhere else.
Overall, all opinion polls firmly point to a win for the BJP-led NDA coalition. The only unresolved question is the margin of victory. The Congress limps along in the hope that opinion polls will live up to their reputation for unreliability, not surprising in a large country with such incredible diversity that no sample size seems adequate enough. The suspense will hang over the country for over a month, because exit polls are no longer allowed to be published. In the meantime, television debates get louder and angrier, and politicians, however important, suddenly become accessible to all and sundry. India's dance of democracy throbs to a very loud beat indeed.
Calling all HuffPost superfans!
Sign up for membership to become a founding member and help shape HuffPost's next chapter