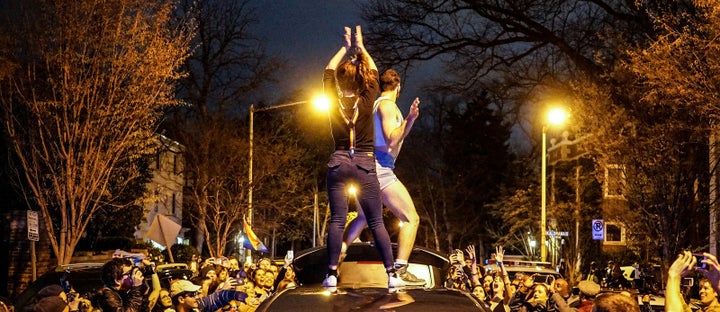 /werkforpeace.org/"}}" data-beacon-parsed="true">WERK for Peace, a queer artist collective in Washington, D.C., organized the protest alongside /www.facebook.com/350DC/"}}" data-beacon-parsed="true">350 DC, /www.facebook.com/QueerResistance/"}}" data-beacon-parsed="true">Queer Resistance, and the /www.twocc.us/"}}" data-beacon-parsed="true">Trans Women of Color Collective. The action served as a response to President /www.huffingtonpost.com/topic/donald-trump"}}" data-beacon-parsed="true">Donald Trump's recent /www.nytimes.com/2017/03/28/climate/trump-executive-order-climate-change.html"}}" data-beacon-parsed="true">executive order rolling back Obama-era climate policies and protections, as well as Ivanka Trump's claims to be an LGBTQ ally while remaining actionless as her father's administration continues to roll out anti-LGBTQ orders.
"Protesting at Ivanka Trump's house was a way for the LGBTQ and Climate Justice communities to demand more than just words of support," WERK for Peace organizer Firas Nasr told HuffPost. "While Ivanka Trump has painted herself as a 'friend of the gays' and 'climate czar,' she was radio silent in the face of blatant attacks on our climate and on the LGBTQ community last week. Thus, with songs like Hillary Duff's 'Come Clean,' CupcakKe's 'LGBT,' and Bell Biv DeVoe's 'Poison,' we brought the resistance to her doorstep and cheered, 'Ivanka Trump, Come Dance!' We celebrated our earth and our bodies, and we hope that Ivanka will do the same by speaking out and acting in solidarity with the LGBTQ+ and Climate Justice communities."
The protest began in Washington D.C.'s Dupont Circle neighborhood and continued to Ivanka Trump's residence.
Check out some photos from the event below.
Calling all HuffPost superfans!
Sign up for membership to become a founding member and help shape HuffPost's next chapter