When you think of the art of dance, what you're likely to think of depends on who you are; the way that dancers and even choreographers are likely to see the art of dance can be quite a bit different from what their audience sees. Most of the time when a dancer or choreographer thinks of the art of dance, they think of performance, perhaps of movement design; their idea of the art will often be very much centered around their own experience. The audience has a better view, though, because as profoundly artistic as movement and performance can be, the art of dance is richer, more involved, and much more complex than that. There's a lot more than just movement on stage; there are costumes and makeup, lighting design and sound, sometimes even original music. There are artists backstage running light boards and mixing consoles, others taking care of the front of house, and still others who's art is publicity or administration.
It brings up an important question about art, and although Heather Trommer-Beardslee never actually asks that question in her new book Dance Production and Management, she answers it thoroughly; the book is both a step-by-step guide for anyone who wants to make art in dance successfully, and a richly insightful study of the art itself. The question she answers, but doesn't ask, is this: is the art of dance what you create, or is it what you share? Is art what you experience when you make it, or is it what you and others, other artists, and especially your audience, experience together? Whatever the answer may be for an individual artist, there can only be one answer for an audience, because an audience can only experience what artists share with them.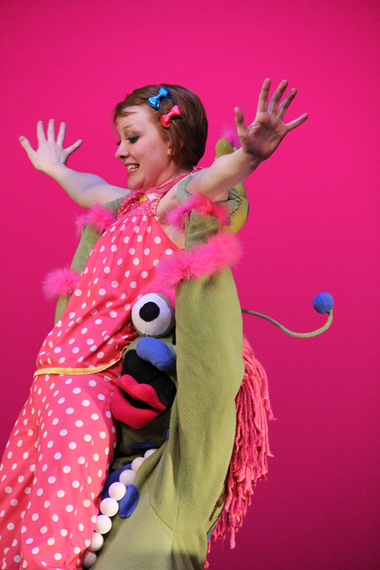 Bedtime (Photo by Ann Dasen)
Central Michigan University's University Theatre Dance Company
Choreography: Heather Trommer-Beardslee, Lighting and Set Design: Stan Jensen, Costume Design: Ann Dasen
Experience is a lot of what makes Dance Production and Management such a successful guide to the art of sharing dance. Heather Trommer-Beardslee not only includes her own substantial experience, but she goes out of her way to share with her readers the insight and advice of experienced professionals in each of the many areas that comprise a successful dance production. Besides being the Dance Program Coordinator at Central Michigan University and the Artistic Director of the CMU University Theatre Dance Company, she's also the Booking Manager for the Chicago-based dance company Jump Rhythm Jazz Project and a former dance studio manager. "My experience ranges from small town dance studio to big-city dance company," she says, "I love both worlds."
Dance Production and Management, released by Princeton Book Company just in time for the National Dance Education Organization's 2013 National Conference in Miami on October 23-27, is designed both as a textbook and as a practical guide for the working professional. As a textbook, it's an excellent resource for providing students with a clear vision of the context in which concert dance is produced and performed. Each of the work's fourteen concisely presented chapters provides a detailed and focused description of one of the professional skills that a successful dance concert or dance organization is likely to rely on. Music, costuming, makeup and lighting are each presented, but so are marketing, public relations, booking and even fundraising. For the student, Trommer-Beardslee not only provides examples of the real-world documentation (contracts, tech schedules, costume sketches, light plots and even tickets) that they will encounter when they work with other professionals, but she also finishes each chapter with a set of practical and informative exercises.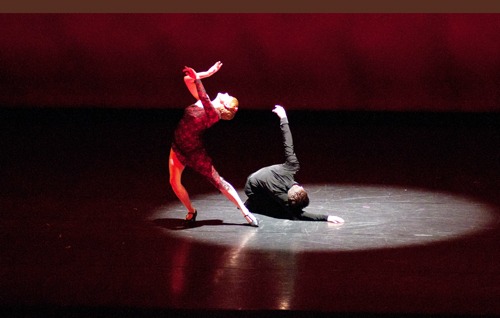 Switch (Photo by Larry Opper)
Central Michigan University's University Theatre Dance Company
Choreography: Heather Trommer-Beardslee, Light Design: Amy Hazel, Costume Design: Ann Dasen
"I wrote this for my students," Trommer-Beardslee explains, "and I interviewed the people who I wanted them to hear from; the people who I have worked with who have helped to deepen my own understanding of dance production." Because of the quality of insight and advice that Dance Production and Management gathers from a wide range of professionals into a single coherent work, it's as much practical guide as textbook, a work that would be valuable for many working professionals. Throughout its pages, anyone working in dance will find the experience of their colleagues and potential collaborators distilled into practical advice, often including detail and insight that could otherwise only be collected from years of experience. As valuable as all of those insights are, though, just as important is Trommer-Beardslee's own understanding of where all of the success in all of those collaborations has to begin.
"While every chapter has its own subject," she explains, "everything comes down to the importance of communication. Communication with designers. Communication with clients. Communication with audience members." It's a theme she illustrates with practical examples throughout the book. "People working within the field," she writes, "are artists just as choreographers are artists. As a creator of a dance the best way to successfully work with technical designers is to understand that this endeavor relies on collaboration and open conversation."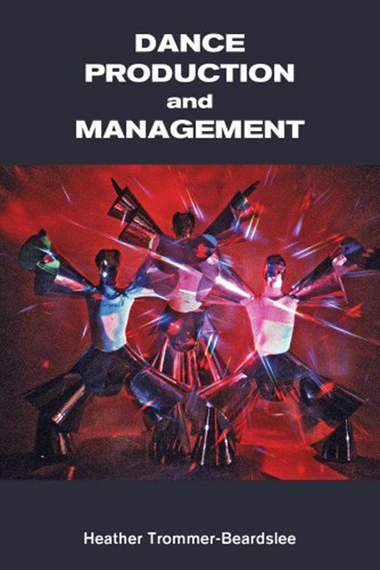 In Dance Production and Management, the student and the working professional learn in detail the importance of communication, not just as a general principle, but in the real world terms of real production. "I continue to be amazed at the importance of communicating clearly," Trommer-Beardslee says. "This isn't just about explanation and transparency in language. It's about listening, really hearing your collaborators and responding accordingly." Besides clearly explaining each of the processes that go into successful dance production and management, Trommer-Beardslee describes with equal clarity how to collaborate, how to understand as much as you can about the process that those you work with have mastered. This is more than just a valuable resource for anyone who needs to understand the many processes and skills that make a successful production or a successful company; besides its effectiveness as textbook and practical guide, Dance Production and Management is also an insightful study in the real art of dance.
REAL LIFE. REAL NEWS. REAL VOICES.
Help us tell more of the stories that matter from voices that too often remain unheard.