This summer I was in the audience for the Boston production of California choreographer Bridget Dunn's masterpiece, Echo. In her words, the piece explores
the displacement of African Diaspora bodies during the Transatlantic Slave Trade and the effects of such displacement through...contemporary times
. Various other artists have tackled these themes but Dunn's expansive artistic vision allows her to link several genres to one goal.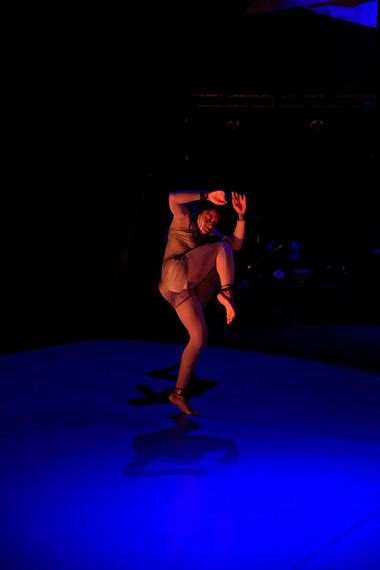 The dance event (event, because it is more than simply a performance) incorporates spoken word, poetry, non-typical instruments, nuanced lighting, striking costumes, vibrant set décor and dramatic makeup. Additionally, Dunn uses hologram style videos of enslaved people that cast ethereal shadows on the dancers' bodies, eerily recreating this most shameful part of America's history. Dunn's gorgeous yet disturbing set features long scarlet silk streamers that depict the flow and intersection of slavery's legacy of blood. The skillful lighting conveys the feeling of being submerged.
The texture of the space was as valuable as the movement
Dunn, who danced and worked with Denver-based choreographer Cleo Parker Robinson for 8 years, initially conceived the piece as her California Institute of the Arts (Cal Arts) MFA thesis project. She worked on it for a year, premiered it in Los Angeles in 2014 and funded its summer 2015 Boston tour event through an online funding source, the Hatchfund. The show continues to find enthusiasts and supporters and may next be traveling to Finland.
The audience is transported from slave ship to urban subway train and back again. Echo's message slips beneath our skin rather than hitting us over the head as it serves to connect enslavement's trauma and its residual effects to the present day trauma of living while black. With sensitivity, power, dignity and compassion, Dunn and her contingent of LA and Boston (recruited only a short time before the show) dancers and musicians travel back through time and then regroup in present day showing the viciously steady path of racism and the almost debilitating stress slavery reaped upon a people it sought to but was unable to destroy.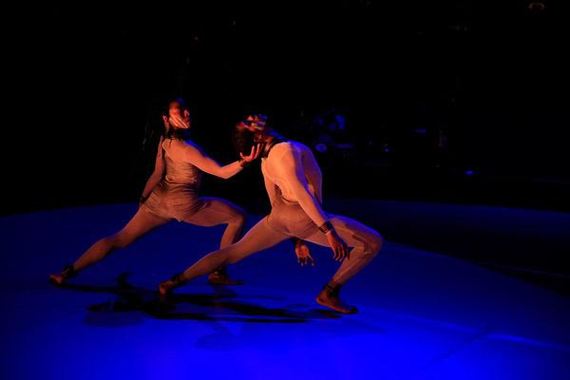 While Dunn masterfully illustrates pain, degradation and struggle, she also focuses on the triumph of resilience and grace. The ensemble excels at establishing a somber yet celebratory mood. The grim subject matter ultimately transforms to an uplifting spiritual moment. First and foremost, Dunn's enormous love for her people is evident. She publicly attributes her feelings and the fervor to tell this particular story to her mother who taught her as a small child that "you survived because of those who made it through the middle passage." That she repays her gratitude for those words in such a magnificent manner are indeed testament to her mother.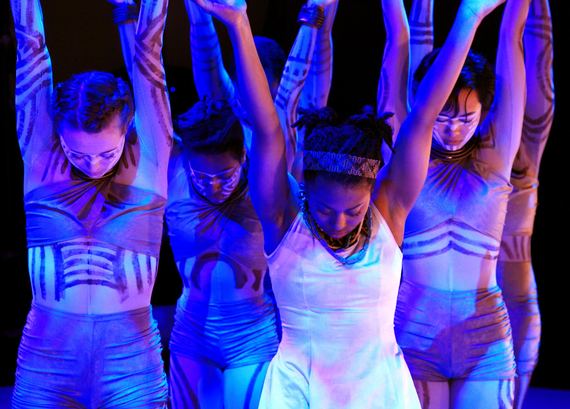 The dancers, in a dazzling array of sizes, shades and ethnicities, morph into the fabric of the movement. Regardless of skin color they are cast as Africans whose lives were brutally interrupted. I asked Dunn about this
casting decision. I thought perhaps she was making a statement that in present times anyone can tell this story. She explains it was not exactly her decision, however. When she auditioned dancers for her MFA thesis piece, she thought the black dancers in the department would instantly appear but they did not. (She later learned that they did not want to confront the subject matter. Perhaps too painful, too close to home - we can only surmise). Dunn thus had to edit her vision and will continue to do so as she begins to take the piece on the road to countries such as Finland and incorporates indigenous dancers. Black bodies will always predominate, however, she says, in order to present the requisite diasporic realness. How did she get the non-black dancers to convey the depth of feeling required?
I asked them to dig into their own narrative that was authentic for them regardless of the story.
I can attest that they rose to the occasion and then some.
All the supporting forces work together to give this piece its formidable weight. Music is often unexpected tones and beats and from a variety of sources. In this way, and along with pre-recorded music, the musicians recreate the sounds of chains and wood and echoes. Dunn's husband and renown musician, Peter Korpela, who serves as Echo's musical director, culls his sonoric vibrations by featuring wind and other instruments from diverse places such as India.
We did not want to narrow the music's rhythms,
explains Dunn. The Boston performance, for example, included Samba Reggae master Marcus Santos.
Hannah Lawton, also a Cal Arts alum, designed the costumes which are runway-ready art pieces but also supply an authentic realism. They contribute consistent statements about the Black body being marketed and probed on a continuum. Although we hardly needed assistance, the breathtaking costumes deepen the intense and oppressive moments for viewers. In an opening scene dancers wear body stockings that Lawton hand painted with tribal markings. In a subsequent scene featuring the same dancers fast-forwarded onto a modern subway, the tribal markings remain evident below their street clothes. Shackles in one scene become bracelets and anklets in the next. In another, stiff linen-like crowns emanate from the dancers' heads reminiscent of puffs of smoke.
Despite all the force and magnitude of her work, Dunn is remarkably humble. She says her choreography becomes
once she begins working with the dancers. She first gives them a phrase they are then allowed to
while being asked to be true to self and honest. The
is mostly that of modern dance with African dance incorporated as well as surprise borrowings from yoga and other non-traditional sources (I definitely notice a nod to
) but there are also signature Dunn movements. Meaning heads must be held at a particular angle and there is an intense undulating that happens in her work. This continuous shaking tests the audience comfort level until we have no choice but to audibly groan as if to say, enough - we can't take it anymore. At one point all the dancers shake at the same time in the same exquisitely unbearable manner. In another instance, precise, skillful partnering is used to convey a particularly horrific rape scene.
Dunn purposely sets out to depict something
and has succeeded beyond those words.
Echo should be required viewing for everyone with a beating heart and seeking mind.
Related
Popular in the Community