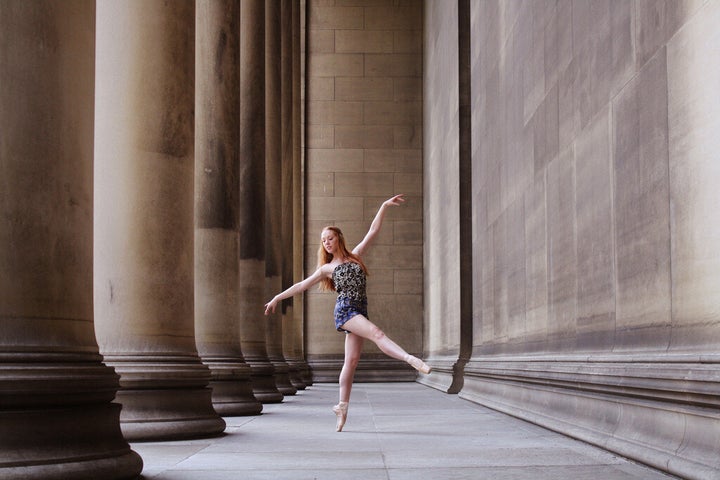 When Hubbard Street Dance Chicago presents Alejandro Cerrudo's Malditos at their Summer Series next week, several thousand more people will have the chance to see why, after more than three decades of dance innovation and boundary defiance, the widely-respected Company made Cerrudo their first ever Resident Choreographer. "Why" is easy to see; you can see it in the forceful elegance of Malditos or in the imaginative architecture of his 2012 premiere, Little mortal jump, but there's more to Cerrudo's unique vision than meets the eye. One of his essential gifts, imperceptible to his audiences, is the intricate and profound way that he sees music.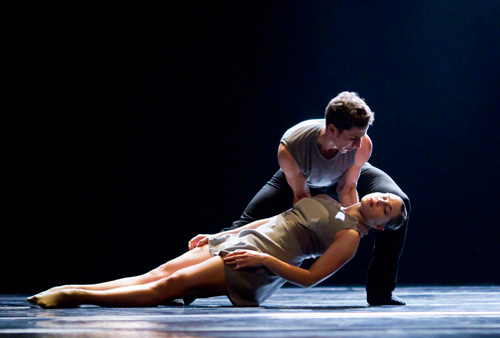 Hubbard Street Dancers Jacqueline Burnett and Jesse Bechardin Malditos by Alejandro Cerrudo. Photo by Todd Rosenberg
In the past three seasons alone, Cerrudo has choreographed five new works for the Company, including the widely-admired Malditos, created for both Hubbard Street and Nederlands Dans Theater. His works enthrall audiences all over the world; they're performed by some of the best dance companies anywhere, and are admired both by dance insiders and by people who just happened to make it to the concert that night. There are certainly many reasons why, but one of the things Alejandro Cerrudo does exceptionally well, and does with extraordinary and conscious dedication, is choose music. To see why that's not only important, but more than a little revolutionary, we have to take a brief trip back through dance history. Starting way back...
People certainly danced before anybody had a word for what they were doing, but even in its most unseeable origins, dance moved to the dynamic of music. We can only imagine what music --- certainly drums and chanted ritual before musicians learned to arrange tones into melodies and songs.
How the choice of music was balanced between those ancient dancers and ancient musicians is a long-lost secret, but since dance evolved into a formal performance discipline, the art of the choreographer in most traditions has been to create a visual composition to an already-designed musical structure. This means that however creative the choreographer, much of the dynamic and development of their expression was made from the choices of a composer. No matter how lofty the architecture of the choreography, it could only be constructed on a composer's musical foundation.
That changed radically; perhaps irreversibly, it changed. One of the most revolutionary developments in the art of choreography occurred gradually and unnoticed, as the ability to select music from multiple sources, and reconstruct that music into what is essentially a new structure, became widely available through software-based edititng. As choreographers learned to gaze into computer screens and drag sections of recorded music around, the art of choreography became inextricably intertwined with the most basic structural decisions of musical development.
Alejandro Cerrudo is an increasingly emblematic figure in this undocumented revolution; in his work Malditos, he mixes five works from four different composers, an art in itself. To do so successfully requires the sensibilities of a composer, with a composer's understanding of melody and progression, and the intuition of a DJ, to sense instinctively how to manage the momentum of putting tracks together.
Working DJs never stop looking for new tracks to play, and a choreographer like Cerrudo is at least as relentless in his search. In some ways, he actually has to cover more ground, venturing widely across the musical landscape. "Finding music is one of the most difficult parts of choreography for me," Cerrudo says. "Sometimes I really want to use a piece of music, but it just isn't right for the work." In choreographing Malditos, he was well into the process before he had all of the music. "I was in the middle of the work, and I really only had 'The Beat My Heart Skipped'. It was day-to-day, and it was scary."
Step by step he added another work by Desplat ("Une odeur de meurtre"), and tracks by Patrick Doyle ("The Visitor") and David Lang ("Stick Figure"). Movement, music and architecture are interwoven in his vision, and in his process, so if he sees that the work must develop in a certain way, he has to find just the right music for it to do so. This is how he found Arvo Pärt's "Passacaglia", the last piece he added to Malditos. "I needed a group section," he explains, "and I didn't have a piece of music that said to me, 'this is a group section'."
Cerrudo's choreography looks like it was imagined as a musical composition; dancers move like counterpoint, and their movements balance eachother like carefully woven chord progressions. It's not surprising that the DJ analogy resonates with him most though, because although his choreography has a harmonic sense that reminds you of a symphony, he brings it to the dancefloor like a DJ in a packed house.
"The choreography I do is to the music," he adds, more from a comfortable self-knowledge than as a statement of principle, "they are never separated." That may be why his movement looks so much like music sounds. Not literally like any particular musical passage, much more like the way your favorite music sounds when you hear it again, moving and motionless, precisely timed and effortlessly timeless.
Alejandro Cerrudo designs movement that looks the way music sounds; he makes Dance that looks like music you can see.
Related
Popular in the Community