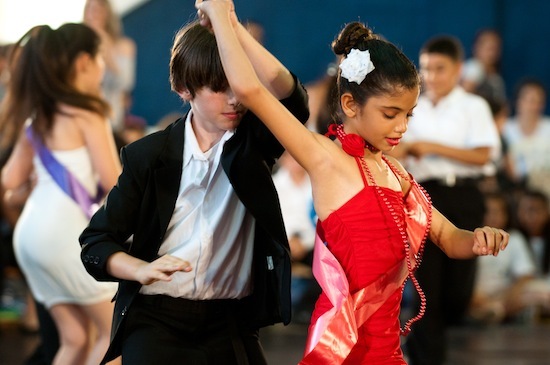 Pierre Dulaine is no stranger to impossible missions. His efforts to introduce ballroom dancing into NYC public schools was turned into a Hollywood film titled Take the Lead, starring Antonio Banderas. Born in Jaffa in 1944, from a Palestinian mother and Irish father, Dulaine fled with his family to Amman in 1948. He then grew up in the U.S. and has gone on to become a world-renowned, internationally celebrated ballroom dancer.
Yet his most difficult mission seemed ahead of him when the first frames of filmmaker Hilla Medalia's insightful, beautiful documentary Dancing in Jaffa begin to roll, immediately spellbinding. Can he teach Arab and Israeli children to trust one another enough and learn to lead each other into what Dulaine himself admits he's asking them to do -- "dance with the enemy"?
Israeli and Palestinians view the conflict as differently as their opposite wording used to describe that infamous day in May of 1948. To the Palestinians, it's the Nakba -- the "Disaster" -- while Israelis celebrate it as their Independence Day. So to bring together Jewish, Muslim and Christian children, already difficult in itself, unifying in dance Arabs and Israelis who have been separated by years of distrust, miscommunication and hatred, appears at first an impossible mission. Perhaps one to end all impossible missions.
But if anyone could do it, I would certainly bet on Dulaine. In the words of Medalia "Pierre himself is a symbol of the 'golden rule'." She explains, "despite what happened to his family, he is determined to look forward and focus on the future rather than linger on the agony of the past..." Then continues, "because of his undeniable charm and the uniqueness of his program, I really felt that this, unlike anything else that was ever done, could work for the children of Jaffa."
Dulaine himself, in the film, tries to put into words the magical power of dance by saying, "when a human being dances with another human being, something happens -- you get to know that person in a way you can't describe..." It's true that nothing quite captures one's soul the way dancing does, whether you are good at it or not; its irrefutable, infectious hold takes you hostage the moment the music starts, and the world turns into your dancefloor.
Then again, I'll never get tired to writing it, art as a whole has the ability to bridge, unite and comfort.
The wonderful thing about kids is that they'll always surprise you. The ones featured in the film -- like the determinate Noor, the shy Alaa and the nervy Lois -- certainly surprised me. Their initial distrust of each other had nothing to do with background or labels, rather with the typical "boys on one side, girls on the other" dynamic that afflicted all of us in those formative years. It was lovely, and hopeful to see just how alike an Arab or Israeli child is to any other boy or girl his or her age, around the world. Perhaps Dulaine's greatest wisdom lies in his instinctual understanding of this, which makes his initiative world-changing. Start teaching trust early on and maybe, just maybe, you can help create a better world, one hopes.
And hope is exactly what watching Dancing in Jaffa gave me. The hope to believe that one day Israel and Palestine will co-exist, away from the settlements and politics. But also the confirmation that cultural activism works; it erodes at the mistrust necessary to divide and conquer, while also entertaining without preaching.
Because if we all know each other, are able to communicate through film, music, art or dance, then we won't be able to believe the myth that we're somehow different. We are all human beings in the end.
Dancing in Jaffa is distributed in the U.S. by IFC Films and opens in limited release starting April 11th.
Image courtesy of IFC Films, used with permission
Calling all HuffPost superfans!
Sign up for membership to become a founding member and help shape HuffPost's next chapter