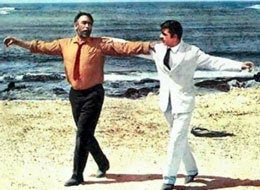 As a Greek-American, March 25th marks a very important day for me: "Greek Independence Day." On this day in 1821, the Greeks decided to take up arms and fight for their freedom after nearly 400 years of slavery under Ottoman rule. Let's all pause to honor this landmark milestone in the legacy of Greek heritage, culture, and tradition, which has done so much to shape and steer the course of humanity throughout the centuries/millenia, and upon which our own notion of democracy relies.
In a couple of weeks, I'll be returning to Crete, the largest of the Greek islands. For those interested in world history, Crete, among other things, was the center of the Minoan civilization (2600-1400 BC), the oldest civilization in Europe. Although I have been to Crete many times before, I believe that this time will prove to be one of the most meaningful for me since I'll be in Greece during the Greek Orthodox Easter Holiday and will have the opportunity to share the experience with many of my Cretan relatives.
Alright, just in case you haven't read my book, Prisoners of Our Thoughts, or haven't figured out the ethnic origin of my last name, "Pattakos," let me help you. It's Greek. And importantly, it's Cretan! Proudly, I can also say that the Pattakos clan, whose roots are deeply embedded in the "soul" of Crete, has been actively engaged in the political arena throughout Crete's history, long before it became an official part of Greece. In fact, my great-great-grandfather, Apostolos Konstantinos Pattakos, was a member of the First National Assembly of Crete (the equivalent of the U.S. Congress or a national Parliament) and was a leader in the "Great Cretan Revolution" against the Ottoman Empire.
Indeed, my Cretan ancestors were true revolutionaries in mind, body, and spirit. Their passion for freedom, in effect, can be traced to their DNA. Importantly, in this regard, the Pattakos clan originated from the Sfakia region of Crete, a mountainous area in the southwestern part of the island that is one of the few places in Greece to never have been fully occupied by foreign powers. Hence, to them, "freedom or death," a notion that was eloquently described in a book, Freedom or Death, by the world-famous writer, novelist, and poet, Nikos Kazantzakis (himself a Cretan), was a way to realize in no uncertain terms their will to meaning. The prolific Kazantzakis, I should add, is best known for two novels that eventually became award-winning movies: The Last Temptation of Christ and Zorba the Greek.
How many of you have seen the movie, "Zorba the Greek?" The title role of "Alexis Zorbas" was played by the late, great American actor, Anthony Quinn, who received a "Best Actor" Academy Award nomination (the movie, by the way, won three Oscars). And if you haven't yet seen the movie (it's available on DVD), I'm sure that you are familiar with the movie's classic song, "Zorba's Dance" ("Horos Tou Zorba"), if not the entire soundtrack! Just thinking about this song makes me feel like dancing a la Zorba--and breaking a few plates!
Watch "Zorba's Dance" with Anthony Quinn on YouTube! Click HERE
Well, folks, during a recent visit to Crete, I did something very special in honor of my Cretan ancestors, in honor of Nikos Kazantsakis, and, of course, in honor of Alexis Zorbas (aka Anthony Quinn). I not only visited, but danced, on the same beach, the same sand, as did Anthony Quinn in the movie, "Zorba the Greek" (yes, that's me in the photo below)!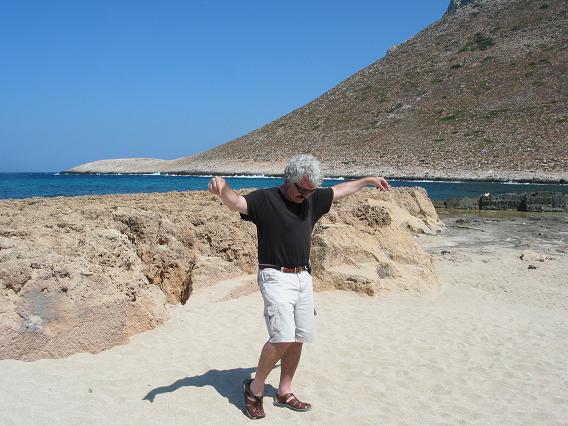 O.K., right now, your're probably saying, "how silly, is he crazy or what?!" But wait a minute. Remember Zorba, and the purpose and meaning that dance had in his life, especially when he found himself going against the wind and facing formidable challenges? Dance proved not only to be a "release," or way to manage stress, but also to be an "inspirational force" that guided him through the stress so that he could confront--and ideally overcome--the challenges that he was facing in life and work.
This, my friends, is not just part of a storyboard that can be used in a movie scene. On the contrary, the longstanding tradition of Cretan dance is well-known and well-documented as a way of life, an authentic integration of mind, body, and spirit. Indeed, especially during hard times, such as those involving foreign occupation and oppression, the Cretans viewed and used dance as a vehicle for creative expression and inspiration; in other words, as a source of authentic meaning. It was the "dance" that helped my ancestors and their fellow Cretans not become "prisoners of their thoughts," even when they were prisoners of foreign powers. And it was the "dance" that enabled Alexis Zorbas to see through the fog of everyday life and inspire himself and others to achieve their highest potential.
Not long ago I was blessed with the opportunity to practice the "dance" in the very footsteps of Zorba the Greek! In the process, I also connected with my ancestors, with my family roots, like never before. How can that not be meaningful?!

Now, what about you?
What kind of "dance" are you practicing in your life? In your work? How might (does) the "dance" help you discover the "seeds of meaning" that represent your life? Moreover, how have you been able to connect with your ancestors? Do you believe that such a connection can be a source of meaning for you?
If you are willing to share any experiences or thoughts about this topic, please do so. I'd love to hear from you, so that we can practice the "dance" together!
Popular in the Community